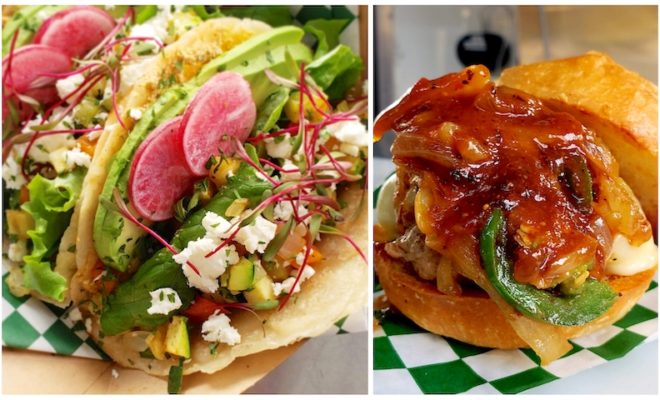 Photo by Rollin' Local
Food & Drink
Food Truck of the Month: Rollin' Local
By |
Rollin' Local is the Hello Woodlands Food Truck of The Month for February 2019. The truck recently started rollin' through Cypress, Tomball, Magnolia and Conroe, with the goal of bringing seasonal farm to table foods to the community. Owners Michele Baldwin and Kristi Pearson are sourcing quality ingredients from local farms & small businesses to create a menu of healthy, sustainable and responsibly grown foods. Their mission is to bring real food back while growing roots and helping their community grow, one dish at a time.
Michele who is from the west coast (California) and Kristi who is from the east coast (New Jersey), met in Cypress, Texas and quickly became friends after discovering they both shared a passion for food. Fast forward seven years and the duo began by cooking for family, neighbors, while hosting and catering parties, eventually leading them to become private in-home chefs and meal preparers.
Michele and Kristi both have a passion for health and fitness, and wanted to concentrate on wholesome and organically grown ingredients to create menus. Always sourcing the freshest and purest ingredients that come from local farms who grow responsibly and sustainably without the use of pesticides, herbicides, antibiotics or hormones. When they say local, they mean local.
With a focus on seasonal eating, the menu changes frequently but some examples of their offerings are chorizo frittatas made from farm fresh eggs, avocado tostada with local greens, chicken chorizo chili, breakfast tacos, quesadillas, pulled pork tacos, veggies & hummus to mouth watering burgers with Watermelon Hill's grass fed beef and Kraftmen Baking brioche buns.
What is fantastic about the truck is that they don't hide anything. They are truly transparent and you will always know where you food came from. Michelle and Kristi proudly display the logos of where and who their ingredients are from. Building relationships with small farms to small local businesses such as Three Sister Farms, Peas Farms, Flourishing Fern, Whitehurst Farms, Cypress Family Farm to Kitchen, H2Organics, Houston Dairy Maids, District Roasters, Atomic Kitchen, The Bomb Noms, Steampunk Juice, Caroline's Kitchen, and Jersey Bagels – just to name a few.
To locate Rollin' Local be sure to check their Facebook page, but they can usually be spotted at the Tomball Farmer's Market on Saturday mornings, at great northside breweries like B-52 Brewing Company in Conroe, Southern Yankee Brewing Company in Spring, and Bearded Fox Brewing Company in Tomball. Rollin' Local also offers catering and makes appearances at birthday parties, holiday parties, office events, showers, weddings, and any gathering.
THE INTERVIEW
How did you all make the jump from private home chefs and meal prep to owning a food truck?
Kristi: "Wow…  it happened over many conversations.  We have always loved cooking and have been cooking together, for our families, for holidays and for parties, showers, etc… you name it, for years.  Then we joined Cypress Family Farm to Kitchen and were getting weekly farm boxes, which made it fun to get creative with what was in season and what we were getting each week.  This lead to new recipes, sharing and lots of people asking about the meals we were making."

"We had also noticed how hard it was to find healthy, gluten-free (for me) food from food trucks, when we were out and about.  We had this network of local farmers, growers, other small businesses, so we knew we could get the supplies we needed.  In talking with others in our community, we knew this was also something that they wanted, so we could fill this niche, doing something we love, supporting local small businesses and giving our community fresh, healthy food options."
How important are the relationships you have with the local vendors that Rollin' Local features?
Michelle: "Without the relationships with our local farmers and small businesses, Rollin' Local would not be possible. We are not just calling and having an order delivered, we are actually ordering directly from the growers and makers, visiting the farms, meeting their families, having daily conversations, and hugging when we leave.  The perfect example is at the Tomball Farmer's Market, every farm and family that we work with is there, it is a very supportive and close knit community."
The menu you have are based on what ingredients you find that week. How challenging is it to come up with an entire menu being dictated by what your vendors can get you?
Kristi: "It can definitely be challenging at times.  You have this idea for something you want to make & you think people will love… but you might not be able to get an ingredient, because it's rained too much or it's been too cold.  But, with the challenge, comes the fun.  It pushes us to get creative, sometimes it leads to amazing new things, sometimes it leads us back to the drawing board.  We basically get to "reinvent" ourselves with the change of the seasons… It's pretty cool."
Imagi-Motive has been a big part of Rollin' Local since its inception, who are they and how did they make your everyday operations easier?
Michelle: "They are a small business specializing in custom food trucks, trailers, tailgators and so much more in the Woodlands area.  The day I called to ask questions and get a quote, I was treated with respect and the relationship grew, quickly. We spent months getting quotes from other builders, and our gut told us to go with Imagi-motive, even if they weren't the lowest price. Our relationship and friendship grew quickly, over beers at Deacon Baldy's we would sit and talk about the build out and then personal stuff.  Much more than just a company building a trailer for us! We met each other's families, had several meals together and even cooked for them as a test kitchen.  They loved our homemade tortillas, which is when we decided to make them an always on the menu item.  The day we took ownership of the trailer, we cooked for them on site so they could be there to help us work out any mechanical kinks and from then on they have been responsive to every question and concern.  They have done an amazing job and continue to keep the relationship strong."
What have been some big hits from recent menus?
Kristi: "Biggest hit… Our tortillas, hands down.  Gluten free, vegan and absolutely delicious.  Our most popular lunch/dinner items for now have been the Main Street Pulled Pork tacos, on our tortillas, topped with our bbq sauce (which is a passed down family recipe) and our Chicken Chorizo chili, with all the fixings (and no, no beans).  The breakfast favorite is our tacos on our homemade tortillas, using Three Sister Farms pasture raised eggs and their pan sausage or pork belly."
We heard you are a beer nerd. What do you think of breweries teaming up with food trucks? Is it a perfect pairing?
Michelle: "Perfect. Brilliant. The best idea ever! Over fifteen years ago, I fell in love with craft beer while living in Central Oregon. Now, in Houston, it's a beautiful thing to see the craft beer scene growing and brewers creating some of the most amazing quality beers around.  We love the breweries.  We feel  when you can enjoy a quality, locally crafted beer, you will LOVE our fresh locally made food with it!"
What has been your favorite and most successful special event?
Kristi: "The most special day to me, since starting this journey, was the day Michelle and I got to cook for our families and friends out of Rollin' Local.  It was an amazing feeling.  Since then we have gotten to be a part of a lot of special things, we were at the grand opening of a new, local brewery and got to support another family going for their dream.  We had the opportunity to be a part of a holiday market to support charities and 100 Women Who Care – Cy-Fair, being able to be a part of the Tomball Farmers Market family… Really, I feel like everything we do is special & successful.  We get to support local businesses, schools, friends, charities, farmers, growers and we are bringing real, locally grown & raised food back to our community. Every time we are out, we are meeting people because of what we are doing, connecting with people we may not have, had we not decided to follow our dream."
Is owning a food truck everything you dreamed it would be?
Michelle: "No! You can't ever dream about the amount of work it takes to keep a small business running until you start (especially a food truck), but when we are operating and serving the community it IS everything I dreamed of and more.  Nothing worth it comes easy!"
We know about all the food that is sourced locally, but even the drinks?
Kristi: "Even drinks, Nick.  We are lucky to have Steampunk fresh pressed juices and we have worked with them to specially craft a juice for us, called the Local-motive.  It is a blend of beets, tangerine & ginger, it is beautiful in color and delicious.  We also are proud to have Tomball's District Roasters nitro cold brew coffee, on tap, for everyone's caffeine needs."
(Michelle) 5 words to describe Rollin' Local?
Michelle: "These are the 5 words that describe Rollin' Local today, with a little reasoning behind them all…

Honest – we are transparent and truly honest with the concept of farm to street by sourcing from local farms and small businesses in our area.  

Grateful – for our families, friends and everybody who has been so supportive of us and our concept. We have met amazing people along the way and we are grateful for those relationships and for being able to do this for our community!

 Wholehearted – we are literally putting our whole hearts into Rollin' Local, every day, every decision, every relationship, every meal, and every conversation. We love hearing from customers how much they love and appreciate what we are doing, it makes every hard moment worth it! 

Resilient – we are rollin' with the punches, with the seasons, and with the day to day struggles of business ownership, without letting anything keep us down. 

Fun – we are having fun, making fun food, for fun people while staying fresh, local and fun!"

 
Learn more about Rollin' Local by visiting their Facebook Page at https://www.facebook.com/rollinlocaltx/
Nick Rama is a food writer, contributor of Hello Woodlands, and shares his restaurant experiences on Nick's Local Eats at NicksLocalEats.com and the Q Up The Burgers Facebook page. Nick enjoys helping the small business owner, supporting his community with fundraising for food banks, and plans tasting events with locally owned mom and pop restaurants.