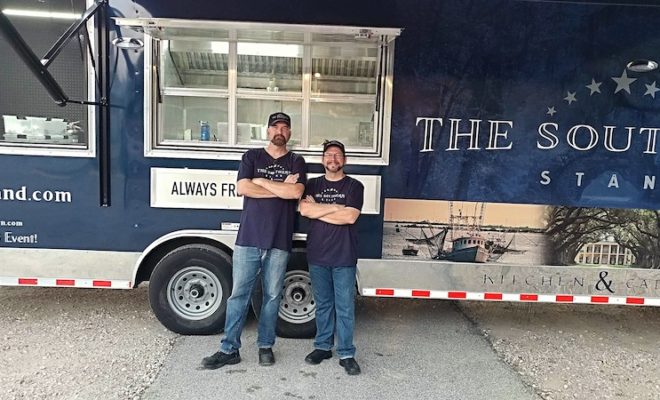 Food & Drink
Food Truck of the Month: The Southern Stand Kitchen
By |
Starting out in October of 2017, The Southern Stand Kitchen and Catering food truck has been  bringing their Southern inspired menu to many local breweries, farmer's markets, special events, corporate events, charity function and of course weddings and catering around the area. The menu derives from many of the southern states from Texas to the Carolinas.
Co-owned by Chris Jones and Brett Kerr, these guys have a passion for putting a new spin on some old Southern classics. Chris is the Pitmaster and has worked to perfect his signature South Carolina pulled pork, Texas style brisket and dry rubbed pork ribs. Chef Brett brings years of culinary experiences from restaurant catering and country club food services to the partnership. Combine these powerhouses and add Chris's wife Rhonda into the mix, who brings her baking skills and outstanding desserts to the team and you have the trifecta of pure southern hospitality and talent.
Small bites include their famous Fried Pimento Cheese Balls with Southern Hospitality Sauce and Louisiana style Boudin balls. One of their recent appetizer specials was a Bourbon Glazed Pork Belly, made up of Braised Pork Belly with a bourbon peppercorn glaze served on a sweet potato puree and mirepoix.
Representation of  southern states can be found all over their entree menu. Tennessee gives us a Nashville Hot Chicken Sandwich while Louisiana's classic Shrimp N Grits (wild caught gulf shrimp, with bacon and green onions, finished with a creamy white wine garlic sauce over course ground grits) and Blackened or Fried Shrimp Po-Boy add to the mix. Chris's roots in South Carolina brings a Carolina Chopped Barbecue sandwich with Hickory smoked pork shoulder, topped with slaw with Palmetto Pride BBQ sauce with a side of Hush puppies to the menu that changes a little with each pop up. Also offered are perennial favorites like Chicken Tenders just like someone's Me-maw made, and a "Get it on the Greens" option, a salad with choice of Brisket, Shrimp or chicken.
Some of the rotating desserts by Rhonda are Texas bourbon sheet cake, bread pudding, bourbon banana foster pudding, "Pretty as a Peach" cobbler, lemon raspberry tart, caramel cake, and a black forest cake during Octoberfest.
Hello Woodlands sat down with Chris and Brett to learn more about The Southern Stand Kitchen and Catering.
Where did the name The Southern Stand derive from?
Chris: "I knew I wanted a name that honored Southern culture and culinary themes, so Southern had to be included in the name.  The original name was thought of over drinks with friends and drawn out on a cocktail napkin, but The Southern Accent sounded like an interior design store… so we kept talking.  I think my wife suggested the word "stand" be worked into the name to throw back to the concept of a food stand and The Southern Stand was born."
What was the inspiration behind the menu?
Brett: "All of our menu items are based in Southern tradition. Each recipe has been crafted to celebrate Southern cooking and culture with the freshest ingredients available. We strive to elevate each recipe to enhance quality and creativity."
Where did you learn to be a Pitmaster?
Chris: "I am from Aiken, South Carolina where hickory smoked chopped pork is the only BBQ that matters.  But I married a Texan, who insisted that I develop skills that were more broad and that included brisket.  I started smoking in my backyard about 17 yrs ago and slowly developed my own style over time, always reading and learning and experimenting along the way.  I love the challenge that smoking meat provides and I think I will always be somewhere on the learning curve toward Pitmaster, but I'm not there yet."
What should someone expect for their first time at The Southern Stand?
Brett: "Our guests can expect friendly Southern hospitality and high amazing food prepared from scratch by people with a passion to serve."
What are your best selling menu items?
Chris: "The quick answer is that it depends on the day and the crowd. Hands down, though, the top seller is our Southern Fried Chicken Strips.  They are quite tasty!  Other popular mains are BBQ items – Brisket Sandwich, Pork Sandwich – and other sandwich items like the Pork Belly Lettuce and Tomato.  We have a very loyal following for our Shrimp Poboy, which was the first menu item we developed together, and is one of the best Poboys I've had outside of New Orleans.  For small bites, Fried Pimento Cheese Balls & Hushpuppies are always great sellers!  Brett recently developed Boudin Balls with his own blend of boudin stuffing and seasoning – they sell out every weekend."
What type of events does The Southern Stand cater?
Brett: "We love catering all types of events! We have had the opportunity to cater for TV stations and large corporate events, as well as weddings and even wine clubs! I personally enjoy small dinner parties where we can showcase our various menu items and stretch our 'culinary legs'! We also have a great time providing full service buffets and plated meals for weddings and corporate gatherings."
Pimento Cheese is suddenly gaining popularity again, how did you all come up with Fried Pimento Cheese Balls?
Chris: "Growing up in South Carolina, I was exposed to Pimento Cheese sandwiches as a staple at the Augusta National when I worked the tournament every year.  I didn't really care for it at the time, but was re-introduced to it while visiting Charleston and having a meal at Hominy Grill.  My wheels started turning at that point, but it wasn't until visiting Dallas with Brett that we first encountered a Fried Pimento Cheese Ball.  The FPCB at Smoke was a catalyst for developing our own – we developed our own Pimento Cheese first and then developed the best method to end up with a product that held up in a fryer.  We are very happy with them and are very pleased when people tell us that they don't like pimento cheese, but they love our FPCBs!"
What made you all go with the food truck route, rather than a brick and mortar? Is a brick and mortar an ultimate goal?
Brett: "Starting as a food truck has given us opportunity to move around and share our love of Southern food to the community around us as well as allowed us to refine our menu and service. We do plan to turn our "stand" into a fixed operation in the near future and I feel that the experience of a food truck will help us ensure that it is the best it can be."
The Southern Stand is also a family affair, what does your wife bring to the success of your everyday operations?
Chris: "It really is a family operation – Yes, my wife is very involved, but I would be remiss not to mention that Brett's wife, Melanie, and his son, Jacob, in addition to my daughters, Skylar & Rhylan, are integral parts of what makes all of this work.  We have all worked together on the "rolling restaurant" for large venue festivals and have done several years of catering together, too.  My wife, Rhonda, is the behind the scenes dynamo.  She brings focus & clarity to my sometimes random processes.  She is the queen of desserts and deviled eggs."

"Rhonda and Melanie are the cheerleaders and motivators who are always willing to do anything that we need. It's really a blessing to be able to have everyone involved!"
Does your menu change often?
Brett: "Yes! That is another benefit of a food truck. Our menu changes with the seasons and availability of quality ingredients. If I don't like the quality of an ingredient one day I will change the menu to ensure the best quality possible. Also, we enjoy trying new things to keep the menu interesting and we are always looking for new ways to thrill our guests with Southern food and hospitality."
Why is made from scratch important to you?
Chris: "Scratch made is important to us for so many reasons, but the number one reason it is important to me is that I don't want to be a middle man for a food service where we would just heat stuff up.  Every little detail is important to us and we actually know how to cook, so we do.  We develop recipes and methods and many times convert them into something that will work on a 'rolling restaurant.'  We never want to be 'fast food.'  We want quality and we want control over that quality, so scratch made it has to be."
5 Words to describe The Southern Stand Kitchen and Catering?
Chris: "Memorable, Hospitable, Elevated, High-Quality, New-Simple-Southern"
Learn more about The Southern Stand Kitchen and Catering by visiting their Facebook page at https://www.facebook.com/thesouthernstand/ and website at https://www.thesouthernstand.com/.
Nick Rama is a food writer, contributor of Hello Woodlands, and shares his restaurant experiences on Nick's Local Eats at NicksLocalEats.com and the Q Up The Burgers Facebook page. Nick enjoys helping the small business owner, supporting his community with fundraising for food banks, and plans tasting events with locally owned mom and pop restaurants.