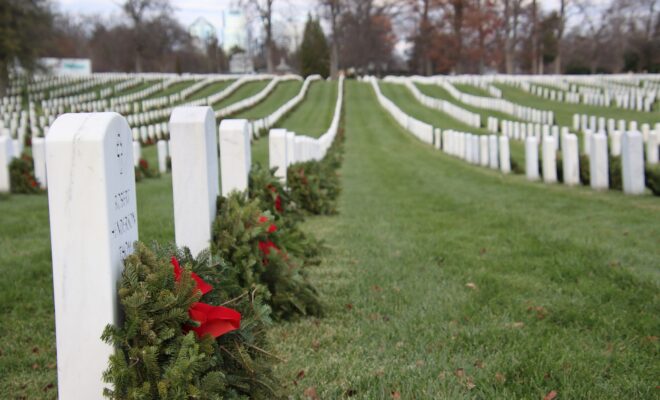 Events
Forest Park The Woodlands hosts Wreaths Across America to honor Local Veteran Heroes
Forest Park – The Woodlands is participating in the nationwide effort to honor local Veteran heroes laid to rest in the cemetery on the National Wreaths Across America Day, Saturday, December 16 at 11 a.m. by placing remembrance wreaths on the 150 headstones of Veterans. The park is located at 18000 Interstate 45 South in The Woodlands.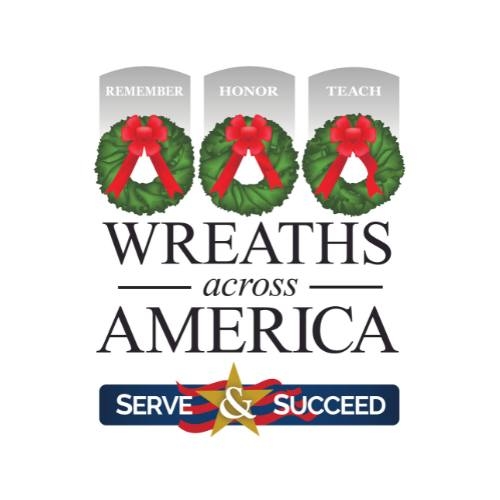 Wreaths Across America is a 501(c)(3) nonprofit organization founded to continue and expand the annual wreath-laying ceremony at Arlington National Cemetery begun by Maine businessperson Morrill Worcester in 1992. The organization's yearlong mission to Remember, Honor, and Teach, is conducted in part each year by coordinating wreath-laying ceremonies in December at Arlington, as well as at more than 3,700 veterans' cemeteries and other locations in all 50 states and overseas.
"Participating in this event ensures that every member of the military laid to rest here is honored and remembered during the holiday season," said Melissa Wright, Funeral Home Manager at Forest Park The Woodlands. "During such a busy time, it is important to pause, reflect and honor those who served our country for our freedom. We are honored to bring Wreaths Across America to The Woodlands."
The community is asked to consider sponsoring a wreath in memory of a loved one, a veteran, or to help ensure every veteran who is laid to rest at Forest Park – The Woodlands receives a wreath. Spring Creek Area Blue Star Mothers is coordinating the effort to get wreaths sponsored as fundraiser to further their mission of serving Veterans locally and overseas. At both this park, Forest Park – The Woodlands, and Oakwood Cemetery in Conroe. The organization is a 501c3 nonprofit organization of mothers, stepmothers, grandmothers, and female legal guardians, who have children serving in the military, guard, or reserves, or children of veterans. Blue Star Mothers of America is a congressional sanctioned organization formed during World War II consisting of 200 chapters across the nation.
To sponsor a wreath, please use this link: www.WreathsAcrossAmerica.org/TX1005P.
Wreaths are $17 each, 2 for $34, 5 wreaths for $85, 10 for $170, or select a customized number of wreaths. The deadline to purchase wreaths is Tuesday, November 28th.
Prior to the scheduled event, volunteers from New Danville, (nonprofit serving adults with intellectual and developmental disabilities) and Boy Scouts of America Troops 777, 1777, Cub Scout Pack 777, and Venturing Crew 112 will assist with placing individual markers on the gravesites of Veterans to indicate the location for wreath laying.
Forest Park The Woodlands will have a ceremonial event honoring the Veterans with participation from The Woodlands Fire Department Presenting the Colors, the National Anthem sung by David Weygandt, Invocation by Marine Veteran Brian Tally of the Tally Bills for Veterans, message by Marine Veteran Josh Cherry, and a Procession of Wreaths for each branch of the military followed by POW/MIA wreath, Gold Star Mothers and Blue Star Mothers. At the conclusion of the ceremony families, volunteers, and the American Heritage Girls will place wreaths on the designated Veteran markers. After each wreath is placed, the Veteran's name will be read aloud so they will never be forgotten for serving our country.
"As a Gold Star Mother, I believe Wreaths Across America is a way to honor all those who lost their lives serving our country. My son, SPC Joey Lenz, is laid to rest at Forest Park The Woodlands after losing his life Feb 1, 2022, at Fort Cavazos (Hood), Texas," said Gold Star Mother Margie Taylor. "As a mother of a soldier that that died during active duty it is my obligation to carry out the mission my son was unable to fulfill to serve our country, support our active military, Veterans, and their families. It is my personal personal goal to get each of the 150 Veterans laid to rest at Forest Park represented by a sponsored wreath".
For more than 20 years, Forest Park – The Woodlands has served the greater Houston area compassionate care providing personalized services to help plan a funeral, cremation and burial that honors your personal desires and family traditions. Learn more about Forest Park – The Woodlands here.
For more information about Wreaths Across America follow their website: www.WreathsAcrossamerica.org