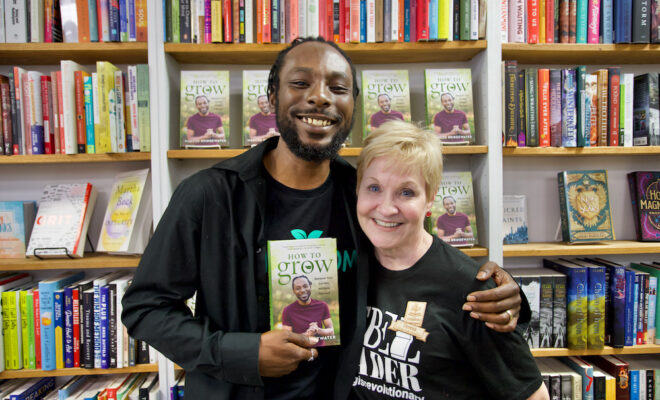 Photo Credit: Jennifer Bruse, Hello Woodlands
People
Read Local: Garden Marcus launches new book How To Grow at Village Books
By |
Village Books celebrated the launch of Marcus "Garden Marcus" Bridgewater's new book, How to Grow: Nurture Your Garden, Nurture Yourself, on Tuesday, March 24 with the support of The Woodlands community, family, friends, and fans.
View photos from the event on the Hello Woodlands Facebook page (view photo album here) or on Instagram:
TikTok influencer Marcus Bridgewater, known as "Garden Marcus", has been compared to Bob Ross and Mister Rogers for the genuine warmth, compassion, and enthusiasm he conveys. His unique approach to botany and humanity combines with content grounded in plant care as a metaphor for personal growth.
Whether his audience finds solace in his daily doses of wisdom, or simply enjoys his how-to guides caring for plants, Marcus creates a space to grow and reflect in his debut book, How to Grow: Nurture Your Garden, Nurture Yourself published by HarperCollins. In the book he focuses on wellbeing – mental health, physical fitness, and spiritual awareness – and weaves together stories of his life, starting with the first lesson he learned from tending his grandmother's garden in his youth: "…that growth cannot be forced, only fostered." Throughout the book, Marcus reflects on his own development while providing tools to look inwardly on their own growth, and maximize their own potential for kindness, patience, and positivity.
How to Grow isn't a gardening book, rather a self-help book that draws inspiration from the garden. Original, timely, and filled with nurturing wisdom, it takes perennial knowledge from the plant world to teach us about ourselves and opens our eyes to what we can achieve.
The book launch held on Tuesday, March 24 at Village Books in The Woodlands featured an Author Talk and Q & A followed by Marcus signing books for attendees.
During the Author Talk, Marcus shared his own story of growth sharing that "there is no growth without community." He explained that the book only exists today because of the seeds planted by family, friends, and mentors and the years of personal choices he made along the way to foster "wholesome" roots (the meaning behind his "wholesome" t-shirt), continuing to plant seeds of love, kindness and positivity. His own gardening journey began when he was gifted sixteen plants after moving to The Woodlands. In losing half of the plants, he was desperate to keep the remaining alive. After much research, hard work, and dedication, Marcus was successful. Today he has a thriving garden of around 300 plants indoors and 650 plants outdoors that he showcases as well as words of wisdom, positivity, and gardening advice to his 680K fans on TikTok and followers online on social media. Marcus shared his inspirational story with the audience and talked about his childhood and a life of facing adversity. Instead of focusing on the barriers and struggles life threw at him, he chose to focus on the lessons he learned and in doing so was able to find peace, press on, spread positivity, and continue to encourage others.
Village Books, the community-focused independent bookstore in The Woodlands, is owned by Teresa Kenney and hosts book signings, a monthly book club, writing classes, and special events. Stop by the store to purchase Marcus "Garden Marcus" Bridgewater's new book, "How to Grow: Nurture Your Garden, Nurture Yourself" and learn more about Village Books and upcoming events at MyVillageBooks.com.
Sources: Village Books, HarperCollins