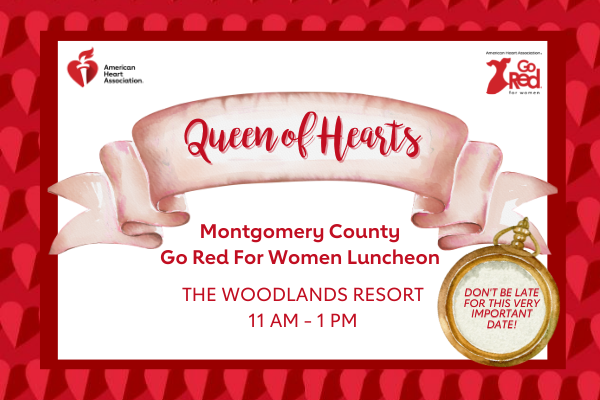 Events
Go Red for Women Luncheon: Montgomery County to rally against women's #1 and #4 health threats
By |
Calling all Queen of Hearts! After more than two years away from in-person luncheons, the American Heart Association, the world's leading nonprofit organization focused on heart and brain health for all, has announced that St. Luke's Health will co-chair their 2022 Montgomery County Go Red for Women® Luncheon to be held in-person at 11 am on May 20, 2022 at The Woodlands Resort.
With a Queen of Hearts theme, you do not want to be late for this very important date! This years' signature luncheon co-chairs, from St. Luke's Health, are Jessica Brown, MD, FACC; Margit Nemeth, MD, FACC; Brenda K Peabody, MD, FACC; Kelly Shum, MD, FACC, whose remarkable careers highlight the strides women have made in healthcare leadership and STEM careers.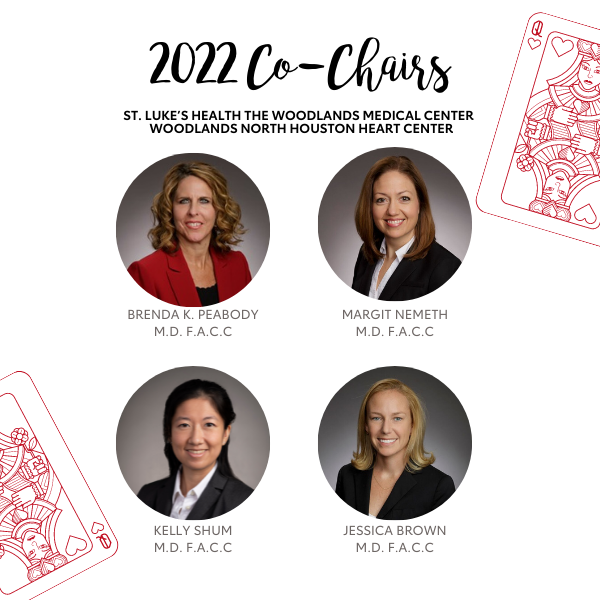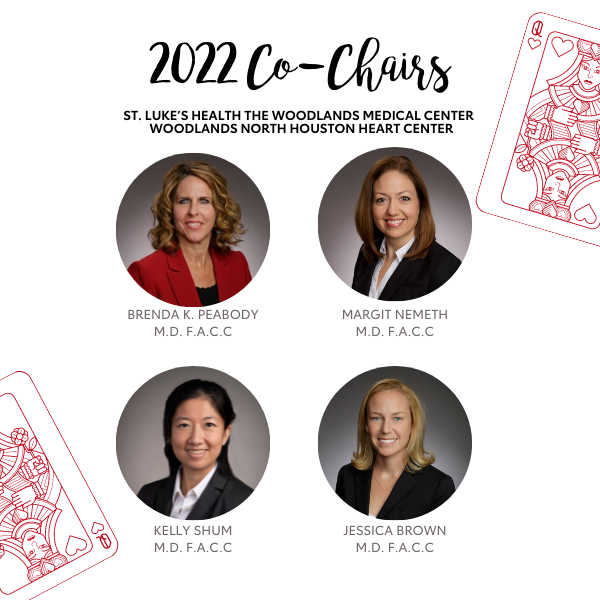 Since 2004, Go Red for Women has had a profound impact on women's health. As the trusted, passionate and relevant force to eradicate heart disease and stroke, the American Heart Association remains steadfast and committed to meeting the comprehensive health needs of women — at every stage of life.
"Many women find that they wake up with an ever-growing to-do list, yet their own physical health and mental wellbeing is rarely at the top," said Shum. "Our goal is to help women find healthy routines that work for their life to give them the best chance at life."
"Recent Go Red for Women surveys show that younger women, Gen Z and Millennials, are less likely to be aware that heart disease and stroke are their greatest health threats, killing more women than all cancers combined," said Peabody. "This includes knowing the warning signs of heart disease and stroke."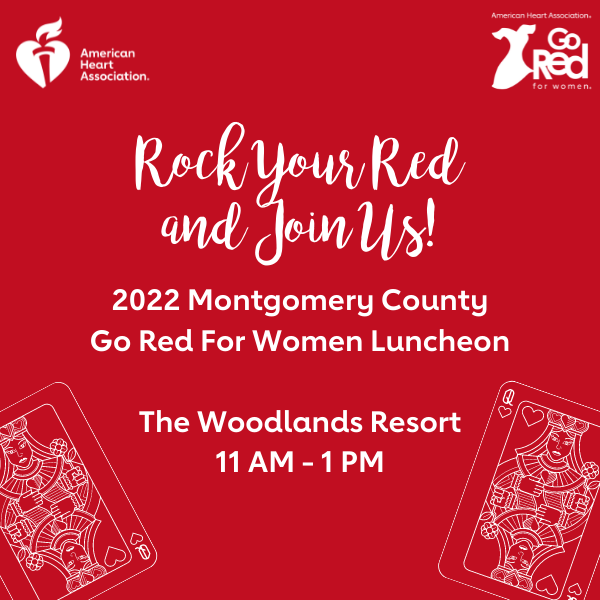 Since the onset of the COVID-19 pandemic, deaths from heart disease and stroke have risen significantly. Over the past year, many people have adopted unhealthy behaviors like skipping exercise, eating unhealthy foods, drinking more alcohol and using tobacco, which can all increase the risk for heart disease and stroke.
"The pandemic has exacerbated many of the challenges women, and moms in particular, have historically faced," said Brown. "They are stressed, navigating work, family, and simply keeping it all together. There has been a widespread shift in the choices women are making to meet the demands of their life, and that has led to an increase in stress and anxiety which can lead to negative health implications."
1 in 5 people reported lower physical wellness. 1 in 3 reported lower emotional wellness. Even people who had mild cases of COVID-19 may have changes to their heart and brain health.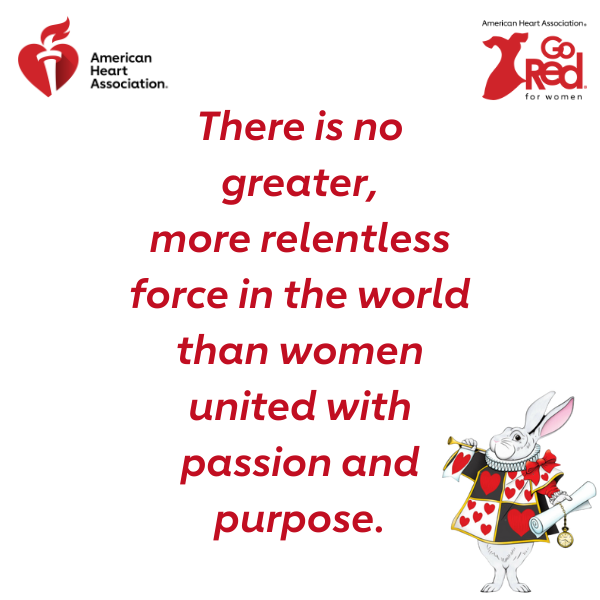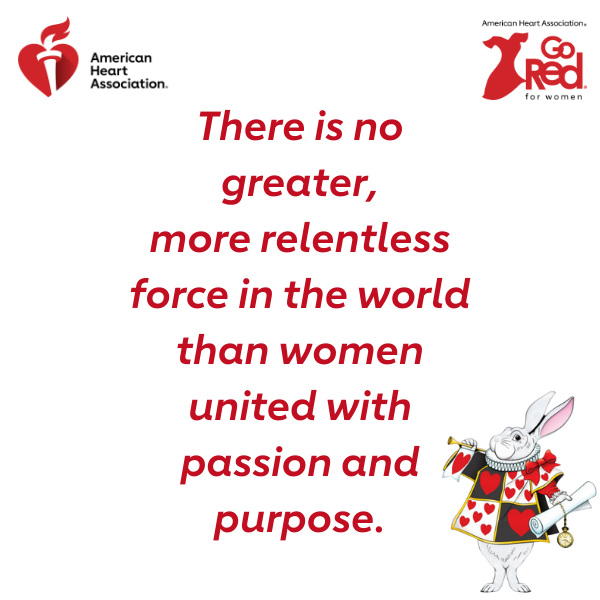 "It is not just about wearing red. It is not just about sharing heart-health facts. It is about all women standing together with Go Red for Women — because 1 in 3 women die from cardiovascular diseases and 1 in 5 women will have a stroke. Losing even one woman is too many," said Nemeth.
"We are honored to have the leadership of these four remarkable women for the 2022 Montgomery County Go Red for Women campaign. They are each incredibly passionate about the health of our community and ensuring all women have the resources to lead longer, healthier lives," said Mel Edwards, Senior Vice President and Executive Director, American Heart Association Greater Houston Division. "We are thrilled to be coming together again to celebrate Go Red in person this year. There is something about the energy that builds when we meet in person for this movement. We are looking forward to seeing one another and continuing to raise funds for our mission."
The time is now. The need is real. Our strength is unmatched. There is no greater, more relentless force in the world than women united with passion and purpose.
Go Red for Women is nationally sponsored by CVS Health and the Montgomery County luncheon is locally sponsored by St. Luke's Health, Woodlands North Houston Heart Center, Black Pearl Technology, and Encompass Health. For more information and to register to attend the Go Red For Women Luncheon, contact Stephanie.Phillips@heart.org or visit MontgomeryCountyGoRed.Heart.org.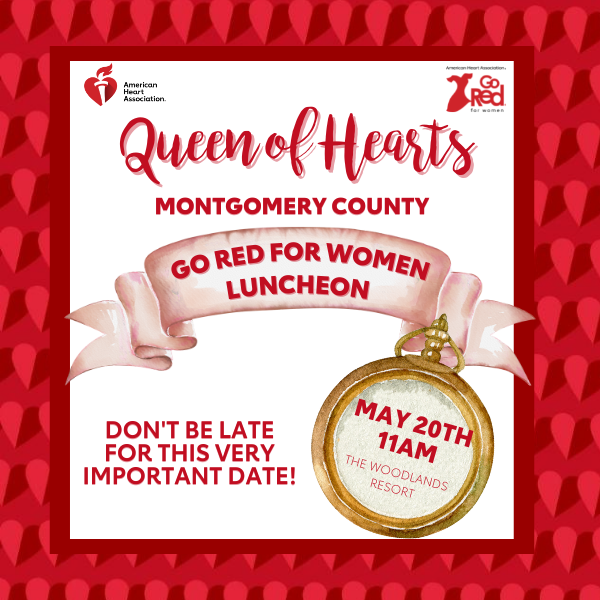 About Go Red for Women®
The American Heart Association's signature initiative, Go Red for Women®, is a comprehensive platform designed to increase women's heart health awareness and serve as a catalyst for change to improve the lives of women globally. While nearly 80 percent of cardiac events can be prevented, cardiovascular disease is the leading cause of death in women, claiming the lives of 1 in 3 women. For 18 years, Go Red for Women has encouraged awareness. The movement harnesses the energy, passion and power of women to band together and collectively wipe out heart disease. It challenges them to know their risk for heart disease and take action to reduce their personal risk. It also gives them tools they need to lead a heart healthy life. The Go Red for Women movement is nationally sponsored by CVS Health, with additional support from national cause supporters. For more information, please visit GoRedforWomen.org or call 1-800-AHA-USA1 (242-8721).
About the American Heart Association
The American Heart Association is devoted to saving people from heart disease and stroke – the two leading causes of death in the world. We team with millions of volunteers to fund innovative research, fight for stronger public health policies and provide lifesaving tools and information to prevent and treat these diseases. The Dallas-based association is the nation's oldest and largest voluntary organization dedicated to fighting heart disease and stroke. To learn more or to get involved, call 1-800-AHA-USA1, visit heart.org.