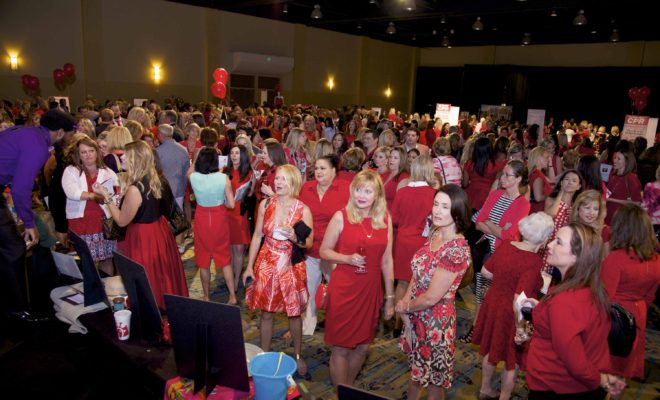 Events
Go Red For Women® named Nation's No. 5 Largest Luncheon
By |
The American Heart Association's (AHA) Montgomery County Go Red for Women® Luncheon continues to prove itself as one of the top Go Red for Women Luncheons across the country. Months before this year's anticipated luncheon, set for Friday, May 19 at Woodlands Waterway Marriott, the luncheon has already received high accolades across the nation.
Last year, the Montgomery County Go Red ® for Women Luncheon was recognized as a top ten luncheon in the country, and has now climbed the ladder to the number five spot.
"We are so proud of our luncheon and the support that we have been getting from the community," said Brooke Schmitt, Corporate Market Director for the Montgomery County Go Red for Women Luncheon. "The fact that our Luncheon is on the same list as New York, Chicago, Providence, and Sacramento is outstanding. We are thrilled, and are so humbled and grateful for the continued support of our mission."
This year, the luncheon is chaired by Debbie Sukin, Senior Vice President of Houston Methodist Hospital, and CEO of Houston Methodist The Woodlands, and Ralph Alexander, CEO of Talen Energy Company.
"With Debbie and Ralph's leadership, we truly believe we can take this luncheon to the next level," said Schmitt. "This year, we have a focus on CPR education as well as scientific advancements that we have funded locally and nationally. We believe education is key to help us find a cure for the No.1 and No.5 killers of all Americans – heart disease and stroke."
The luncheon, sponsored by Houston Methodist The Woodlands and Huntsman, will welcome over 1,100 guests as they bid on incredible auction items, hear an inspiring CPR focused story, and learn about major breakthroughs in evidence based treatments and guidelines funded by the AHA.
During last year's luncheon, Amy LeCrone, who lost her husband Vance – a well-known pediatric orthodontist in the Woodlands community – to a heart attack, shared her story of perseverance, and dedication to educating the company on CPR and AED awareness.
This year, Amy will return as the guest of honor, and will introduce Seth and Julie Barrett, who have deeply been affected by the power of CPR.
Julie and Seth were walking together one afternoon when Julie went into sudden cardiac arrest. According to the AHA, cardiac arrest is the abrupt loss of heart function in a person who may or may not have been diagnosed with heart disease. It often occurs unexpectedly. Seth, who was educated on CPR at an early age, immediately began bystander CPR on his wife. This quick-thinking action was one of the things that helped save Julie's life.
Each year, more than 350,000 emergency medical services assessed out-of-hospital cardiac arrests occurred in the U.S, according to the AHA.
In Montgomery County, the bystander CPR rate is only 14.6 percent, while the national average is 39 percent. More than 326,000 people experience cardiac arrests outside of a hospital each year. About 90 percent of those victims die, often because bystanders don't know how to start CPR or they're afraid they will do something wrong. Bystander CPR, if performed immediately, can double or triple a victim's chance of survival.
In 2008, the AHA, the leader in resuscitation science, developed a new method of bystander CPR called Hands-Only CPR, which includes two steps to save a life. Those steps are to call 911, and push hard and fast in the center of the chest.
At the luncheon, local firefighters will be offering Hands-Only CPR training. The AHA will also be hosting a free, Hands-Only CPR training in the hallway outside of the main ballroom after the Luncheon for anyone interested in learning the lifesaving skill.
Tables are nearly sold out for the upcoming Luncheon. To grab your table, contact Samantha.Andrews@heart.org or visit montgomerycountygored.heart.org.