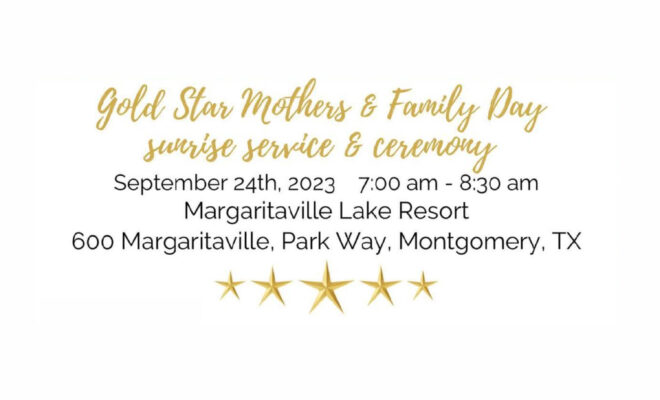 Events
Gold Star Mother's and Family Day Sunrise Service & Ceremony
By |
CONROE, TX – All are welcome to join the Spring Creek Area TX18 Blue Star Mothers of America, Inc. at the Sunrise Service & Ceremony at Margaritaville Lake Resort-Lake Conroe, 600 Margaritaville Parkway, outside at the Stars on The Water Terrance.
Since World War I, the observance of the last Sunday in September has provided a way to recognize and honor those who have lost a son or daughter who served our country in the United States Armed Forces.
Gold Star Mother's and Family Day honors the mothers, fathers, and families of fallen military service members. Also known as National Gold Star Mother's Day, the day serves as a reminder of the losses suffered by military families. 
Blue Star Families with a child serving in the military
Gold Star Families who lost a child while actively serving in the military, all veterans, military, and the general public are encouraged to attend to honor our families.
The event is from 7:00-8:30am, with refreshments and social following the program.
Please join us in supporting those who deserve our respect and comfort, as their sons, daughters, and family members paid the ultimate sacrifice for the liberties of a great nation. There is no cost to attend this event.
Sponsor spots are still available. Email Margie@TaylorizedPR.com for more information.