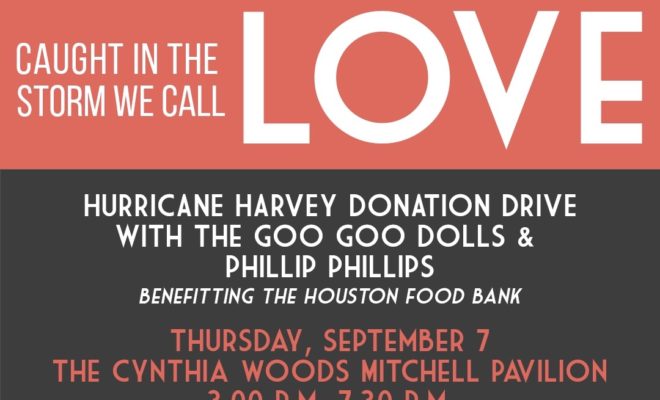 Hurricane Harvey
Goo Goo Dolls Show at Pavilion to help Harvey relief efforts
By |
The Woodlands, Texas – Multi-platinum, Grammy-nominated band Goo Goo Dolls has announced that their upcoming show at The Cynthia Woods Mitchell Pavilion will go on as scheduled next Thursday, September 7. Concertgoers are encouraged to bring non-perishable donation items to the show to help support Hurricane Harvey relief efforts.
The band, along with opener Phillip Phillips, will be collecting donations at the North drop-off in front of the venue from 3 to 7:30 p.m. on the day of the show to thank the Texas community for their resilience during this terrible tragedy. Per the group, all donations, along with 100% of merchandise sales for the night, will go to the Houston Food Bank. Those who are able to bring donations will receive a voucher for a $20 dollar ticket to the Goo Goo Dolls concert that can then be redeemed at The Pavilion Box Office. Those who are unable to attend the show are still encouraged to make donations. A list of the most needed donation items can be found on The Pavilion website at www.woodlandscenter.org.
Goo Goo Dolls and The Cynthia Woods Mitchell Pavilion hope to echo Houston Mayor Sylvester Turner's sentiment that "the city of Houston is open for business," and provide the heroic first responders and residents of Texas with an evening of optimism and appreciation. With this in mind, The Pavilion and the band will be granting free entrance into the show for first responders and their families. Proof of ID and first responder badges must be presented at the marked entrances located at any of the venue's 3 gates.
The band had the following to add: "After reflecting upon the tragic devastation brought on by Hurricane Harvey and Mayor Turner's recent comments that Houston is indeed open for business we have decided to move forward with our show at The Woodlands. We want to do our part to not only gather donations but to also hopefully give people an evening of much needed enjoyment."
If you would like more information about The Pavilion, please visit www.woodlandscenter.org. Look for The Pavilion on Facebook, Twitter, Snapchat, YouTube and Instagram, or download The Pavilion's iOS or Android app.