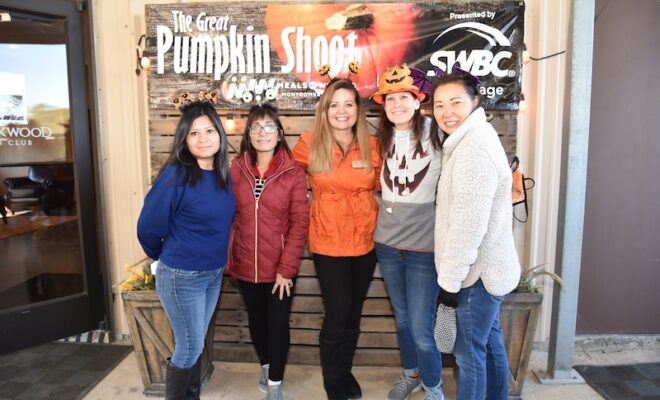 Photo Credit: Meals on Wheels Montgomery County
Events
Great Pumpkin Shoot feeds Local Homebound Seniors
By |
Conroe, TX – The 5th Annual Great Pumpkin Shoot, Aiming to Feed Seniors with Meals on Wheels Montgomery County (MOWMC) was able to secure funds to provide 10,513 meals to homebound local seniors.
"We are thrilled with the success of this event. It started in 2016 with 16 teams; this year 49 teams came out to help us continue our mission to take care of homebound seniors," stated Summer Day, President & CEO of Meals on Wheels Montgomery County.
Congratulations to the top two shooters on the Woodforest Gold Course, Scott Steinke and Freddy Brooks with 74 clays each. Mona Ansley took the Gold Course 1st place trophy with a score of 52. First place honors on the Entergy Black Course were Don Landers with a perfect score of 78 and Mary Henrickson with 65.
The tremendous support of sponsors and the community helps MOWMC provide nutritious meals for seniors like Ms. Peggy who turned 105 on Oct 5th and can no longer cook for herself, or Ms. Virginia who called remarking "that chicken vegetable soup was delicious; it's the best meal I've had since I don't know when."
Some of the volunteers shared their story of volunteering at the Great Pumpkin Shoot.
Alexa Horak has been involved as a sponsor and volunteer all 5 years. "I feel so fulfilled when I see the results of the Clay Shoot. The work Meals on Wheels does for seniors is of outmost importance to seniors in the community".
John Cuthbertson, with A Taste Above Catering Company, donated the breakfast spread consisting of a variety of four breakfast casseroles and a fruit tray. Cuthbertson is also a meal delivery volunteer and worked with MOWMC Chef John years ago. It is very dear to his heart to be involved.
Oilfield Helping Hands (OHH) is a nonprofit charitable organization, helping oilfield families with financial assistance in times of crisis. Mona Ansley of OHH has participated over the years mentoring female shooters who may not have participated otherwise. The ladies she teams up with all have a good time and come back again to participate feeling comfortable shooting.
SWBC Mortgage has been the Presenting Sponsor since the inception of the event. Other sponsors include Teligistics, Entergy, Woodforest National Bank, Strike, LLC, HFG Wealth Management, Hoover Lake Conroe Realtors, Gullo Ford, America's ER & Urgent Care, Insperity, Milstead Service Center, Howard Hughes, Planet Ford Lincoln, Tachus, Underwater Technology Svcs, Insperity, Haynie & Co., Dumbells to Downward Dog, Comfort of Home, The Strong Firm, and Veritas Title Partners.
Pictures can be found on the website www.mowmc.org/great-pumpkin-shoot and Facebook page www.facebook.com/mealsonwheelsmc
MOWMC provides more than just a meal to homebound seniors. Volunteers provide a friendly face and a social visit as well as a safety check. These visits play a critical role in preventing depression and other health issues associated with isolation. Seniors look forward to their meal delivery which brings conversation and much-needed connection.
For the many seniors who live alone, pets play a critical role in combatting loneliness. The aniMeals program offers nourishment to food-insecure seniors and their beloved pets. This vital program launched in 2018, when volunteers reported seniors giving their MOWMC lunches to their pets – going hungry so their furry companions would not suffer. Currently aniMeals is a full-scale delivery system providing pet food to more than 300 cats and dogs each month. Each delivery brings peace of mind to homebound seniors, knowing they and their pets will not go hungry. This is a 100% donation-based program making every community donation valuable.
MOWMC currently serves 705 homebound seniors with freshly prepared nutritious meals. MOWMC Chef John and his team of volunteers are committed to providing homebound seniors with the freshest and healthiest meals possible preparing nearly 5,000 meals each week.
When MOWMC was founded in 1973, the County's population was 75,000. Today there are approximately 580,000 people in the county with the senior age group (65 and older) the fastest growing demographic. With a mission to foster independence and maintain the dignity of each homebound senior by providing nutritious meals, transportation, and caring connections, MOWMC can always use additional support, donations, and volunteers.
Meals on Wheels will have their next event, Miles for Meals, a 5K/10K run at B-52 Brewery in Conroe on February 6, 2021.  Sign up now to enjoy a fun day at this family friendly location. Souvenir pint mug, t-shirt and finisher medal included.  www.mowmc.org/miles-for-meals 
Volunteers are needed to help with upcoming holiday projects, prepare mailings, and assist with program needs. Email Rhonda Darby at rhonda@mowmc.org or view the calendar page on www.mowmc.org/calendar
Source: Margie Taylor, Taylorized PR, Meals on Wheels Montgomery County