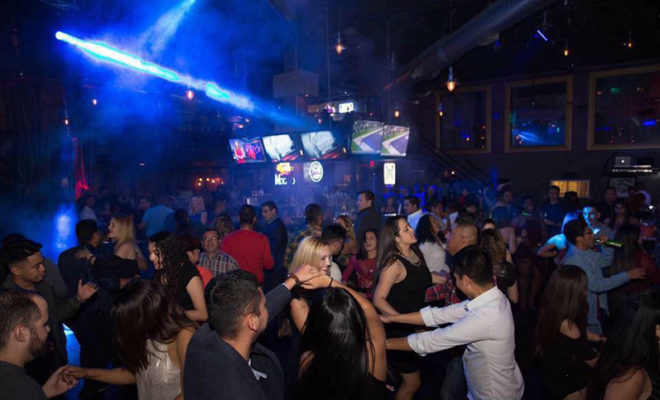 entertainment
Guide to Nightlife in The Woodlands Area
By |
As the sun goes down in The Woodlands, the vibrant nightlife scene gears up. There is an extensive, diverse selection of live music venues, breweries, cigar bars, wine lounges, and so much more. Here are just a few of the many places to explore and experience in The Woodlands area after dark.
The Farm – The Farm describes itself as a "hippified" dive bar from 1969 in honor of The Farm from Woodstock, featuring local breweries and distilleries. It is open 7 days a week from noon – 2:00 a.m. The Farm hosts many themed events, such as a Reggae Friday, a Pajama Party, and Karaoke Parties.
View this post on Instagram
Katz's Deli – In addition to great food, Katz's is known for being open 24/7. Katz's serves authentic, New York deli dishes like its Reuben sandwich, along with customer favorites like the tart & crispy fried pickles and cheesecake shake. Katz's is the perfect place to go before or after a night on the town.
Advertisement

Rock the Row – Experience Hughes Landing on scenic Lake Woodlands with live music Thursday evenings from 7:00 to 9:00 p.m. Rock the Row features local and regional bands playing a variety of favorites from classic rock and pop to Motown during the summer and fall. Lawn chairs and blankets welcome.
Prohibition – Born out of the search for fine spirits and great friendships, Prohibition Texas is the creation of two modern day Bonnie & Clyde's with a flare for fun. Prohibition has live music and serves an upscale food menu. All kinds of cigars are available, and of course cocktails, wine & spirits.
Nannies of the Woodlands – Don't forget to get a sitter for your night out! Locally owned and operated, Nannies of the Woodlands offers on call babysitters in addition to nanny services. They can also place sitters when children are off on holiday breaks, mildly ill or when their regular caregiver is unavailable. Sitters are vetted, trained and meet strict requirements for placement.
Advertisement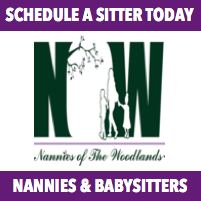 B-52 Brewing – B-52 Brewing hosts rotating food trucks and serves house-made root beer and lemonade. Wine is available if beer is not your choice of beverage. Dogs on leash are always welcome. Beer can be sold to-go, so bring your cooler or growler to enjoy available specialty beers, bottles & cans.
BioPlenish – After a long night out, the weary can head to BioPlenish to get one of many types of IV therapy drips for hydration and vitamins.
Crush Wine Lounge – The rooftop of Crush overlooks the Waterway with amazing views as the perfect backdrop to dance the night away to the sounds of its DJs. For a low key but fun night out, Crush offers an indoor wine lounge area with a wrap-around balcony showcasing the Waterway. Its impressive wine selection including boutique wines, limited production wines, and up-and-comers. Crush also has an extensive spirits, beer, and cigar menu, bringing an eclectic mix of the classics along side various craft selections.
Crush is also notable for its support of the arts. Crush regularly hosts art shows featuring the artist. On select Wednesday nights, you can catch ArtFeel, a free and open-to-the-public community arts celebration event where a stage and microphone are available for area residents to share their thoughts feelings about the public art work in spotlight. Some will sing, play musical instruments, tell stories, dance, show-and-tell objects, share current art projects, read poems and some just say one word—the feeling the art has evoked in them.
Waterway Nights – Enjoy live music by local and regional performers in the picturesque setting of Waterway Square at Waterway Nights. Taking place in the spring and summer, Waterway Nights make for an eventful night out in The Woodlands Town Center.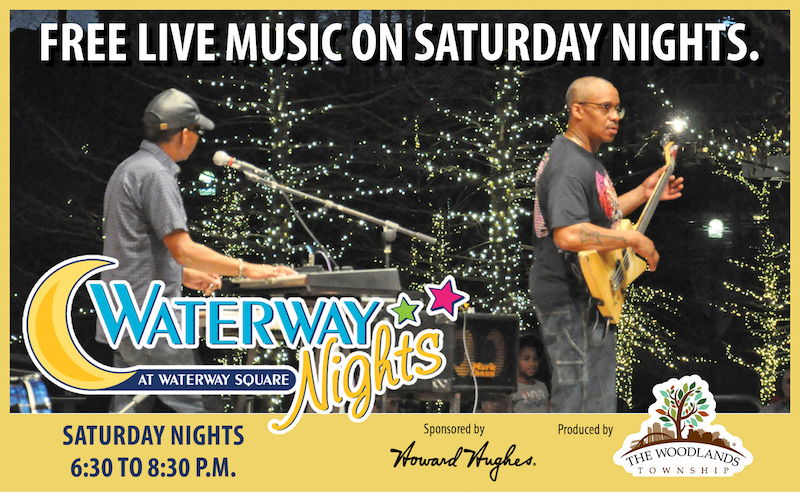 Genuwine – Genuwine is a wine bar with fine food and live music. It carries unique boutique wines and craft beer. Genuwine has many events throughout the week and weekend including hosting winemakers. Wine Club members can enjoy wines chosen exclusively for them and includes discounts on wine and deals on weekly tastings.
Hop Scholar Ale House & Sabbatical Spirits – These two bars share the same building and kitchen, but they have different specialities. Hop Scholar Ale House serves beer while Sabbatical Spirits serves cocktails, whisky, and wine. Hop Scholar's goal is introducing craft beer to the novice and enjoying it with the already initiated. Hop Scholar has 47 rotating taps including 2 casks, and promotes local breweries in addition to pouring global ales.
Concert in the Park – Enjoy an evening of music in one of The Woodlands' premiere parks. The Concert in the Park Series at Northshore Park features free concerts that are held seasonally on Sunday evenings. Blankets, lawn chairs, coolers, and pets are permitted.
Southern Star Brewery – Southern Star Brewery creates its own craft beer in a can. There is always live music, and the brewery regularly hosts events such as tastings, a farmers market, and even a home beer brewing class.
Cielo Latin Bar – Located at the front of The Woodlands, Cielo Latin Bar is an upscale nightlife destination featuring live bands and DJs every weekend. Free beginners salsa classes take place every Thursday and Saturday night at 9:00 p.m. Advanced salsa & bachata lessons are available by renowned instructors. The food and drink menus combine traditional southern favorites with a latin twist. Cielo also serves as a hookah lounge offering an array of popular and exotic flavors. Bottle service and VIP packages are available for an exclusive nightlife experience.
Baker Street Pub – Baker Street is a British pub, offering an authentic selection of traditional British fare and classic pub favorites. The restaurant and bar boasts live music, karaoke, trivia nights, and many types of parties & events.
Dosey Doe (The Big Barn) – This live music venue hosts many different types of musicians and has a full bar and restaurant.
Cellar 24 – Cellar 24 is a locally owned and operated wine bar located in The Sterling Ridge Shopping Center. The wine bar specializes in high quality, small boutique wines from around the globe as well as craft beers. Stop by to enjoy a glass of wine, or pick a bottle off the wine wall to take home and enjoy. Cellar 24 offers a small menu that includes pizzas, cheese plates, bruschetta, hummus, chocolates and nuts. Cellar 24 offers wine tastings, wine classes, and has a full live music calendar.
The Refuge – Old-fashioned décor such as antique wallpaper, Einstein bulb steel chandeliers and deep mahogany furniture, coupled with live jazz music, takes you back in time with the perfect mix of modern upscale dining and a classic saloon experience at The Refuge.
The Cynthia Woods Mitchell Pavilion – The Pavilion presents between 50 and 65 events every March through December, ranging in style from rock to classical, jazz to country, and modern opera to contemporary American ballet. There is something for everyone to enjoy at the Pavilion. After the concert or event ends by 11:00 p.m., head to one of the many bars in nearby Market Street or on the Waterway to keep the night going.
Discover more night life and fun events in The Woodlands Area on the Hello Woodlands Calendar! View the Calendar here.