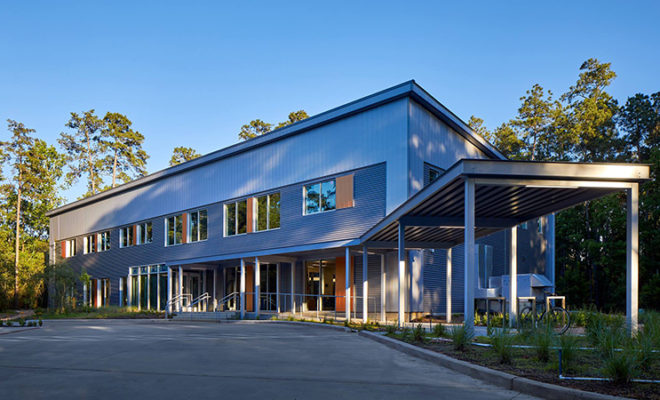 Business
HARC First Commercial Building in Texas to Earn Zero Energy Certification
By |
HOUSTON, TX – The Houston Advanced Research Center (HARC) officially achieved Zero Energy status from the International Living Future Institute, which makes the HARC headquarters in The Woodlands the first commercial building in Texas to accomplish the feat. Today, 100% of HARC's energy needs on a net annual basis are supplied by on-site renewable energy, made possible by a $136,000 Green Mountain Energy Sun Club grant that supported the purchase and installation of additional solar panels, associated inverters and hardware on the roof of HARC's LEED® Platinum building.
Zero energy is recognized worldwide as one of the highest aspirations in energy performance in the built environment. Through a third-party audit of actual performance data, the International Living Future Institute certifies HARC's building is truly operating as claimed, harnessing energy from the sun, wind, or earth to produce net annual energy demand. HARC's building can also now serve as a case study platform for projects to inform and accelerate other zero energy efforts throughout the world.
"HARC's Living Lab creates an environment to continue our program of research into sustainable policies and technologies, but it also allows us to serve as a case study for efficient design and operations," said Dr. Mustapha Beydoun, Vice President and Chief Operating Officer for HARC. "The Green Mountain Energy Sun Club's grant allowed us to significantly upgrade our existing on-site renewable power generation and achieve this latest milestone."
The HARC building and campus grounds in The Woodlands is 50% more energy efficient when compared to LEED® base targets and employs several sustainable features in its design. The building footprint and impervious paving are minimized, bioswales are designed to retain and filter water on-site to reduce the impact to nearby waterways, and the site's biodiversity is preserved by protecting and restoring native vegetation. The building is also oriented to maximize the daylight reaching the building's interior spaces and rooftop solar installation.
Other advanced sustainable strategies include an added high-performance building envelope and rain screen that performs 2.5 times better than a typical enclosure and low-flow fixtures to conserve water while mechanical systems utilize a geothermal heat exchange system for optimal energy efficiency, indoor air quality, and thermal comfort.
"Green Mountain Energy Sun Club is honored to be part of HARC's journey to achieve the highly regarded zero energy status," said Mark Parsons, Vice President and General Manager for Green Mountain Energy. "We are committed to facilitating the adoption of solar and other sustainability measures by nonprofit organizations through sustainability grants, and we hope this recognition will inspire other buildings across Texas to support renewable energy – one light switch at a time."
HARC's work in air quality research and management focuses on advancing the science of regional air quality monitoring and modeling, developing emissions-reducing technology and communicating climate change science and policy. HARC will serve as the technical advisor and lead researcher on the recently announced Houston Climate Action Plan, a project that brings together stakeholders from across the community to develop a variety of cost-effective energy efficiency, renewable energy and transportation measures that will reduce community-wide greenhouse gas emissions in Houston and uphold the goals of the Paris Agreement.

HARC is a nonprofit research hub providing independent analysis on energy, air, and water issues to people seeking scientific answers. Its research activities support the implementation of policies and technologies that promote sustainability based on scientific principles. HARC is a 501(c)(3) nonprofit organization building a sustainable future in which people thrive and nature flourishes. For further information, contact HARC at (281) 364-6000 or visit www.HARCresearch.org. You can also connect via Instagram, LinkedIn, Facebook or Twitter. Like or follow @HARCresearch.
The Green Mountain Energy Sun Club is a nonprofit organization committed to advancing sustainable communities. As a 501(c)(3) organization, the Sun Club® invests in nonprofits and focuses on projects related to renewable energy, energy efficiency, resource conservation and environmental stewardship. Since the program's founding in 2002, the Sun Club has donated $10 million to more than 122 projects from nonprofit organizations across Texas and the Northeast. To learn more about the Sun Club or to apply for a Sun Club grant, visit gmesunclub.org.
The International Living Future Institute (ILFI) is a hub for visionary programs. ILFI offers global strategies for lasting sustainability, partnering with local communities to create grounded and relevant solutions, including green building and infrastructure solutions on scales ranging from single room renovations to neighborhoods or whole cities. ILFI administers the Living Building Challenge, the environment's most rigorous and ambitious performance standard, as well as the Living Product Challenge and Living Community Challenge. In addition, ILFI offers transparency labels through JUST, Declare, and Reveal. Zero Energy and Zero Carbon certification, and Living Future Accreditation are also available. Additionally, ILFI is home to Ecotone Publishing, a unique publishing house dedicated to telling the story of the green building movement's pioneering thinkers and practitioners.