Events
Harris County Pets, Spring FD Host Free Pet Microchip & Vaccination Event May 12
By |
HOUSTON, TX — Pet owners residing in unincorporated Harris County will have an opportunity to have their dogs or cats microchipped and vaccinated for free during a May 12 event hosted by Harris County Pets and Spring Fire Department. The event will be held from 9 a.m. to 12 noon (or until supplies run out) at Spring FD's Station 74 on 23803 Aldine Westfield in Spring, Texas.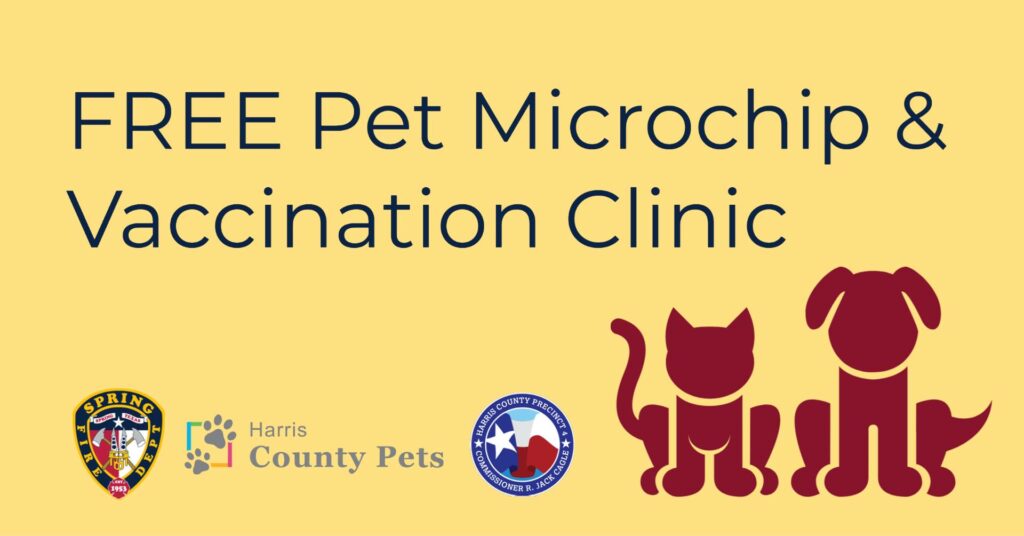 The free services include vaccinations, including rabies, as well as microchipping, and will be offered to the first 100 animals on a first-come, first-served basis. All animals must be restrained on a leash or confined in a crate or carrier to receive these services.
A photo ID is required for participating pet owners to show proof of residence in unincorporated Harris County. There is no limit on the number of animals per participating household.
Staff from Harris County Precinct 4 Commissioner R. Jack Cagle's Office will also be assisting during the May 12 event. 
If pet owners miss the chance to take part in the free May 12 event, they can still have their pets microchipped and vaccinated for a low cost at the Harris County Pets Clinic at 612 Canino Road in Houston. All appointments at Harris County Pets must be made by calling (281) 999-3191.
MAY IS CHIP YOUR PET MONTH 
In recognition of Chip Your Pet Month in May, Harris County Pets and Spring Fire Department encourage all pet owners to have their pets microchipped as an extra precaution to ensure their furry loved ones are returned home if they ever get lost.
"Hurricane season is just around the corner, and we typically find many pets in our area who get displaced or lose their collar IDs when flooding or inclement weather occurs," said Michael White, DVM, MS, director of Harris County Veterinary Public Health, which operates the Harris County Pets Resource Center. "Microchips can significantly increase the chance of lost pets being reunited with their loved ones, and thus can save their lives."
"Dozens of lost animals in the Spring Fire Department territory have been reunited with their families thanks to the partnership we have with Harris County Pets," said Spring Fire Chief Scott Seifert. "Being able to expand upon that service by offering free vaccinations and microchips is a blessing. Our pets are members of our families and we take their safety seriously."
About the size of a grain of rice, a microchip is a non-removable form of identification for your pet. It is inserted under the skin of the animal with an injection. Microchipping is a very quick, safe and harmless procedure.
Other points about microchipping worth noting: 
Although the microchip has proven to be a highly effective tool for lost pets to be reunited with their owners, it is not a GPS device. The chip enables a shelter, rescue group veterinarian, or Spring firefighter to contact the owner with the use of a scanner. 
A combination of a registered microchip and a properly fitted collar with current identification tag, as well as keeping your pet properly confined, is the best way to ensure your pet is safe and recoverable in case of an emergency. 
For more information about microchipping and other pet ownership resources, visit www.CountyPets.com.
Harris County Pets, resourced by Harris County Public Health, provides veterinary care and adoption services for homeless pets, a pet medical clinic for the public, zoonotic disease surveillance, responsible pet ownership education, as well as animal control services in neighborhoods throughout unincorporated Harris County. Visit our website, www.CountyPets.com, or connect with us on Facebook and Instagram.
The Spring Fire Department was founded on April 29, 1953 by a small group of dedicated citizens. It has grown into one of the top combination fire departments in Texas by putting forth a goal of total community safety. In addition to our 24/7/365 commitment to fire suppression, rescue and emergency medical care, our public education and outreach helps our citizens save lives; keep their families, homes and businesses safe; protect themselves and their neighbors; and prepare for potentially catastrophic events. Our commitment begins long before a fire. 
More on the Spring Fire Department's Microchip Reader Program can be found here: www.springfd.org/how-we-serve/pet-microchip-readers.