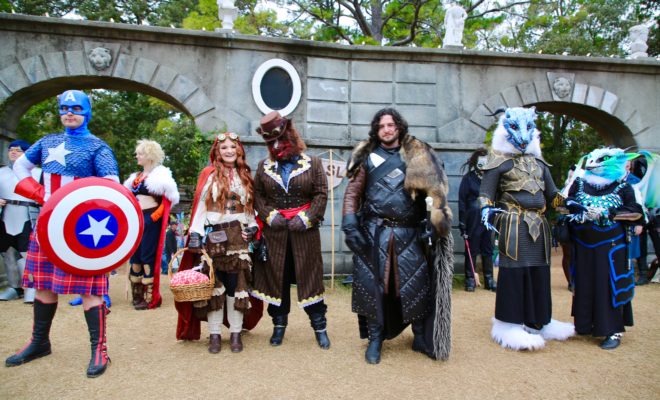 Photo by Rod Prado
Events
Heroes and Villains Weekend at the Texas Renaissance Festival
By |
On Saturday, November 10 and Sunday, November 11 festival patrons assembled the mightiest heroes and heroines and gathered the darkest villains and vixens at the Texas Renaissance Festival for Heroes and Villains Weekend presented by Papa John's Houston.
Festival-goers enjoyed showing off their heroic finery in the costume contest and proved their worth in a gyro eating competition. The joyous weekend celebration of great deeds and dastardly doings included volunteers from ASL Faires who joined the festivities to interpret live shows for the hearing impaired, providing a full festival experience.
Watch what happened:
In honor of Veteran's Day, the King and Queen shared a special message to honor our veterans:
The Texas Renaissance Festival is the nation's largest and most acclaimed Renaissance themed event. Established in 1974, the event attracts over half a million visitors each year to its 55-acre recreation of a 16th Century European village. This immersive experience features world renowned live entertainment, works by master artists and craftspeople, award winning food and drink, hand-powered rides and games, and over 100 interactive characters from September 29 through November 25, 2018.
Two out of the nine themed weekends remain, including the Highland Fling weekend on November 17-18 and Celtic Christmas weekend on November 23-25.
The festival and the adjacent Fields of New Market Campground are located in Todd Mission, Texas.
For more information, visit www.texrenfest.com and install the free Texas Renaissance Festival mobile app on your phone, available in the App Store and Google Play.