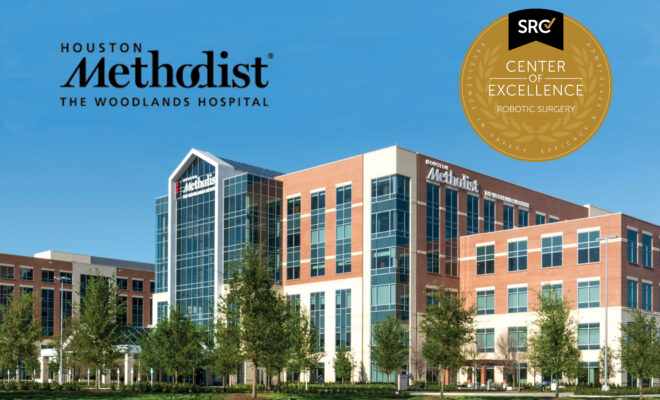 Health
Houston Methodist The Woodlands Hospital Achieves Center of Excellence in Robotic Surgery Accreditation
By |
THE WOODLANDS, TX – Houston Methodist The Woodlands Hospital has recently achieved accreditation as a Center of Excellence in Robotic Surgery by Surgical Review Corporation (SRC), reaching a milestone in demonstrating a commitment to access to robotic-assisted surgery for patients in greater north Houston.
"Since we first opened the hospital nearly five years ago, we have intentionally prioritized the accelerated growth of our robotic program which has also included building an unparalleled team of board-certified, highly-trained surgeons who specialize in robotics program optimization," said Dr. Steven W. Sukin, physician program director of robotic surgery and board-certified urologist at Houston Methodist The Woodlands Hospital. "This accreditation as a Center of Excellence in Robotic Surgery affirms to our patients that we're committed to investing in innovation to provide the most advanced medical technologies available to perform delicate or complex procedures with improved outcomes."
Status as an accredited facility in robotics assisted surgery distinguishes Houston Methodist The Woodlands Hospital as having met rigorous nationally and internationally recognized standards in providing the safest, highest quality of care and surgical services. Health care facilities seeking an SRC accreditation undergo an extensive assessment and inspection process to ensure they meet SRC's proven standards and requirements. 
The SRC examines criteria in surgical experience, program directors, consultative services, equipment and instruments, qualified call coverage, clinical pathways, standardized operating procedures, surgical team and support staff, and patient education. The inspection is consultative and educational, presenting best practices to help an organization or surgeon improve care and services.
To learn more about SRC and the accreditation process, visit surgicalreview.org
Houston Methodist The Woodlands Hospital is committed to leading medicine in Montgomery County and the north Houston region by delivering the Houston Methodist standard of exceptional safety, quality, service and innovation. The growing campus offers 293 beds and access to the most innovative care available including comprehensive cancer care, neurology and neurosurgery, orthopedics and sports medicine, cardiology, emergency care and advanced imaging. Houston Methodist The Woodlands is recognized as a comprehensive stroke center and an orthopedic center of excellence by DNV; and designated as a Level 3 neonatal intensive care unit. In January 2022, the hospital opened Healing Tower – a $250-million expansion project that added 106 beds, focused on medical/surgical and women's services and nine operating rooms. It also included the expansion of the endoscopy center, emergency department and diagnostic imaging department. For more information on Houston Methodist The Woodlands campus, please visit houstonmethodist.org/the-woodlands. To find a physician, call 936.270.3333.
Houston Methodist. Leading Medicine.
U.S. News & World Report has named Houston Methodist Hospital the Best Hospital in Texas for 10 years in a row. Houston Methodist is the No. 1 hospital in Texas and No. 16 in the nation. For more than 100 years, Houston Methodist has provided the best — and safest — clinical care, advanced technology and patient experience. That is our promise of leading medicine.
houstonmethodist.org
twitter.com/MethodistHosp
facebook.com/HoustonMethodist