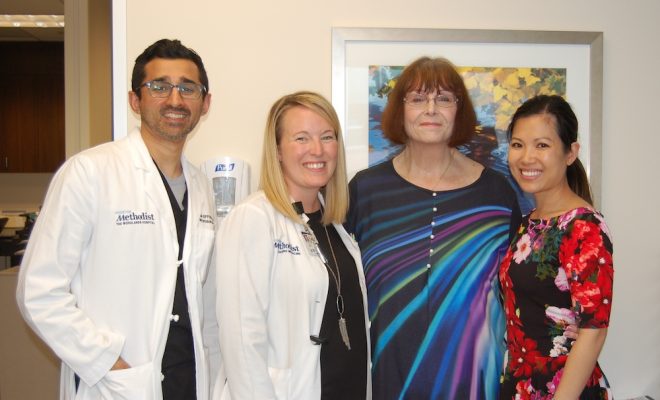 Photo provided by Houston Methodist The Woodlands Hospital
Health
Houston Methodist The Woodlands Hospital receives Comprehensive Stroke Center Certification
By |
The Woodlands, TX – Houston Methodist The Woodlands Hospital has recently received certification from DNV GL – Healthcare as a Comprehensive Stroke Center, reflecting the highest level of competence for the treatment of serious stroke events.
"With stroke care, you must have the best clinicians and resources, but also the ability to act organizationally with extreme efficiency because of the time-critical nature of these events," said Debbie Sukin, CEO, Houston Methodist The Woodlands Hospital, and regional senior vice president, Houston Methodist. "This certification from DNV GL validates all the effort we have put into this program and to ensuring the health and safety of our patients."
The DNV GL – Healthcare Comprehensive Stroke Center Certification is based on standards set forth by the Brain Attack Coalition and the American Stroke Association, and affirms that the hospital addresses the full spectrum of stroke care – diagnosis, treatment, rehabilitation and education – and establishes clear metrics to evaluate outcomes.
"Achieving certification shows commitment to excellence," said Patrick Horine, CEO of DNV GL – Healthcare. "And it helps demonstrate to your community that you are performing at the highest level."
Barbara Lyons of Conroe, a 66-year-old retired Navy veteran and grandmother, recently experienced the benefits of going to a comprehensive stroke center.
"I was sitting with my husband, and when I went to get up out of my chair, my legs gave out and I fell. My left arm wouldn't work and I was trying to say something to him, but my speech came out gibberish. That's when he recognized what was happening and he yelled, 'Stroke! Stroke!' and called 911. He had remembered the signs of stroke after watching a show by Sinbad the comedian.
"When the ambulance arrived, the EMT recommended we go to Houston Methodist. We got to the hospital so fast! My husband said the minute I hit the emergency room there were five women who started working on me instantly. They were prepping me and doing everything, and the doctors were ready to do the surgery. He said it was all within a 10 – to 15-minute time period and had never seen anything happen so fast."
According to Dr. Nhu Bruce, neurologist and director of the stroke program at Houston Methodist The Woodlands Hospital, Lyons had unknowingly been suffering from Atrial Fibrillation (AFib), which had caused a clot to form in the bottom of her heart that later dislodged and traveled to her brain and caused a stroke.
"We immediately treated her with a mechanical thrombectomy – a minimally-invasive procedure using specialized equipment to remove the clot from the patient's artery," explained Bruce. "The medical team worked together with a concerted effort of care and the outcome was a remarkable success."
Dr. Sabih T. Effendi, a neurosurgeon who has worked alongside Bruce to build the stroke program at Houston Methodist The Woodlands Hospital said, "As a certified comprehensive stroke center, it is exciting that we can now provide this higher level of cutting-edge care and very successful treatment to patients suffering from neurological diseases. I grew up here in The Woodlands and Montgomery County, and I'm proud to be able to provide this care to people in our community. We can provide advanced stroke treatment therapies in North Houston and Montgomery County that are on par with the capabilities in the Texas Medical Center."
Lyons added, "They did an amazing job. I am so appreciative of how quickly they helped me and saved my life. Their stroke department is essential and it's pretty clear the importance of the timing – how fast you get here, how fast they see you – it's all about speed. When treatment happens that fast, you are less likely to have to go to rehabilitation and learn how to walk and talk all over again; because they caught it so quickly. Thankfully I'm doing just great. After I was released from the hospital, I told my husband, 'That's it! We're going on a cruise!'"
Bruce said, "It was so good to see Barbara up and walking and talking and doing so well. We have our preconceptions of how stroke patients will do, but when they go beyond that and show us there is complete recovery after such a tragic disease process, it's a very rewarding experience. It's great – all the things we have at our disposal in terms of treating patients – because it wasn't this way 10 years ago."
Bruce and Effendi encourage the community to learn how to recognize the signs and symptoms of stroke by remembering the "BE FAST" acronym:
· Balance – Is the person suddenly having trouble with balance or coordination?
· Eyes – Is the person experiencing suddenly blurred or double vision or a sudden loss of vision in one or both eyes?
· Face – Does one side of the face droop or is it numb? Ask the person to smile.
· Arm – Is one arm weak or numb? When lifting their arms in front of their body, are they unable to lift one side, or does one side drift downward?
· Speech – Is speech slurred? Or, are they unable to speak?
· Time – If yes to any of the above, call 911 now! Every minute of time not treated could lead to permanent brain injury.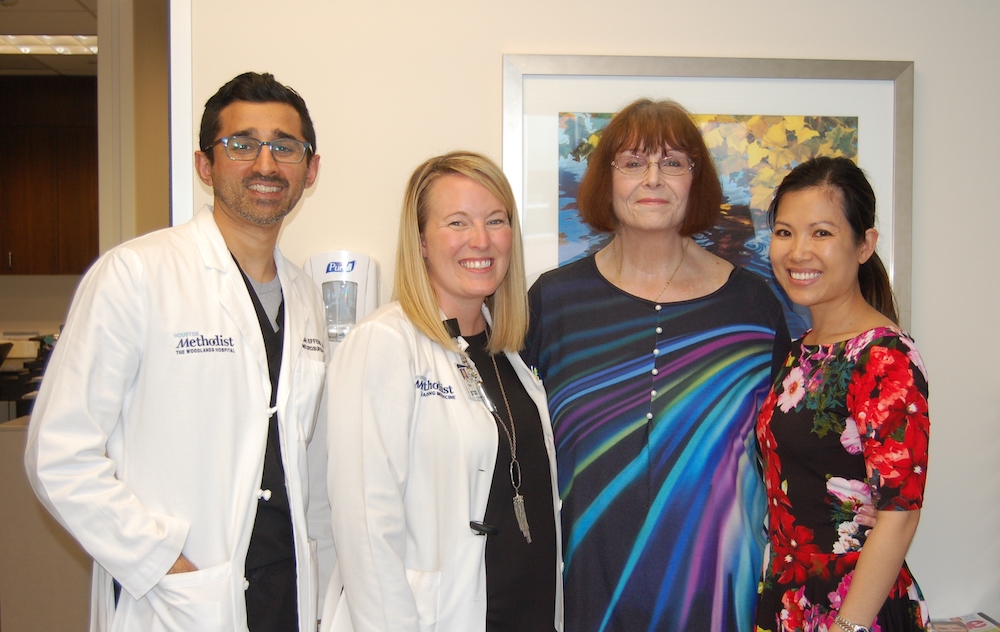 Source: Amy Barnett, Houston Methodist The Woodlands Hospital