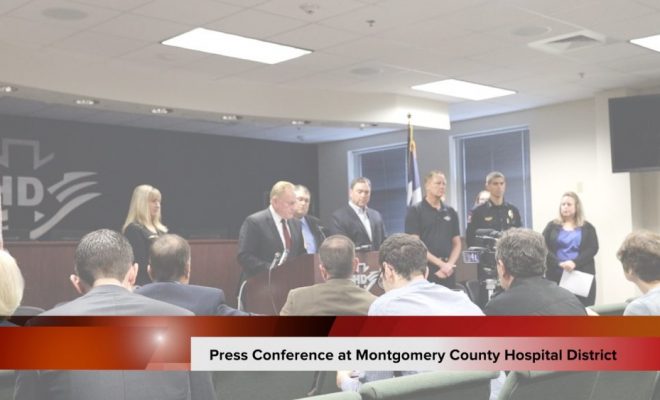 Photography by Rod Prado, Hello Woodlands
Health
Press Conference: MCHD on COVID-19 presumptive positive case
By |
On Wednesday, March 11, 2020, Montgomery County Hospital District (MCHD) hosted a press conference regarding the announcement made on March 10 on the Coronavirus (COVID-19) presumptive positive case in Montgomery County, Texas.
View the live recording and video of the complete press conference on the Montgomery County Office of Homeland Security and Emergency Management Facebook page:
View Hello Woodlands video of the Press Conference on YouTube:
Montgomery County Public Health District, in conjunction with the Montgomery County Office of Emergency Management, confirmed the county's first presumptive positive case of novel coronavirus (COVID-19) in a patient being treated at a local hospital. The positive test has been submitted to the Centers for Disease Control (CDC) and they are currently waiting for confirmation. The patient is a man in his 40s, is a resident of Montgomery County, and is in stable condition.
The patient was presented the hospital in Montgomery County with symptoms where doctors provided a course of treatment, including testing for Coronavirus.
As reported yesterday in the release, "All healthcare providers are following strict guidelines from the CDC in all interactions with the patient. The patient is under isolation at a local hospital in Montgomery County."
"Montgomery County and the Health District have taken steps to mitigate further spread from this patient in the community," stated Judge Mark Keogh.
"We do not in any way want to downplay the seriousness of this and are taking every precaution…The general risk to the general public is still very low," continued Judge Keogh. "Folks who have underlying health issues though and are of some age, are elderly, are the one's of greatest risk and susceptible to the virus. It is our suggestion that they should take precautions that are necessary to avoid contracting this virus."
"What can all of us do?" Judge Keogh revisited the same methods as noted the release provided on March 10 that states, "The best way to prevent infection is to take precautions to avoid exposure to this virus, which are similar to the precautions you take to avoid the flu."
"Wash your hands often with soap and water for at least 20 seconds. If soap and water are not available, use an alcohol-based hand sanitizer.
Avoid touching your eyes, nose, and mouth with unwashed hands.
Avoid close contact with people who are sick.
Stay home when you are sick.
Cover your cough or sneeze with a tissue, then throw the tissue in the trash.
Clean and disinfect frequently touched objects and surfaces."
Melissa Miller, Chief Operating Officer of MCHD, shared the patient has no travel history outside of Montgomery County. The case is currently under investigation. All close contacts or people at risk from the patient have been contacted, have been self-quarantined, and currently are being monitored.
Melissa Miller shared that since February 7, 39 people have been monitored in Montgomery County; 21 remain under monitoring. Persons of interest included 14 individual, 8 are still under investigation. Persons of interest include those who have had an airline or travel history or close contact with a known case. MCPHD is going to keep the public and media updated, per HIPAA regulations.
In accordance with HIPAA, MCHD is not releasing the identity of the patient, or the hospital where the patient is being treated. Precautions are being taken to ensure the safety of other patients in the hospital.
Jason Millsaps, Judge Keogh Chief of Staff and Montgomery County Emergency Management Coordinator, confirmed the MCHD emergency center is fully staffed and ready to provided resources and respond to the needs of health care workers, as needed. Guidelines about hand washing have been shared and updates will be shared on the MCHD social media pages and at www.mchd-tx.org/.
Jason Millsaps shared, "If you are sick, please stay home. If you need to seek medical treatment because you are sick, please call your doctor, healthcare professional, or hospital prior to showing up there. So we can prevent further spread of this, if that is the case. Please notify them and they will tell you step-by-step what to do."
Dr. Rees, Superintendent of Montgomery Independent School District, stated that out of an abundance of precaution, Montgomery ISD will close early for Spring Break starting Thursday, March 12 and Friday, March 13, 2020 and be closed for deep cleaning of campuses and schools. Triathlon events will also be cancelled.
MCHD was not able to share specifics regarding the location of the patient or their relation to members of the community.
"We have talked to our local health authority, Dr. Charles Sims, and shared this case with him. And he has not recommended any closures of schools or businesses in the county," Melissa Miller responded.
Dr. Rees also responded to questions of the press, noting that Montgomery ISD is one of the few districts not currently on Spring Break. The district is taking precautions to deep clean all common areas, surfaces, and classrooms to ensure the safety of the staff and students. Montgomery ISD plans to re-open on Monday, March 23.
Melissa Miller explained the definition and status of a presumptive case stating, "A presumptive case is one that tested positive at our Houston warehouse. Those tests are very complex and so they are sent to CDC for confirmation of testing to ensure a confirmed case is actually a confirmed case.This is just presumptive at this time. We do not have the CDC's confirmation of a confirmed case at this time…We expect to receive that confirmation in the next 48 hours, or that it's not positive."