Photo Credit: Memorial Hermann
Health
COVID-19 Risk, Symptoms and What To Do If You Are Sick
By |
As of March 13, 9:30 a.m. the Montgomery County Public Health District reported that they currently have three presumptive positive cases of COVID-19 (Coronavirus) in Montgomery County. MCPHD is currently awaiting information and confirmation of those cases from the CDC. For the latest update on the three cases, please read our article here.
How do I protect myself from getting COVID-19?
Memorial Hermann shared on their website the following information: There is currently no vaccine to prevent COVID-19. The best way to prevent the spread of germs is proper hand hygiene and cough etiquette. Below are some other tips:
Avoid close contact with people who are sick.
Avoid touching your eyes, nose and mouth.
Stay home when you are sick.
Cover your cough or sneeze with a tissue, then throw the tissue in the trash and perform hand hygiene immediately.
Clean and disinfect frequently touched objects and surfaces using a regular household cleaning spray or wipe.
Wash your hands often with soap and water for at least 20 seconds, especially after going to the bathroom; before eating; and after blowing your nose, coughing or sneezing. If soap and water are not readily available, use an alcohol-based hand sanitizer with at least 60% alcohol. Always wash hands with soap and water if hands are visibly dirty.
Learn more about the Coronavirus (COVID-19) by visiting the Memorial Hermann website at https://www.memorialhermann.org/coronavirus/
But, what do you do if you are sick?
Montgomery County Public Health District shared the following information:
Symptoms of COVID-19 may show up 2-14 days after exposure. The steps you should take if you think you are sick with COVID-19 depend on whether you have a higher risk of developing severe illness.
High Risk Individuals:
People 65 years or older, and/or people with medical issues, like heart disease, diabetes, high blood pressure, cancer, or a weakened immune system, are at a higher risk for getting very sick from COVID-19.
If you are a high-rick individual and you develop fever or symptoms, call your doctor.
If you are not sick enough to be hospitalized, you can recover at home. Follow your doctor's instructions and refer to CDC recommendations for how to take care of yourself at home.
General Population:
If you are in generally good health and have mild symptoms, stay home and take care of yourself like you would a cold or the flu.
If symptoms worsen, call your doctor or healthcare provider.
Your Risk for COVID-19
Memorial Hermann also posted the following image and information below regarding your risk to COVID-19.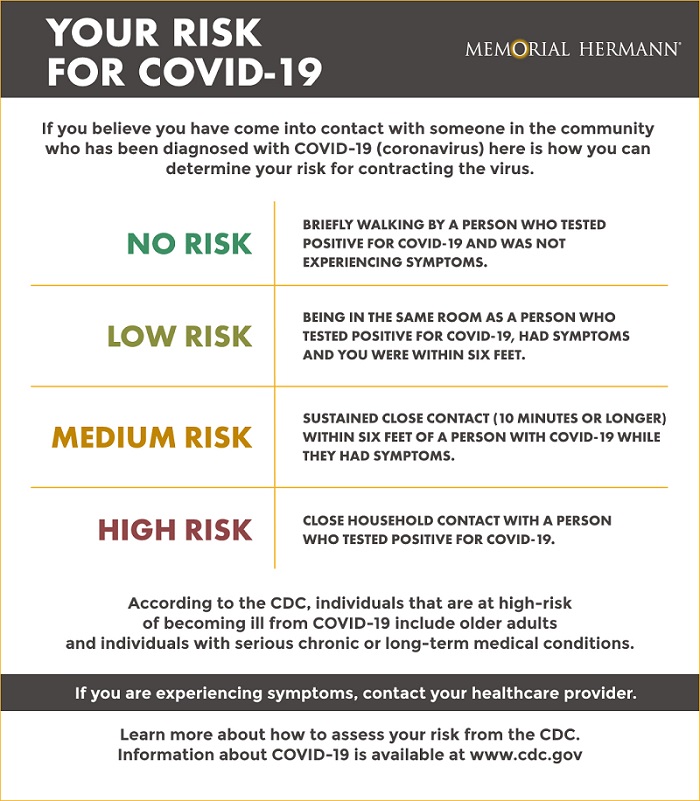 If you believe you have come into contact with someone in the community who has been diagnosed with COVID-19, here is how you can determine your risk for contracting the virus:
No Risk
Walking by or briefly being in the same room as a person who tested positive for COVID-19 and was experiencing symptoms such as fever, cough, or shortness of breath.
Low Risk
Being in the same room as a person who tested positive for COVID-19 and had symptoms, but you were not within six feet.
Medium Risk
Sustained close contact (10 minutes or longer) within six feet of a person with COVID-19 while they had symptoms.
High Risk
Close household contact with a person who tested positive for COVID-19.
According to the CDC, individuals that are at high-risk of becoming ill from COVID-19 include older adults and individuals with serious chronic or long-term medical conditions.
If you are experiencing symptoms, contact your healthcare provider. Learn more about how to assess your risk from the CDC. More information about COVID-19 is available at www.cdc.gov.
Memorial Hermann made a special announcement on their website stating, "If you suspect you may have COVID-19 and would like to consult with a healthcare provider, you are encouraged to use eVisit or Virtual Clinic." Learn more about eVisit and Virtual Clinic at https://www.memorialhermann.org/virtual-care/instant-care-options/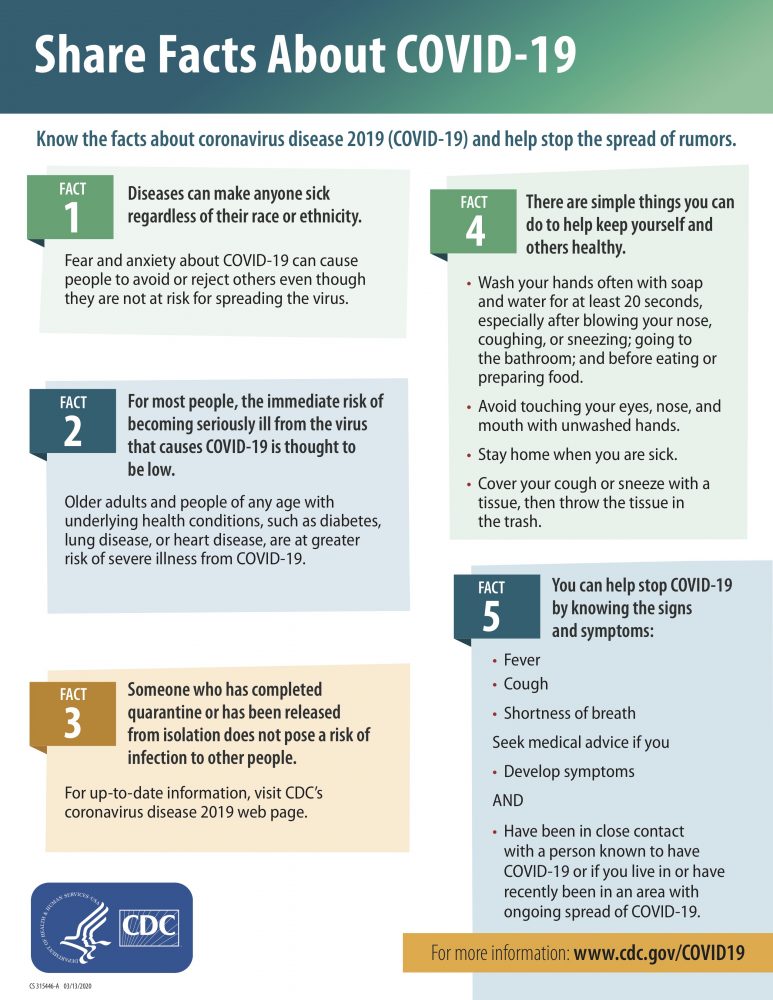 For more information and facts about COVID-19, please visit the CDC website at https://www.cdc.gov/coronavirus/2019-ncov/index.html
Source: Montgomery County Public Health District, Memorial Hermann