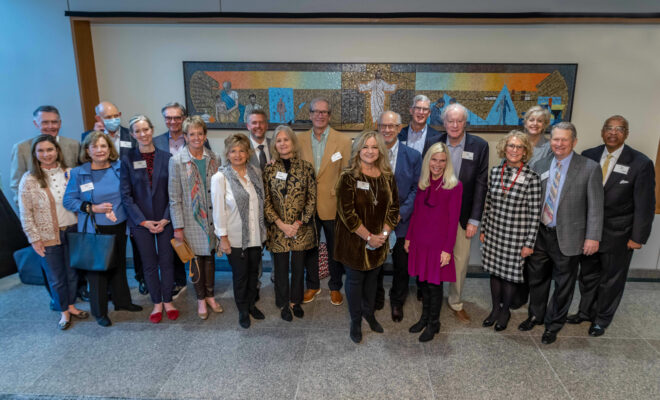 Photo Credit: Houston Methodist
Art & Culture
Houston Methodist The Woodlands Hospital Unveils Mosaic Representing Hope and Healing
By |
Houston Methodist The Woodlands Hospital recently commemorated the unveiling and blessing of The Extending Arms of Christ, a mosaic representing hope and spiritual support for patients, their loved ones and the dedicated physicians and staff who care for the community.
"We are thrilled to bring a replica of The Extending Arms of Christ mosaic to our recently completed Healing Tower campus expansion welcoming all who enter our doors seeking care," said Debra Sukin, CEO of Houston Methodist The Woodlands Hospital and regional senior vice president, Houston Methodist. "Spiritual care is deeply rooted throughout our hospital's history and remains the very soul of what we do by connecting a person's spiritual health and their well-being. We are deeply grateful for the generosity of community visionaries John and Marchita Cook, Rod and Karen Leis, Dr. Ann and Jerry Snyder and The Woodlands Methodist Church whose leadership and support of our non-profit hospital has profoundly impacted spiritual care programs for our patients and staff."
The original Extending Arms of Christ mosaic was constructed in 1963 in Florence, Italy. It was once exclusively on display at the flagship Houston Methodist Hospital in the Texas Medical Center, serving as a visual representation of a commitment to leading medicine through a faith-based approach. The mosaic centers around a depiction of Christ flanked on the left by both Hippocrates, popularly known as the father of western medicine, and Florence Nightingale, the founder of modern nursing, with a vivid scene of medicine's future on the right. Christ's arms reach both through the past and into the future to embrace and strengthen those who dedicate their lives to helping others, welcoming both science and faith.
Advertisement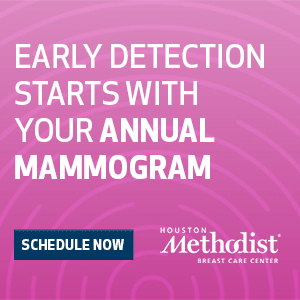 "The United Methodist Church has a rich history with Houston Methodist Hospital and it is a joy to unveil this representation of hope, harmony and community to provide compassionate spiritual care to all people regardless of their own faith," said Bishop Robert Hayes, Houston Methodist The Woodlands Board of Trustees member and retired bishop, The Woodlands Methodist Church. "We know this mosaic will be a beacon of light shining for all — a symbol of our determination to be a light set upon a hill that refuses to go out as we collectively practice the art of healing and wholeness."
Houston Methodist The Woodlands Hospital is committed to leading medicine in Montgomery County and the north Houston region by delivering the Houston Methodist standard of exceptional safety, quality, service and innovation. The growing campus offers 293 beds and access to the most innovative care available including comprehensive cancer care, neurology and neurosurgery, orthopedics and sports medicine, cardiology, emergency care and advanced imaging. Houston Methodist The Woodlands is recognized as a comprehensive stroke center and an orthopedic center of excellence by DNV; and designated as a Level III neonatal intensive care unit. In January 2022, the hospital opened Healing Tower – a master-planned campus expansion project that added 106 beds focused on medical/surgical and women's services, and nine operating rooms. It also included the expansion of the endoscopy center, emergency department and diagnostic imaging department. Learn more at houstonmethodist.org
Source: Houston Methodist