Art & Culture
Greater Conroe Arts Festival's Activities, Events, & Lineup of Free Family Fun
By |
CONROE, TX – The annual Greater Conroe Arts Festival, featuring free, family-friendly art activities and events, will be held Saturday, March 19, 2022 from 10 a.m. to 5 p.m. in historic Downtown Conroe, with local and Texas artists representing all genres of the arts. The event is presented by the Greater Conroe Arts Alliance, made up of 18 arts organizations in Montgomery County which represent the performing and visual arts. The Festival events will be ongoing throughout the day.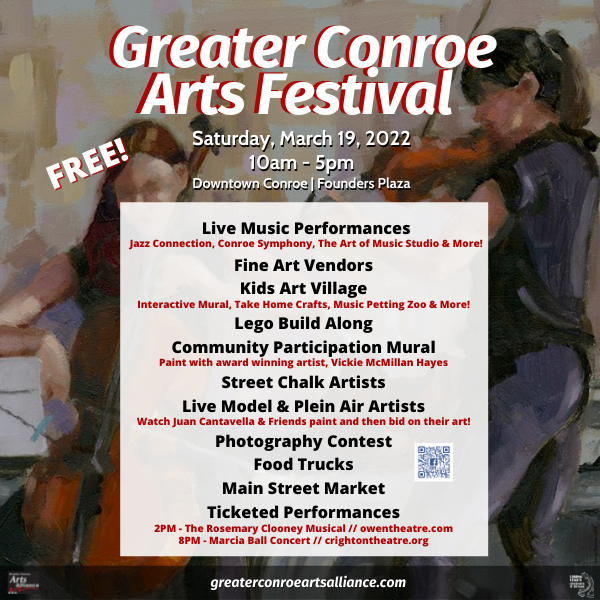 "Come and spend the day with us at the Greater Conroe Arts Festival on Saturday, March 19th," said Judi Lanza, Greater Conroe Arts Alliance President. "It will be a day where the whole family can come and find something fun to do. Whether it be listening to music, watching an artist paint, helping to build a giant Lego robot, painting on a community art mural, or trying out some great food from one of our many food trucks. Plus, you can enter our festival photo contest and visit our raffle/auction tent for a chance to win a basket full of prizes, as well as some of the art painted at the festival by award winning artists! There will be something for everyone at the Greater Conroe Arts Festival!"
Activities and Events Include:
Conroe Art League 'CAL National Art Show' on display in the Gallery;
Food Trucks – Taste the Asian, HannaB's, Conroe Party, Cajun Creole, Spud-N-Up, Karissa's Cake in a Jar, HeBrews Coffee, Lemonade King, Kettle Corn King
Main Street Market will be open 10:00-5:00
Live performances on stage all day at Founders Plaza, including The Conroe Symphony, Jazz Connection, The Art of Music Studio, Indie Films, Guitarist Sean Chilson, and more;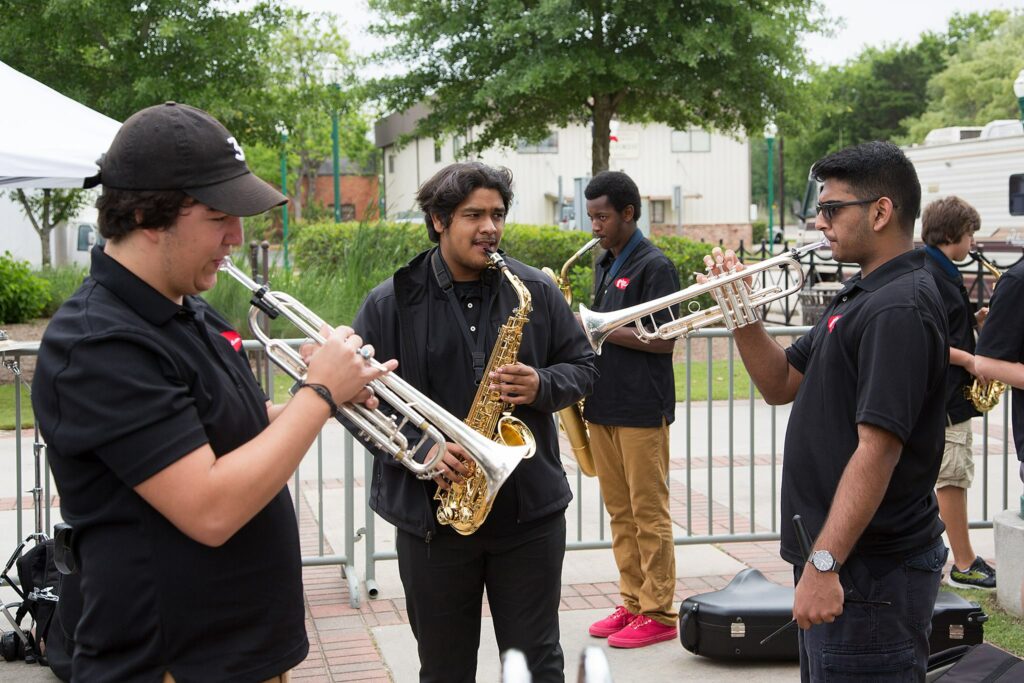 Fine Arts Vendors;
Museum displays and activities;
Community Participation Art Mural – Paint with award winning Artist Vickie Hayes;
Live Model painting with Award winning artists Juan Cantavella, Susan Hotard, Hilda Lockley, Lenore Prudhomme & Hannah Wu- Visit the Live Model Painting & Tent Gallery with Art for sale
Live painted scenes from the festival & downtown Conroe with Award winning Plein Air artists Nancy Paris Pruden, and Impressionist painter Fran Ellisor, plus Lisabeth Geis, Pam Markham, Diane Williams & friends;
Silent Auction for all art painted at the Festival;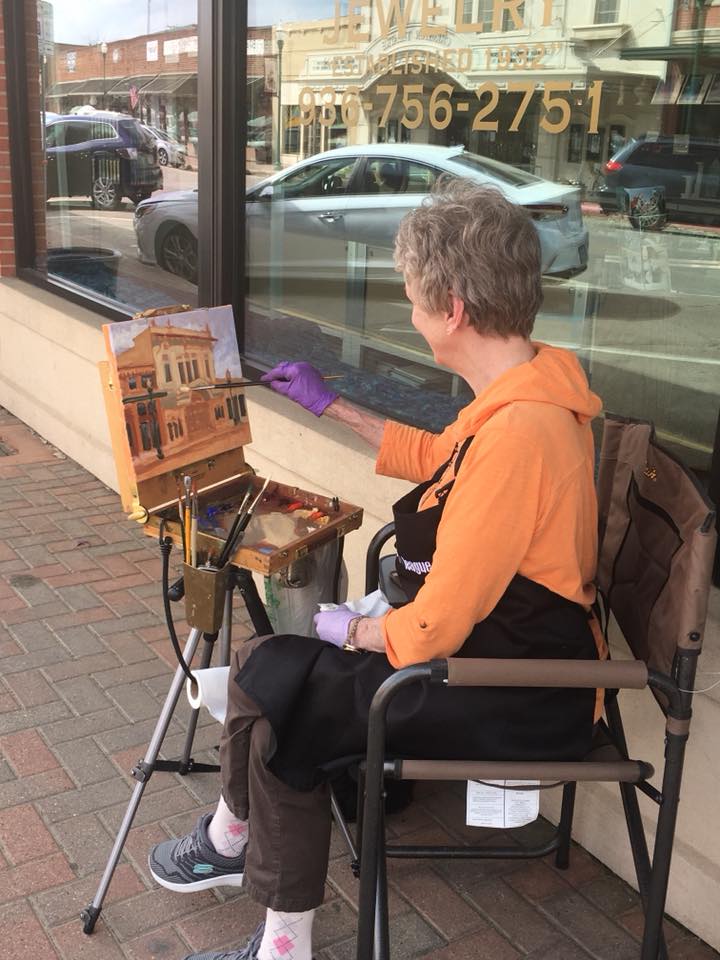 Pottery Demonstrations with Artist Carol Berger
Pottery Bowl making activity with Artist Carol Roach
Kid's Art Village:

Kids Art take home project with Rebekah Billings;

Collaborative kid's 8 ft. x 4 ft participation Art Mural in Kid's Art Village;
Music Petting Zoo – The Art of Music Studio – School of Music & Arts in Kid's Art Village;
Lego Build-a-long for all ages – help build a giant Lego Sculpture:
Take pictures with Anna & Elsa from Frozen with Christian Youth Theater;
Raffle for Fine Art, Crighton, Owen & CYT Theatre tickets, Conroe Symphony, GCAA Members Concerts & Event tickets, Kid's & Teen's Summer Music Camp tuition, Limited Edition Festival Glasses & More!
Poetry by Lupe Mendez, the 2022 Texas State Poet Laureate winner at CAL Gallery at 4:00 pm;
Street Chalk Artists including Sylvia Blanco, Claudia Cepeda & Elizabeth Umanzor
Photography Contest:

1st Prize $200, 2nd Prize $50 & online IFF (Indie Films Foundation) class, 3rd Prize online IFF Class. Prizes awarded for the best of the best at 4:30 pm.

Bring your camera or even your smart phone and take pictures of this years' event. Your palette is anything and anyone within the downtown Conroe festival grounds. We are looking for the best photographs that showcase what's unique and fun about this GCAA event.
Check in at the Indie Films Foundation Booth on Saturday, March 19th. The contest kicks off at 10 am and ends at 3 pm with prizes awarded for the best of the best at 4:30 that day. This is an opportunity for photographers of all levels to compete and contribute with their best images for local recognition.
Photographs will be judged on framing, composition, creative use of light, and subject matter.
Finalists will be chosen from photographers who capture the essence of the Festival including the activities and human interactions. Come practice your creative photography during the festival and become part of the show!
Ticketed Theatre Performances:
Tenderly, The Rosemary Clooney Musical at 2:00 at the Owen Theatre, Purchase Tickets HERE
The Rosemary Clooney Musical offers a fresh, remarkably personal, and poignant picture of the woman whose unparalleled talent and unbridled personality made her a legend. In Tenderly, Rosemary Clooney's journey starts with her simple Kentucky childhood and follows her rise to Hollywood stardom. With her signature songs woven in and out, we learn both the story of her successes on film, radio, and TV, as well as her struggles in her personal life – with a career fading during the advent of rock-and-roll and her struggles with personal relationships and depression. Audiences stand and cheer as they rejoice at her triumphant comeback and even more successful career as a jazz singer. It features many of Mrs. Clooney's signature hits, including "Hey There (You with the Stars in your Eyes)," "Tenderly," and "Come On-A My House."
Marcia Ball at 8:00pm at the Crighton Theatre, Purchase Tickets HERE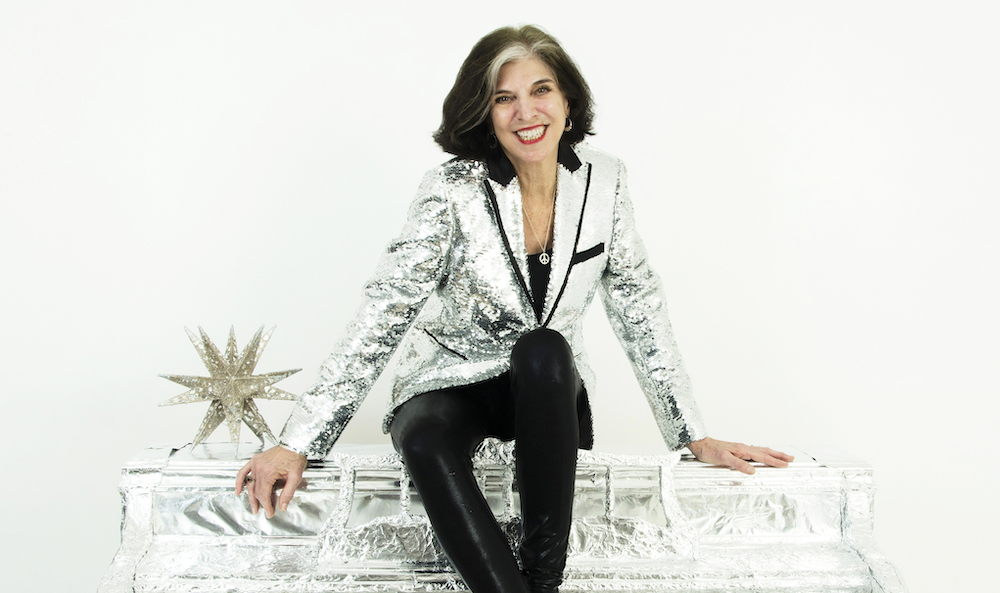 Marcia Ball will be LIVE in Concert on Saturday, March 19th at 8pm at the historic Crighton Theatre! Plus, enjoy a great pre-show at 7:30 with guitarist Sean Chilson and Judi Lanza & friends! Doors open at 7:00pm.
The Texas-born, Louisiana-raised musical storyteller has earned worldwide fame for her ability to ignite a full-scale roadhouse rhythm and blues party every time she strolls onto the stage. Her groove-laden New Orleans boogie, deeply soulful ballads and rollicking Gulf Coast blues have made her a one-of-a-kind favorite with music fans all over the world.
The Festival will be held at Conroe Founders Plaza, 205 Metcalf St, Conroe, TX 77301.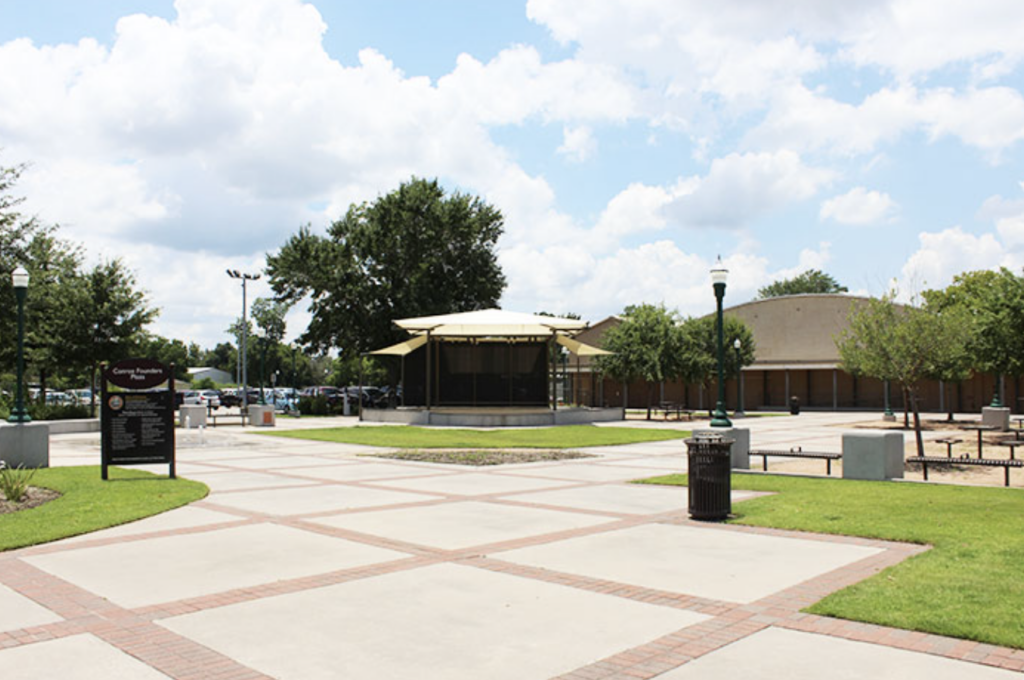 For more information visit Greaterconroeartsalliance.com.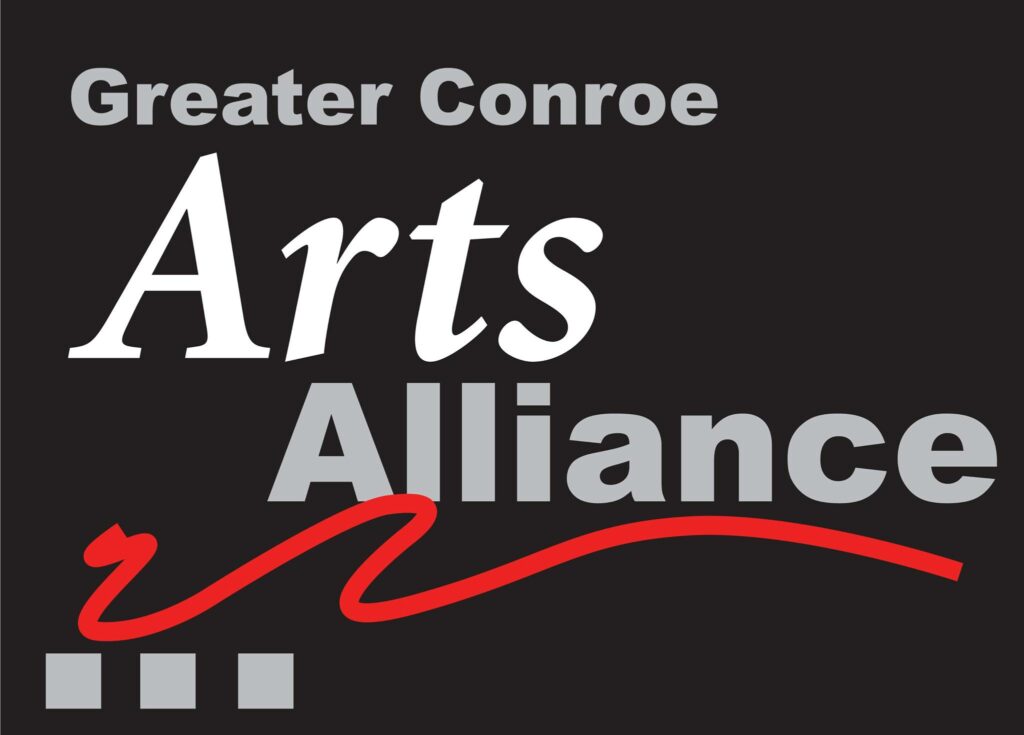 The Greater Conroe Arts Alliance is a collaborative nonprofit organization whose mission is to actively promote and support the arts and cultural organizations and events throughout the Greater Conroe area. The Alliance believes that participation in and support of the arts is an investment that enhances the entire community economically while providing an uplifting and fulfilling cultural experience to everyone.