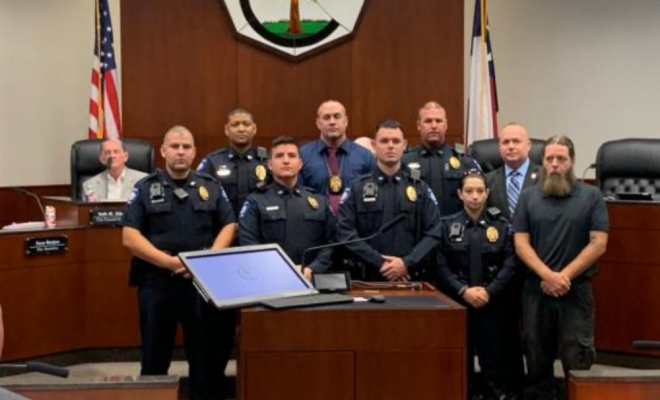 News
Imelda Heroes recognized by Conroe PD Chief Christy
By |
On September 26, 2019, Chief Jeff Christy recognized several Conroe Police Officers and Conroe citizen Lance Massey before Mayor and Council. Massey and the officers were recognized for their courageous actions during tropical storm Imelda on September 19, 2019. Three videos were shown displaying scenarios where officers entered flood waters to assist motorists that were in distress.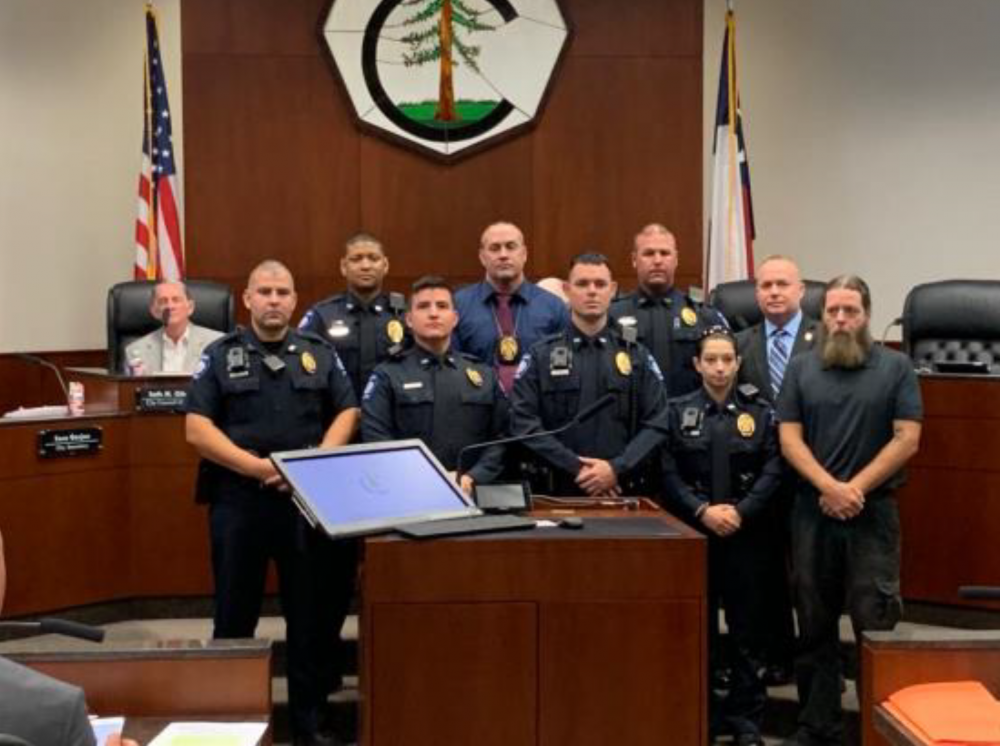 Officer Justin Devore entered the rapidly flowing ravine in the 1100 block of Hillcrest to rescue a woman that had accidentally turned into the ravine because she was unable to navigate the flood waters into a driveway. The driver was trapped in the vehicle as it was nose down in the murky flood water that was above the driver door and entering the vehicle. Officer Devore forced open the door and carried her to safety.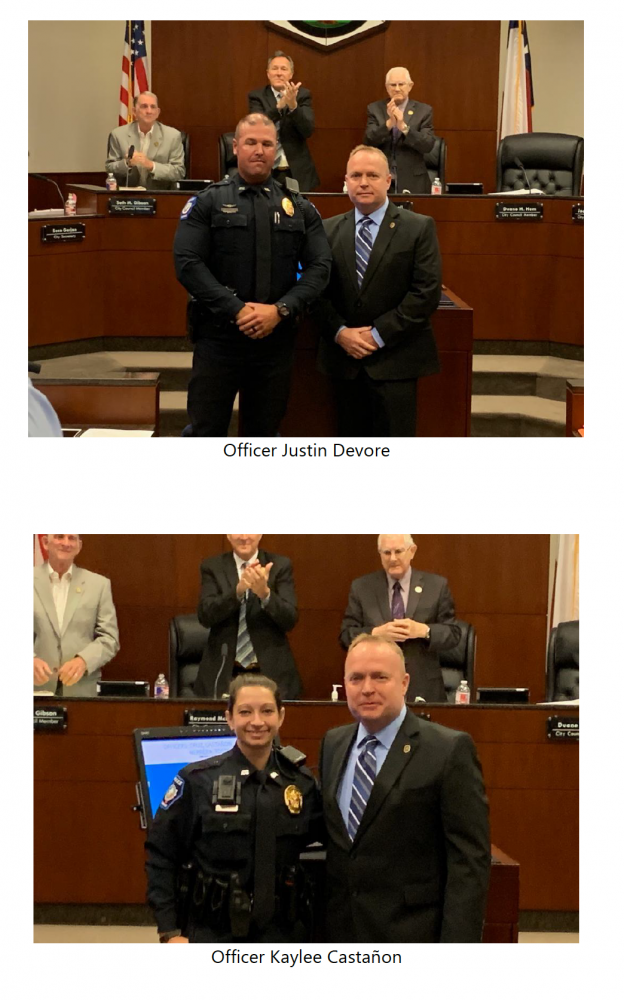 Officers Richard Cruz, Andres Garcia, Chris Herrera, Kaylee Castañon, and Jason Tosto entered the rushing water of the IH 45 feeder road in front of Candy Cane Park to rescue a family that became trapped in the rapidly rising and fast moving flood waters. The officers created a human chain and one by one removed the family from the vehicle taking them to safety.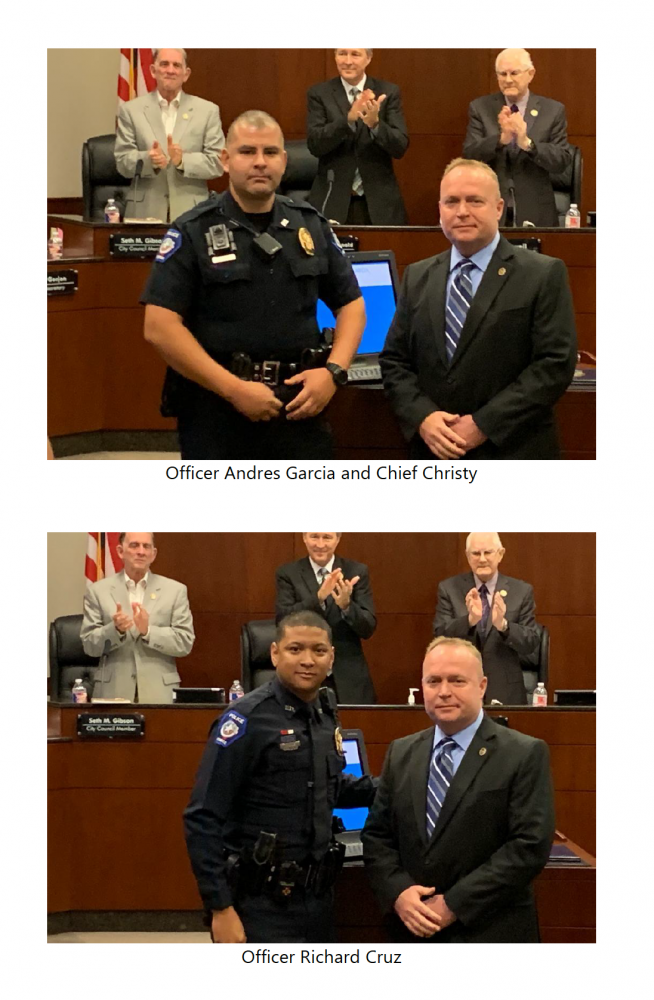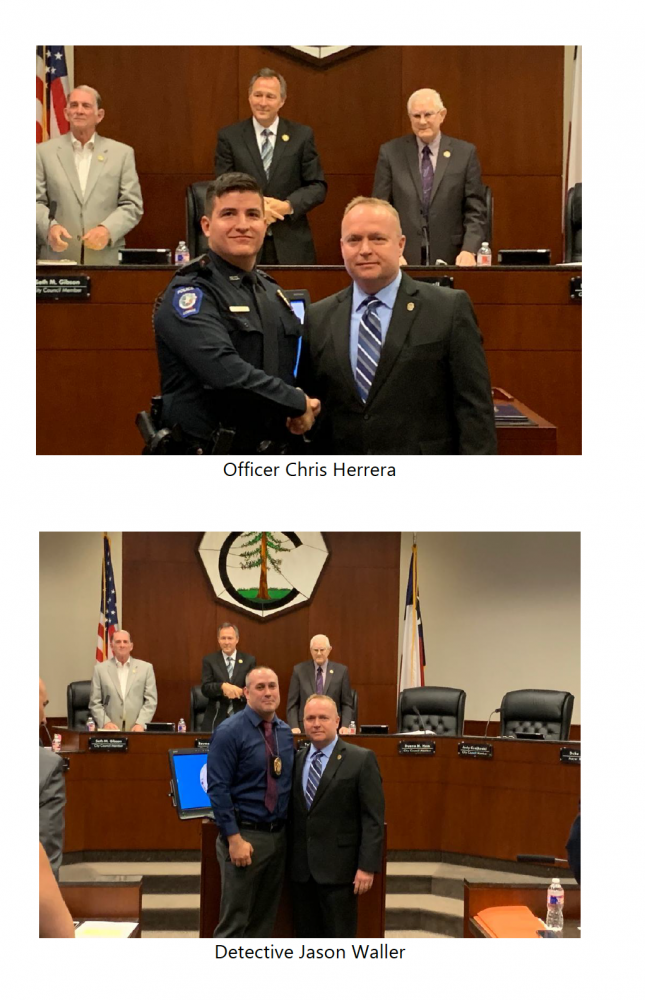 Detective Jason Waller was assigned to detour traffic from the flooded roadway at S. Loop 336 and Frazier Street. A Conroe citizen, Lance Massey, observed an elderly man drive into the flood waters traveling eastbound in the westbound lanes. Mr. Massey directed the officer's attention to the sinking vehicle and Detective Waller dove into the flood waters. He swam to the vehicle and underwater to remove the man from the now sunken vehicle, carrying him to safety. Mr. Massey also risked his own safety and entered the water to assist the citizen in distress.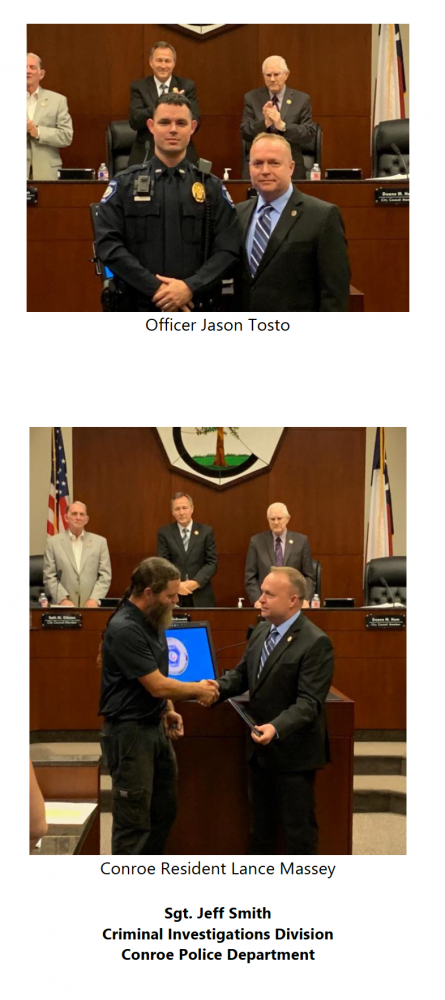 Chief Christy would like to thank Mr. Massey, these courageous officers, and the many other first responders that risked their safety during this storm to ensure the safety and security of Conroe citizens.
Source: Sergeant Jeff Smith, Criminal Investigations Division, Conroe Police Department