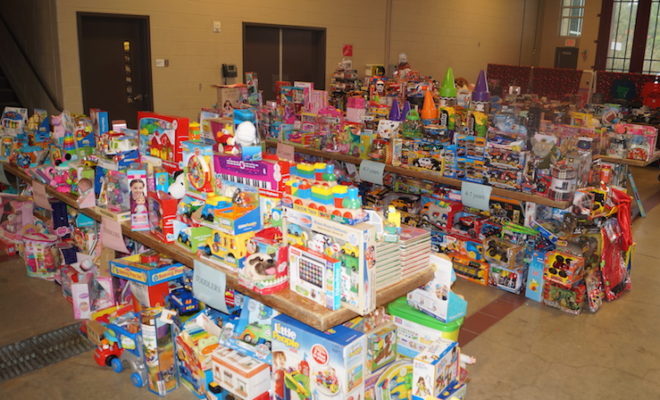 News
Interfaith prepares for the Holidays with Giving Programs
By |
As the season fast approaches, Interfaith is busily preparing to serve over 4,000 individuals including senior adults through their Holiday GIVING Programs. Brightening the holidays for neighbors experiencing financial hardship continues to be a priority for the 44-year-old non-profit.
"Through the years, Interfaith has been a source of happiness to families and seniors who have reached out for assistance," said Missy Herndon, President and CEO of Interfaith of The Woodlands. "The community has supported our efforts through volunteering, serving and donating which has brought joy to so many of our neighbors."
Interfaith's Holiday GIVING program includes Adopt-a-Family, a Holiday Toy Drive, and Gifts for Seniors. Each program offers a unique way to get involved. Adopt-a-Family provides gifts to families who have been adopted by local residents. Adopted families receive gifts specific to their requests, food from the Interfaith Food Pantry, and a clothing voucher to the Hand Me Up Shop. The Holiday Toy Drive offers businesses and individuals an opportunity to collect toys and gifts for children of all ages. Families requesting assistance are able to choose items for their children from the incredible assortment of donated toys at The Woodlands Fire Department Central Location on Grogan's Mill. Donations are being accepted at this location from November 20th – December 15th. Gifts for Seniors provides gifts to senior adults who are in need or alone for the holidays. Various volunteer groups hand deliver these gifts. The highlight of the GIVING program is the annual Giving Dinner with Carols by Candlelight where over 400 senior adults come together to share a meal and participate in caroling and other festive activities.
"The families and seniors are so appreciative," shared Lucy Gomez, Director of Programs and Services. "Their faces light up when they receive their packages and gifts. It is so wonderful to see and we are grateful to be able to bring this kind of joy to them."
If you would like to get involved by adopting a family or a senior or hosting a toy drive, please call 281-367-1230 or visit woodlandsinterfaith.org.