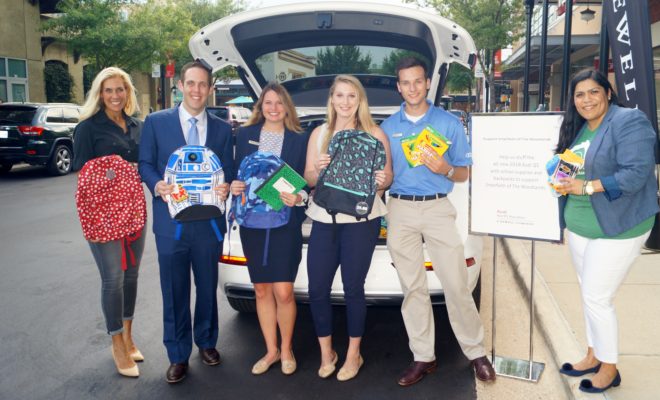 Calendar
Interfaith Kicks Off School Supply and Backpack Drive
By |
Interfaith of The Woodlands kicked off their annual school supply and backpack drive at Market Street with Audi North Houston, a Sewell Company. Audi North Houston collected backpacks and school supplies for Interfaith with their "Stuff the Audi" campaign at the Spider Man movie premier event.
"We are grateful for the support of Audi North Houston and encourage other businesses, individuals and organizations to get involved as well. Every student deserves to start school prepared with the necessary items to ensure a successful school year," shared Missy Herndon, Interfaith of The Woodlands President & CEO.
With Interfaith's Kits4Kidz program expecting to serve over 2,000 children this August, Interfaith is encouraging the community to organize school supply and backpack drives to meet the growing need. A complete list of school supplies can be found on woodlandsinterfaith.org. Distribution is in early August for students attending Conroe Independent School District schools located in South Montgomery County. In addition to receiving school supplies and a new backpack, every child enrolled in Interfaith's Kits4Kidz program will also receive a voucher to the Hand Me Up Shop for a first day of school outfit.
To host a drive, please contact Robert Reyes, at 832-615-8229 or rreyes@woodlandsinterfaith.org. Interfaith will also accept a $65 donation at woodlandsinterfaith.org that will give a child new school supplies and a new backpack. Donations can be dropped off at Interfaith of The Woodlands located at 4242 Interfaith Way.
Interfaith of The Woodlands is a non-profit social service agency providing numerous programs and services to meet the needs of The Woodlands and the surrounding area. For more information on Interfaith's programs and services, or to become a volunteer, please visit: woodlandsinterfaith.org or call 281-367-1230.