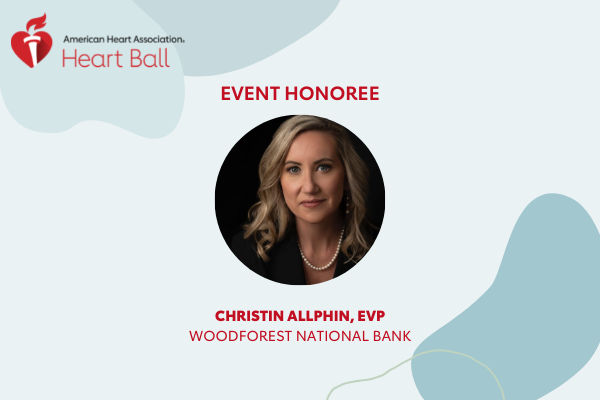 People
Interview: Montgomery County Heart Ball Honoree Christin Allphin and Why We Wear Red
By |
This February, we're encouraging everyone to wear, share, and rock your red during American Heart Month. Heart Month officially kicks off with Wear Red Day on February 4, the national day to raise awareness about cardiovascular disease and women's heart health.
This Heart Month, the American Heart Association is helping women reclaim their rhythm by promoting easy opportunities to build healthy habits that work best for their life, giving them the best chance at life. The last two years have taken a real toll on both our physical and mental health. Many people feel like they have lost their rhythm, the flow of their everyday lives. That can have a real impact on a person's health and the ability to live a full life.
We spoke with Montgomery County resident Christin Allphin, EVP, Woodforest National Bank, Immediate Past Chairman of the Board and current Board Member, American Heart Association Gulf Coast and the 2022 Montgomery County Heart Ball Honoree, about leading in business, making positive changes in our community, and the critical importance of the Go Red for Women movement.
And be sure to join us on Friday, February 4, crank up the tunes, get on your groove on and rock your red to raise awareness about the prevalence of heart disease in women and donate to save women's lives.
THE INTERVIEW
Tell us about your story – what is your day job, what do you do when not at work, and how did you come to be such an active member of our community?
"Since we moved to Texas 15 years ago, I have been working for Woodforest National Bank right here in The Woodlands. I am currently an Executive Vice President in our Commercial Banking group leading our Business and Healthcare bankers. When I first moved here, I had a great mentor named Judy Olson, who told me if I wanted to get to know this community I had to get involved. Judy introduced me to the American Heart Association where I began volunteering with the Heart Ball along with learning about other ways to be involved in the community."
"Over the past 12 years I have volunteered my time to many amazing organizations; Past Board Member and Current Sustainer for Junior League of The Woodlands, Past Board Member for Executive Women's Alliance, Graduate of Leadership Montgomery County Class of 2015, Past Committee Member for Interfaith' s Hometown Heroes Gala, Past Committee Member for TWCA Gala, Committee Member and Chair for Yes to Youth's Gala, Committee Member for United Way's Women Who Rock, Current Vice Chairman for the Economic Development Partnership of The Woodlands, Current Chairman of the Board for New Danville, and Immediate Past Chairman and Board Member for the American Heart Association of Montgomery County."
"We are all blessed to live in a great community where so many people are willing to give their time to these organizations. I am thankful to work for a great company that invests so much into our community and allows me to spend time with our community partners."
"When I am not working or in a committee meeting, I am spending time with my husband Matt of 17 years and daughter Mackenzie who is 12. We spend quite a bit of time in the Volleyball gym and Mackenzie and I are in our first year of NCL The Woodlands where we love to volunteer together."
What's your "why" regarding the American Heart Association?
"I have found my 'WHY' has changed over the years. It started out as volunteering for an organization that seemed to touch a lot of lives but then quickly turned into more. Over the last 12 years I have been more exposed to friends and family with their own heart stories and truly seeing the benefits of the American Heart Association in more ways than one. Even though my 'why' of friends and family will never change, it is now more centered on helping the AHA to partner with other organizations in our community to help educate and make others aware of the resources they have."
Do you have a favorite initiative or something about which you are the most proud from your work with American Heart Association?
"One of the things I am most proud of is the recent partnership between the American Heart Association Montgomery County and Meals on Wheels Montgomery County. After a board meeting, Kerrie Guerrero and I were speaking and came to the realization that we have so many organizations working towards similar goals. We decided instead of going it alone, we should determine how we should partner to share our resources. Summer Day, Executive Director of Meals on Wheels, was the first to jump on board with the American Heart Association. Her team, along with the AHA team, have now been working over the past couple years to help provide Heart Heathy recipes and create a menu for their clients which are all Heart Heathy meals. I remember Summer being excited and nervous to give her clients something different than they were used to, until she received the calls from her clients saying they were loving the change!"
Why is the Go Red for Women movement so critical?
"Cardiovascular disease is the Number 1 killer of women, causing 1 in 3 deaths each year – this is approximately one woman every minute! That statistic speaks to why the Go Red for Women movement is so critical. Women tend to take care of themselves last and do not always recognize the symptoms quickly enough. Go Red for Women really puts an emphasis on education and facts for women across the world. This movement advocates for more research and swifter action for women's heart health. I encourage all women to understand the signs and symptoms of heart attack and stroke because not all symptoms are the same for women as they are for males."
"Research shows heart attacks are on the rise in younger women and suggests younger generations, Gen Z and Millennials, are less likely to be aware of their greatest health threat, including knowing the warning signs of heart attacks and strokes. That's why it's important for all women at all ages to take charge of their heart health and encourage others to do the same. Because losing even one woman to heart disease is too many."
"We're encouraging everyone to join the Go Red for Women movement by wearing red on February 4th, National Wear Red Day, to raise awareness about cardiovascular disease. Encourage your family and friends to do the same. Together, there's nothing we can't achieve."
For people looking to get involved and make a difference, what are ways someone can be a leader of change in health and in giving back in our community?
"There are so many ways to get involved and be a leader of change in health. The American Heart Association has so many great educational topics on their website along with ways to get involved. You can be an Advocate for Change, a Heart Walk Hero, an Ambassador for CPR, support Heart Patients and Caregivers, teach the community healthy habits, or donate to help fund the research that goes to helping to save lives! Learn more about ways to get involved with the American Heart Association at heart.org."
"In general – I would encourage those looking to make change in our community to think about the areas of life that mean the most to them. Find organizations that are aligned with your passions or where you think you can make the most impact. Our community is made strong by everyone contributing to its success. Keep in mind though that our lives have seasons. Sometimes your community contribution might be caring for a neighbor or an elderly parent. Other times you might find yourself with enough spare time to volunteer or join the board of an organization. Life is about balance and seeking to make the most of the time you have available. That will vary throughout your life. Use your passion as a guide and regularly evaluate how you might give your time, talent, and/or treasure to support it."
Save the Date for the Montgomery County Go Red for Women Luncheon taking place May 20, 2022 at The Woodlands Resort & Conference Center. Learn more at MontgomeryCountyGoRed.Heart.org