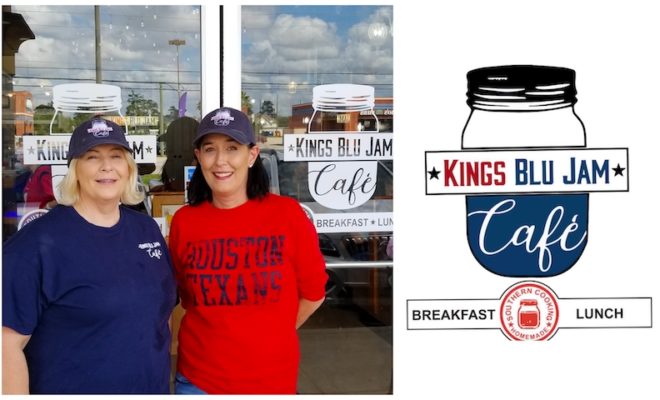 Food & Drink
INTERVIEW: Kings Blu Jam Cafe
By |
Serving up their own family's recipes, Kings Blu Jam Cafe, located on Louetta Road in Spring just west of Kuykendahl is the new venture of sisters Connie King Sumrall and Dana King Railey. Serving breakfast, lunch, and brunch six days per week, this family friendly neighborhood cafe prides itself on their use of fresh, local ingredients.
Some of the highlights from their breakfast menu include avocado toast, omelette, four different varieties of eggs Benedict and a build your own breakfast sandwich. If you're looking for some sweeter options, there is a variety of pancakes, Belgian waffles and french toast to choose from. Be sure to check out their signature item, the Kings Bacon, which is available all day.
Lunch offerings include soups, salads and deli sandwiches in addition to the Blu Jam burgers and hot sandwiches. For those customers watching their carb intake, Blue Jam has several Keto options, including a stellar salad trio with tuna salad, chicken salad, and an avocado bacon salad.
Connie and Dana's family roots are deep in Louisiana, a fact highlighted on the "Ms. Marguerite's Plates" section of the menu, which offers Cajun and Creole inspired dishes like jambalaya pasta, shrimp n' grits, and shrimp creole. Ms. Marguerite, Connie and Dana's mother, was known for her southern home cooking with a Cajun flair and her daughters definitely do justice to her legacy with their Creole style shrimp or catfish with homemade remoulade, roast beef with horseradish mayo and au jus, and cochon de lait (slow cooked pork topped with a tangy coleslaw).
In traditional diner fashion, Blu Plate Specials are available Tues – Friday, the current offerings are:
Tuesday – Meatloaf, mashed potatoes, green beans and a roll
Wednesday – Fried pork chops, black-eyed peas, country cabbage and cornbread.
Thursday – Beef pot roast, mashed potatoes, English peas and a roll
Friday – Fried catfish, coleslaw, hushpuppies and French fries.
Kids menu is also available with such items as pancakes, French toast, waffles, grilled cheese, mini burger sliders, mini catfish and chicken bites. Dessert included freshly made pies, always featured Buttermilk pie, cobblers, double chocolate cake, rice krispy treats, cookies and a skillet brownie.
Hello Woodlands sat down with Connie and Dana for an interview.
Where did the name Kings Blu Jam Cafe come from?
Connie: "The name Kings Blu Jam Café:  King is our Family name, Blu Jam was a combination of all the Jams Maw Maw King and Ms. Marguerite made.  Also the Blu is for the style of music at the café."
What is your inspiration for the menu?
Dana: "The inspiration of the menu came from the love of my friends and family whom have enjoyed some of these recipes for generations."
What feel were you going for with the interior decor?
Connie: "The style and décor draws from New Orleans all the little cafes with great food a cozy atmosphere with the sound of Blu's music in the air."
Where did you learn to cook?
Dana: "I have always loved Food and cooking just came natural growing up with the best cooks every our parents Jimmie & Marg.  With 33 years plus in this industry I have had the privilege to work with amazing chefs from France, Spain, Italy and of course New Orleans."
What makes "Blu Jam's Signature Jams" so special?
Connie: "Our Jams are from the way we grew up making them with our Mother Ms. Marguerite and Maw Maw King always filled with love."
What is "Blu Jam Pork or Turkey Sausage"?
Dana: "Our sausage is processed locally at Fishers Meats right here in Spring, Texas with our addition of herbs and spices from our southern roots and the taste for flavor."
What can someone expect for their first time in to the cafe?
Connie: "To feel cozy and welcomed!!! With a menu that offers options for all taste."
I see you have a Keto section and Keto menu items, what made you decide to feature those on the menu?
Dana: "Keto was added after seeing the struggle to go out to eat and staying on your diet. We created delicious choices for you to choose from."
If each of you would pick a perfect meal from start to finish, what would you eat?
Connie: "Kings Bacon, Keto Cauliflower & Double Chocolate Cake"

Dana: "Crab Cakes and a big piece of Buttermilk Pie!"
You all have some great desserts, are they made in house?
Connie: "Some desserts are made in house with others coming from local Tomball/Spring area Caroline's Kitchen for our Keto options and Ians Bakery for pies & cakes."
I see you have "Blu Plate Specials" on Tuesdays through Fridays, what are they and will those change?
Dana: "The Blu plates will remain the same but will additions added for the change of seasons."
Why did you choose to open a neighborhood Cafe in Spring, TX?
Connie: "We both live in Spring but found ourselves driving out of it to enjoy the food we like. So we thought others might enjoy as well."
I noticed you have a section on the menu called "Ms. Marguerite's Plates," who is Ms. Marguerite and why the creole inspired dishes?
Dana: "Our mother is Ms. Marguerite her style was Southern down home from the farm with her Cajun flair on taste."
What type of bread do you use on your Po-Boys?
Connie: " 'Bimbo' Reising Poor Boy Bread. I wouldn't serve a PO-BOY on any other bread."
5 Words to describe Kings Blu Jam Cafe?
Dana: "Family, Friends and Home Cooking!!"
Kings Blu Jam Cafe is located at 4711 Louetta Rd in Spring, Texas. For more information, call 713-389-5555, like their facebook page at Facebook.com/kingsblujamcafe/ and visit the website kingsblujam.com.
Nick Rama is a food writer, contributor of Hello Woodlands, and shares his restaurant experiences on Nick's Local Eats at NicksLocalEats.com and the Q Up The Burgers Facebook page. Nick enjoys helping the small business owner, supporting his community with fundraising for food banks, and plans tasting events with locally owned mom and pop restaurants.