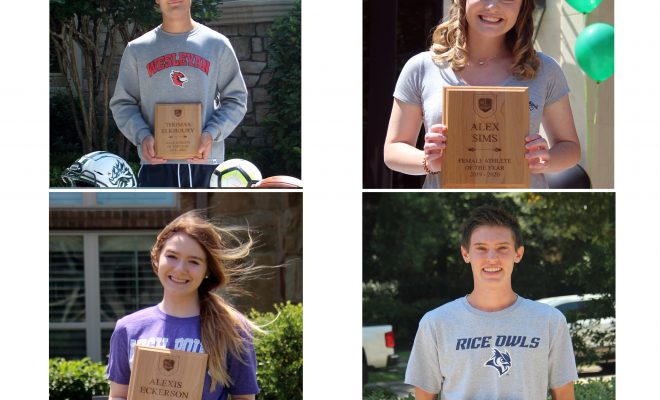 Fitness & Sports
John Cooper School's Student Athletes Honored in Virtual Ceremony
By |
THE WOODLANDS, TX – In lieu of the traditional year-end awards ceremony in the school's Glenn Performing Arts Center, The John Cooper School's Athletic Department went live and virtual with their athletic awards to honor the personal and team successes of the 2019-2020 Dragon athletics programs. Athletes, family members, coaches, and faculty tuned into the school's YouTube channel to attend a Night of Champions Athletic Awards Evening on May 15.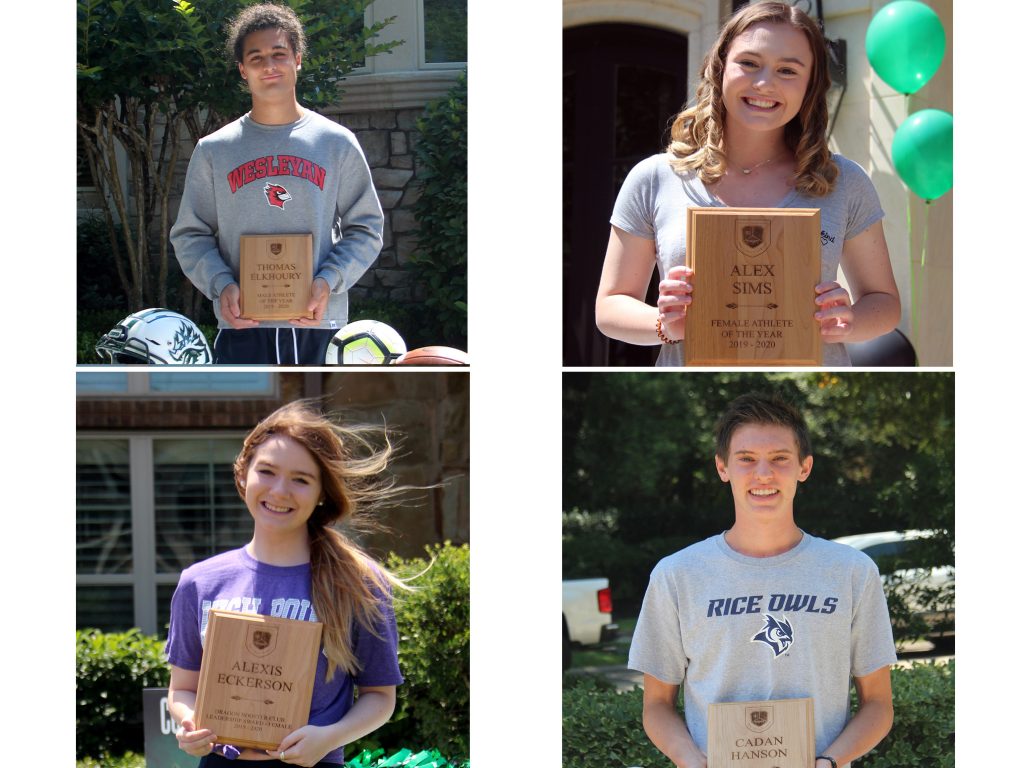 "We miss sports," Cooper Director of Athletics John Hoye said. "Unfortunately, our current situation did not allow us to get our 'sports fix' but we decided we could still cheer on our Dragon athletes. It was an opportunity to celebrate and showcase the talented student-athletes and teams at The John Cooper School."
The online event featured team and individual recognitions as well as a highlight video. Top winners were surprised by a group of coaches with their awards at their homes the week prior to the event which was later shared on the livestream.
Seniors Thomas Elkhoury and Alex Sims were named Athletes of the Year. Seniors Alexis Eckerson and Cadan Hanson were each presented with The John Cooper School Athletic Leadership Award.
ATHLETES OF THE YEAR
Athletes of the Year are chosen for their proven success and recognition in athletics, as well as for demonstrated leadership through performance and actions.
Senior Thomas Elkhoury earned recognition for his performances in football, soccer and track.
"As one of the most dynamic players in the SPC, defenses set game plans around him, yet his presence still changed game outcomes," Hoye said of Elkhoury's soccer and football presence. "As a starter on the soccer team, the respect opponents paid to him was noteworthy and well-deserving, leading the team to one of their best two-year runs in recent history. As an offensive starter and constant threat on the football team, he earned All-SPC honors for the second consecutive year."
Elkhoury leaves Cooper as the school's first athlete to earn all-conference recognition in three sports and was the first recipient of the Iron Dragon Award for this accomplishment in 2019. He has committed to play football and plans to study economics at Wesleyan University in the fall.
Senior Alex Sims earned Female Athlete of the Year honors as a team captain for the Dragon basketball and softball teams.
"Alexis was a starter and an integral part of the girls' basketball team that won 25 games," Hoye said. "She was the lead hitter on the softball team, batting .450 before her season was cut short due to the COVID-19 pandemic." She is determined, focused, dedicated, coachable and her success encourages others to be great."
Head Basketball Coach B.J. Feuerhelm said Sims is an example of what the girls' basketball program should stand for. "She leads both on and off the court and has her teammates' best interests at heart at all times," he said. "She is a true leader and ambassador of Cooper Athletics."
Sims is a Cooper Pioneer, meaning she has attended Cooper since kindergarten, is a member of The John Cooper School chapter of The Cum Laude Society and was co-chair for the 2020 Habitat Project. Sims plans to study biology at the University of Notre Dame in the fall.
THE JOHN COOPER SCHOOL LEADERSHIP AWARD
Recipients of The John Cooper School Leadership Award that is sponsored by the Dragon Booster Club are selected by the Athletic Department for having demonstrated excellence in leadership, sportsmanship, citizenship, competitive spirit and dedication as a varsity athlete. Seniors Cadan Hanson and Alexis Eckerson were each honored with a 2020 Leadership Award.
Cadan Hanson is a three-sport athlete and team captain for the cross country, basketball, and track teams.
"Cadan is one of the best leaders we have ever had in our cross country program. He had an incredible work effort to go along with a humble attitude," Head Cross Country Coach George Dohner said. "It was more important to Cadan for the team to do well over his own individual accomplishments. His greatest gift to the team was his heart to see the young runners have a great experience as a member of our cross country family."
A 2019-20 National Merit Commended Scholar and member of The John Cooper School chapter of The Cum Laude Society, Hanson was selected as class speaker for commencement. Active in the Student Government Association, serving as the 2019-20 Service Chair, he was co-chair of the Honor Council. A trumpet player for nine years, Hanson was an All-State band member and founder of the Cooper Jazz Band. Hanson has committed to run for Rice University in the fall and plans to major in engineering.
Cheerleader Alexis Eckerson was recognized for her "positive attitude and willingness to be her best and help others" as a leader on the Dragon Cheer Squad.
"Alexis's authentic energy that promoted and advanced not only the cheerleading team but all Cooper teams, was recognized by the coaches, teammates, teachers, and administrators," Hoye said.
Eckerson led the squad as the dance captain of the varsity cheer team. She managed social media for the past three years, promoting not only the cheer squad but Cooper athletics, by photographing home games for the Athletic Department's Twitter and Instagram feeds.
"Alexis has dedicated much of her outside time to supporting other Cooper sports with her social media savvy," Head Cheer Coach Marilu Harman said. "Her presence at athletic events was symbolic of her school spirit. She won the All-Division Leadership Award from the National Cheerleaders Association, and as dance captain for the Dragon cheer team, dedicated much of her outside time to helping her teammates review and learn choreography."
Also actively involved in school plays and theater, Eckerson will attend High Point University in the fall.
Established in 1988, The John Cooper School is a Pre-K through Grade 12 independent, college preparatory school for students in pre-k through grade 12 that has a current enrollment of 1,280 students. For more information, visit www.johncooper.org.