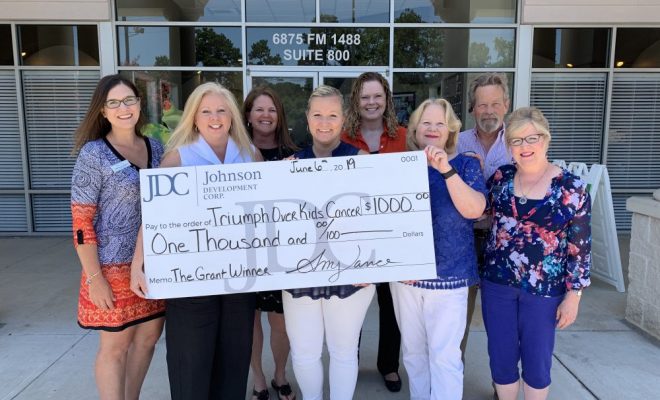 Lifestyle
Johnson Development Communities Donate to Triumph Over Kid Cancer
By |
MONTGOMERY, TX – The Johnson Development North Houston communities of Grand Central Park and Woodforest recently gave $1,000 to Triumph Over Kid Cancer (TOKC), an organization working to raise awareness and funds to improve treatment and survival rates of childhood cancers.
The gift came through the communities' The Grant program at the bequest of Realtor Joe Gonzales with Better Homes & Garden Gary Greene Magnolia.
"I try to volunteer at every event possible at Texas Children's Medical Center, or at least give money to the cause," Gonzales said. "This cause is very important to me."
Gonzales was one of the organizers of a benefit hosted by his office June 2 that included a barbecue dinner, a silent auction, raffle, and children's activities. The event raised $10,000.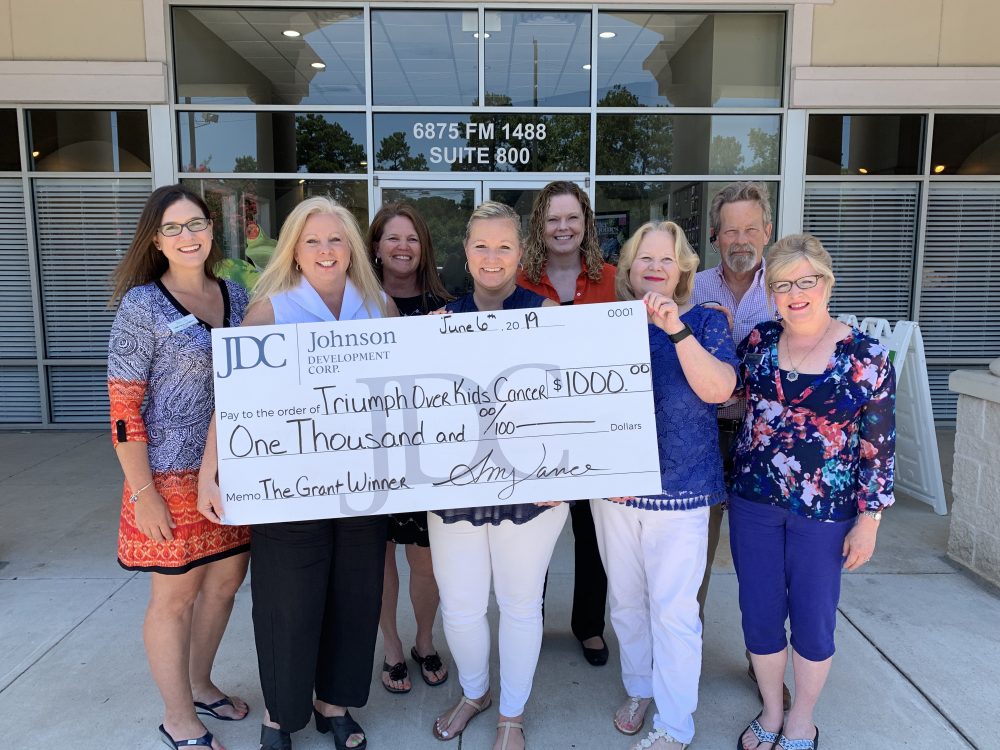 The Triumph Over Kid Cancer Foundation was founded by teenager James A. Ragan after he was diagnosed with bone cancer in 2006 at age 13. From his first event (which raised $4,000 before the foundation was formally organized) to now, the organization has funded more than $3 million of research into pediatric cancer. M.D. Anderson matches every dollar the foundation raises.
In addition to research funding and raising public awareness, the TOKC also works to raise the spirits of children undergoing cancer treatment.
Through The Grant program, area Realtors can nominate favorite charities for quarterly grants of either money or time. Monetary gifts are up to $1,000 and the donations of time are up to six hours. Previous beneficiaries have included Finishing Touch Ministries, Meals on Wheels, TWST4Girls (Together We Stand Tall) and Stonebridge Pantry.
For more information, visit www.johnsondevelopment.com/thegrant.
Woodforest, a project of Johnson Development Corp., is a 3,000-acre master-planned community surrounding Woodforest Golf Club, one of the top-ranked daily-fee golf courses in the Houston area. The development offers a broad array of housing choices and prices — luxury homes, patio, townhomes, and custom homes priced from the $190,000s to $2 million plus — targeted to lifestyle-oriented buyers. Woodforest is slated for more than 5,500 homes and a full complement of amenities, retail and commercial properties. One of the nation's top-selling master-planned communities, Woodforest is five miles north of The Woodlands and six miles south of Conroe. Convenient access just seven miles west of Interstate 45 is provided by Fish Creek Thoroughfare, a major north/south thoroughfare connecting Conroe in Montgomery County and Tomball in Harris County. For more information, visit www.woodforesttx.com or call 936.447.2800.
Johnson Development is a Houston-based, award-winning residential and commercial land development company. Now celebrating more than 40 years, the company has set the standard for successful master-planned communities in Houston, Atlanta, Austin, Dallas-Fort Worth and other markets around the country. Johnson Development's impressive collection includes the Houston-area communities of Riverstone, Sienna Plantation, Cross Creek Ranch, Woodforest, Fall Creek, Tuscan Lakes, Edgewater, Jordan Ranch, Harmony, Imperial, Grand Central Park, Harvest Green and Veranda; the Viridian and Trinity Falls communities in Dallas-Fort Worth; Bryson in the Austin area; and Atlanta's Lake Arrowhead. For more information on Johnson Development, visit www.johnsondevelopment.com.