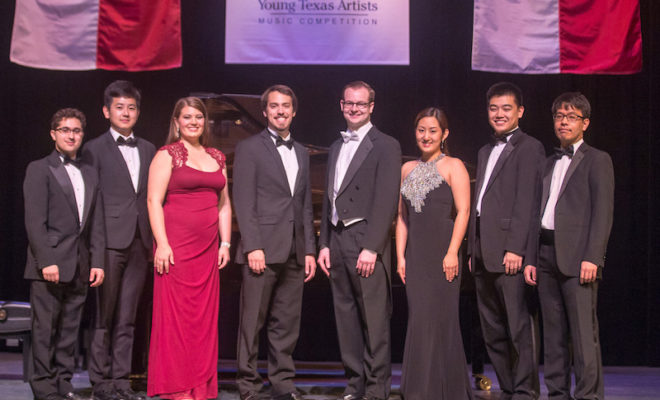 Photo by by Dave Clements, DWC Photography
Events
Judges announced for Young Texas Artists Music Competition
By |
CONROE, TX – – Judges for the 34th Annual Young Texas Artists Music Competition this year include internationally acclaimed performing artists, faculty representing some of the finest music colleges in the country, and respected writers and consultants.
""We''re thrilled to be able to announce such a knowledgeable, highly qualified panel of judges,"" said Emelyne Bingham, artistic director of Young Texas Artists Music Competition (YTA). ""Our judges do more than select competition winners: They also provide written critiques for the contestants. I''m certain that the experiences and insights that our 2018 judges bring to the table will be immensely valuable to the performing artists who are still in the early stages of building a career.""
The 2018 judges include:
Daniel Cataneo has been on the faculty at Juilliard since 1996. He is an international clinician in Dalcroze Eurhythmics, which teaches concepts of rhythm, structure and musical expression through movement. Cataneo worked closely with the late Robert Abramson, who was known as a leading developer of Dalcroze methods, and served as executive director of the Robert Abramson Dalacroze Institute in New York. Cataneo performs throughout the U.S., Europe and Asia. He also is a musical consultant for Viking Penguin Press, co-founder of the Northern New Jersey Conservatory and artistic director of New Jersey's Cape May Institute.
John Ellis has performed as a piano soloist, lecture-recitalist and collaborative artist at venues ranging from Steinway Hall in New York to the University of Helsinki and the Sibelius Academy in Finland. He also travels the globe as a master-class clinician, adjudicator and lecturer on piano pedagogy. Ellis is an associate dean and faculty member at University of Michigan. As a scholar, Ellis combines music theory, musicology and the humanities with the more traditional pedagogical methods. He has worked with the Musical Signification Project of the International Congress on Musical Signification since 1996.
Larry Hutchinson, a double bass performer who recently retired from the Detroit Symphony Orchestra, is involved in music education activities throughout the U.S. In 2001, he was named Michigan String Teacher of the Year by the American String Teachers Association. Before beginning his graduate studies, Hutchinson spent four years with the NORAD (North American Air Defense) Band while serving in the U.S. Air Force. NORAD Band was a touring orchestra with members from the U.S. Army, Navy and Air Force, along with the Canadian Royal Air Force. Currently, Hutchinson is on the music faculty at Wayne State University in Detroit.
Brian Luce has presented solo flute performances throughout the U.S., Europe, Korea, Japan and China, and has performed concertos with orchestras in the U.S. and the Republic of Korea. His recordings are recommended references by music education associations including the Associated Board of the Royal Schools of Music in London. Those recordings include "Music of the Superpowers: Sputnik, Spies, and the Space Race," which has been lauded by The American Record Guide, and a recent release with Carrol McLaughlin, "Allume." Luce is a professor of flute at the University of Arizona and a Yamaha Performing Artist.
Roger Pines serves as dramaturg – literary adviser – for Lyric Opera of Chicago. He has been a judge in more than 20 cities for the Metropolitan Opera National Council Auditions and has judged other prestigious competitions as well. For 12 consecutive seasons, Pines has been a panelist on the Metropolitan Opera Quiz broadcast. He has written articles and reviews for The Times (London) and numerous opera publications, along with programs for leading opera companies and program notes for CDs. Pines has lectured for major arts organizations in Chicago, Cleveland and San Diego, and for the American Institute of Musical Studies in Graz, Austria.
""Once again, Emelyne Bingham has put together a stellar lineup of judges for our competition,"" said Susie Pokorski, president of Young Texas Artists, Inc. ""We look forward to welcoming them to Texas and to YTA.""
The Young Texas Artists Music Competition is dedicated to celebrating and supporting the Lone Star State's new generation of classical musicians and inspiring their audiences.
The competition features musicians between the ages of 18 and 30 who are Texas residents or students enrolled in a Texas college, university or music school. The musicians compete in their choice of four divisions: Voice; Piano; Strings; or Winds, Brass, Percussion, Harp and Guitar. Musicians also vie for Grand Prize and Audience Choice awards. Competition winners receive professional performance opportunities and share $20,000 in monetary prizes.
The three-day competition culminates with the annual Bach, Beethoven & Barbecue gala and the Finalists' Concert and Awards on Saturday evening, March 10. To purchase tickets to the gala and concert, visit crightontheatre.org or call the CrightonTheatre box office at 936-441-SHOW (7469). To download and print a reservation card for the gala, visit ytamc.com/bach-beethoven-barbecue.
The Young Texas Artists Music Competition is a member of the Greater Conroe Arts Alliance. Learn more at greaterconroeartsalliance.com.
PHOTO: The winners of the 2017 Texas Artists Music Competition, by Dave Clements, DWC Photography provided by the Young Texas Artists Music Competition
Source: Susan Love Fitts