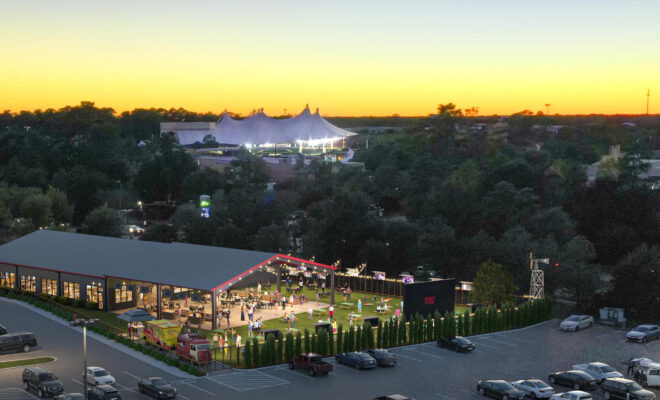 Food & Drink
Kirby Ice House Coming to The Woodlands Town Center
By |
THE WOODLANDS, TX — The Howard Hughes Corporation® (NYSE: HHC) has announced that it will partner with Kirby Ice House, a popular Houston patio bar, to build its third Houston region location on over four acres in The Woodlands® Town Center. Kirby Ice House is building its new location at 1700 Lake Robbins Drive, at the northeast intersection of Six Pines Drive and Lake Robbins Drive, across from The Cynthia Woods Mitchell Pavilion.
The popular ice house will provide a similar format to its Upper Kirby and Memorial locations, with over 10,000 square feet of indoor bar space and over 18,000 square feet of backyard space with room for outdoor games, food trucks and events. Guests will find the same variety of draft beers, cocktails, wine, and spirits with a rustic look that features Texas signage, vintage movie posters, and plenty of seating. It will have over 70 HDTVs and 120 taps for beer—plus a 141-foot bar, claiming the distinction as the longest bar in Texas.
"As we add locations, we are looking to bring the same Kirby Ice House brand to more people by maintaining the experience and service that made our first location so popular," said Russ Morgan, Kirby Ice House partner. "We are excited to create the ultimate gathering spot and event space in the center of The Woodlands' vibrant community and commercial hub, to serve the area's residents, companies and visitors."
The Woodlands location will be the largest indoor area for Kirby Ice House, and its first indoor/outdoor bar with sliding windows, and its best AV/TV package to date.
"We are extremely excited to announce our partnership with Kirby Ice House to bring their best-in-class concept to the heart of The Woodlands Town Center," said Jim Carman, President – Houston Region for The Howard Hughes Corporation. "Our community has been looking for additional entertainment options, and I am looking forward to enjoying our first pre-Cynthia Woods Mitchell Pavilion concert gathering or a big game watching event at Kirby Ice House in The Woodlands."
"Kirby Ice House is a beloved Houston hospitality concept that is very thoughtful with their location strategy," said Sydney Dixon with CBRE. "The proximity to greenspace, complementary retail, and corporate campuses in The Woodlands made this an ideal expansion location for their business, which hosts over 300 events a year at each location."
The new Woodlands location is the first development outside of Houston for Kirby Ice House.
CBRE's Sydney Dixon and Brian Ashby represented Kirby Ice House in the transaction negotiations while The Howard Hughes Corporation was represented in-house.

The Woodlands, a 28,500-acre award-winning master planned community located 27 miles north of downtown Houston, was recently recognized as the #1 Best Community to Live in America by Niche.com. The Woodlands offers an unprecedented 28% of green space, leading the way among master planned communities that practice environmental preservation. It is home to 119,000 people, and over 66,000 people work in the community. The Woodlands has received numerous past accolades including the Vision Award, Development of Distinction from the Urban Land Institute; three-time honoree of "Master Planned Community of the Year", four-time recipient of "Humanitarian of the Year" and "Trailblazer of the Year" in 2018 by the Greater Houston Builders Association; American Trails Developer Award; Environmental Planning Award from the American Society of Landscape Architects, Texas Chapter Houston Section. The Woodlands is a community of The Howard Hughes Corporation®, which supports over 180 local causes in the Houston region through its HHCares program. For more information, visit www.thewoodlands.com. For additional details, find us on Facebook, Twitter, Instagram and LinkedIn.

The Howard Hughes Corporation owns, manages and develops commercial, residential and mixed-use real estate throughout the U.S. Its award-winning assets include the country's preeminent portfolio of master planned communities, as well as operating properties and development opportunities including: the Seaport in New York City; Downtown Columbia®, Maryland; The Woodlands®, The Woodlands Hills®, and Bridgeland® in the Greater Houston, Texas area; Summerlin®, Las Vegas; and Ward Village® in Honolulu, Hawaiʻi; and Douglas Ranch in Phoenix. The Howard Hughes Corporation's portfolio is strategically positioned to meet and accelerate development based on market demand, resulting in one of the strongest real estate platforms in the country. Dedicated to innovative placemaking, the company is recognized for its ongoing commitment to design excellence and to the cultural life of its communities. The Howard Hughes Corporation is traded on the New York Stock Exchange as HHC. For additional information visit www.howardhughes.com.