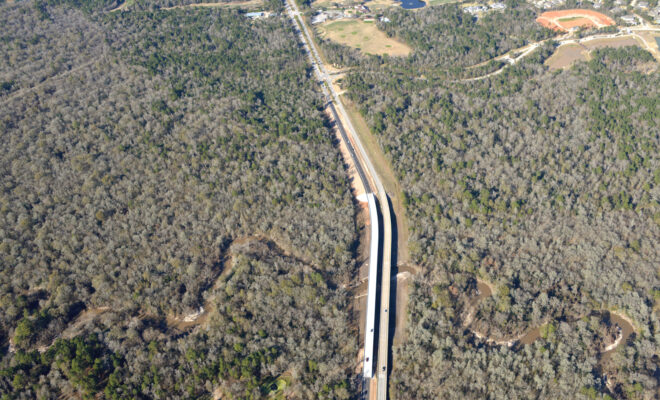 Photo Credit: Woodforest
News
Lake Creek Bridge Opens, Fish Creek Thoroughfare Improvements Complete
By |
Montgomery, Texas – A second bridge over Lake Creek is now open, providing four lanes of north and south access along Fish Creek Thoroughfare just south of Woodforest.
Spanning 1,300 feet, the bridge was a two-year, $5.53 million project funded in the Montgomery County 2015 road bond package. Smith & Company and Vulcan Materials Company were the contractors on the project.
"The completion of this project comes at a perfect time in the development of our community," said Virgil Yoakum, General Manager of Woodforest. "Not only are more and more people moving into our community, but our commercial offerings have expanded greatly. With the opening of Harvest Market, Sterling Ridge Orthopaedics & Sports Medicine and other businesses, Woodforest is a draw for the entire region.
The Lake Creek bridge was the final phase of a $17.3 million expansion of Fish Creek Thoroughfare included in the bond package.
Other improvements to Fish Creek Thoroughfare include an overpass over FM 2854 and nearby railroad tracks.
"Travel from FM 1488 to Highway 105 is much easier now that we have four lanes, center medians, turn lanes and shoulders," Yoakum said.
Thirteen builders offer homes priced from the $200,000s to the millions in Woodforest, located five miles north of The Woodlands.
Learn more at www.woodforesttx.com.