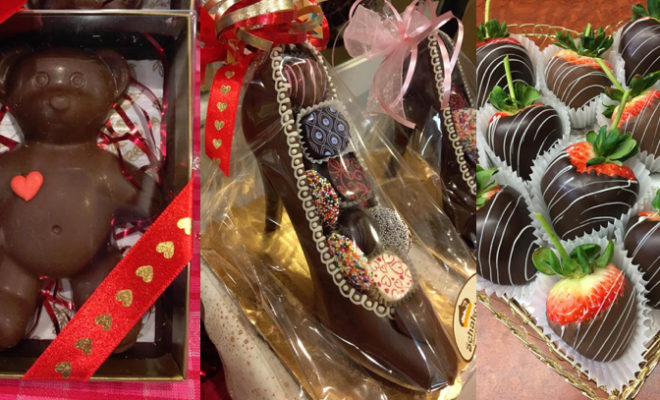 Photos by Schakolad Chocolate Factory
Business
10 Last Minute Local Valentine's Day Gifts
By |
Happy Valentine's Day!
Wait… WHAT?!?! Oh no, did you forget? No need to worry! Hello Woodlands' got you covered with a list of shops and spots around town to help you with your last minute gift. Avoid the boring box of chocolates and and treat your Valentine by going local!
For the chocolate lover…
Schakolad Chocolate Factory creates hand-made European-style chocolates, unique molded items, sugar free chocolates, and EVEN chocolate bears and shoes!
Location: 1500 Research Forest Drive. Suite 130, The Woodlands, TX 77381. Phone: (281) 292-9900. Tuesday hours: 8:00AM – 8:00PM
For the fashionista…
Diva Boutique is an exclusive retailer for Joseph Ribkoff in The Woodlands and has been dressing the women of The Woodlands and surrounding communities for nearly 14 years.
Location: 4526 Research Forest Dr, Ste 125, The Woodlands, Texas. Phone: (281) 292-1668 Tuesday hours: 11:00AM – 6:00PM
For the cowgirl…
Rhinestone Leopard Boutique If you are a rhinestone cowgirl with boho flair, then you will love their store!
Location: 6402 FM-1488, Ste 1, Magnolia, TX 77354. Phone: (936) 231-8375. Tuesday hours: 10:00AM – 5:00PM
For the home decor lover…
The Market is a unique shop that features handmade one of a kind home décor, furnishings, and custom floral designs as well as an adorable boutique.
Location: 32907 Tamina Rd. Ste B, Magnolia, Texas. Phone: (936) 443-7845
For the wine lover…
Envy Wine Room is a premier sip and shop wine bar and boutique located in the historical Old Town Spring.
Location: 317 Gentry Street, Spring, Texas. Phone: (281) 528-9868. Tuesday hours: 10:00AM – 9:00PM
For the coffee lover…
Conroe Coffee is a great place to enjoy a cup of coffee (or Red Velvet Frappe!), grab a bite to eat, and shop at their boutique.
Location: 206 N Main St, Conroe, TX 77301. Phone: (936) 266-7632. Tuesday hours: 7:00AM – 8:00PM
For the philanthropist…
Purchase tickets to the 2017 Montgomery County Heart Ball that will be held this Saturday, February 18, 2017 at the Woodlands Waterway Marriott Hotel & Convention Center to benefit the American Heart Association of Montgomery County. Click here to purchase tickets online!
Read more about the Heart Ball
For the fresh flower lover…
Amazon Flower Designs is a personalized subscription service, specializing in exotic and unique arrangements based in The Woodlands.
Visit amazonflowerdesigns.com
For the games and comics lover…
Fat Ogre Games & Comics features new comics, graphic novels, trade paperbacks, role playing games, card games, dice, board games, miniatures, Warhammer & 40K, Paints, collectible toys & statues, and more!
Location: 525 Sawdust Rd, Ste 101, Spring, Texas. Phone: (281) 292-8444. Tuesday hours: 11AM – 9PM
For the book lover…
Once & Again Books is a New and used bookstore, featuring a large children's section and Required Reading.
Location: 385 Sawdust Rd, Spring, Texas. Phone: (281) 367-2116. Tuesday hours: 9:30AM – 8PM
Did we miss your favorite shop? Share it with us in the comments below or tag @HelloWoodlands on social media to help us share your favorite spot with the community!
Have a Happy Valentine's Day!