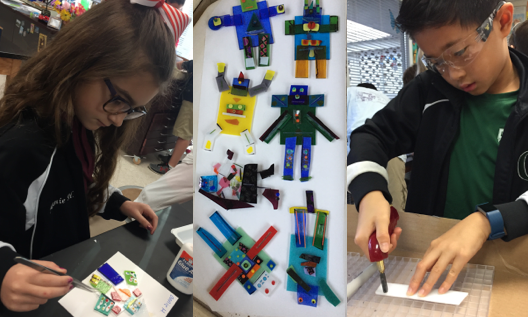 Calendar
Students' Fused Glass Robots displayed at Pearl Fincher Museum
By |
Third and fourth grade students from The John Cooper School created fused glass robots in their art classes that will be on display at The Pearl Fincher Museum of Fine Arts, March 1 through March 25. A reception for the artists will be held on March 2 between 5 and 7 p.m. and the museum will also have art activities for those who wish to participate on March 2 as part of Texas Art Educators Association (TAEA) Big Art Day.
Cooper's Lower School art teacher, Amy Dietrich, said the approximately 160 students who learned to make the fused glass, combined creativity with problem-solving skills to create the unique pieces. Students cut colored glass for their robot's body, arms and legs, and glued them together. The next step was to select and arrange the items on top, layering up to four pieces high, to create the control panels and mechanisms of the robot. "When fused in a kiln, the layers melted and combined in a fascinating way," Dietrich said.
"That is the magical part of working with glass," she continued. "The way the layers interact with each other and the light. Students learn art/science terms of transparent, opaque, states of matter (liquid and solid), hypothesis of what might happen during fusing, problem-solving and evaluation. Unlike much of the curriculum in which correct answers prevail, in the arts, ideas and expression prevail."
The Pearl Fincher Museum is located at 6815 Cypresswood Drive, Spring, TX 77379. For hours and directions, visit the website at www.pearlmfa.org
Featured Top Photo: Fourth grader Annie Heard arranges her robot design.Robots in the kiln prior to firing. Fourth grader Noah Phan begins his robot project.
Photos courtesy of The John Cooper School