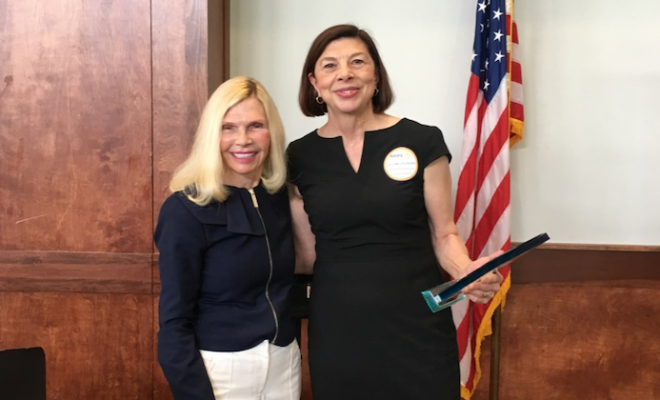 News
Linda Wilmoth receives 2019 Vocational Service Award
By |
Linda Wilmoth received the Vocational Service Award on Thursday, June 26, 2019 at The Rotary Club of The Woodlands meeting. The Rotary of The Woodlands honors individuals that have gone beyond the call of duty in providing customer service and being a leader in providing mentoring, supporting ethical standards, and bringing positive public attention to their profession.
Wilmoth has served countless families for over 30 years at The Woodlands United Methodist Church. She has committed her life to creating and supporting programs that foster growth, exploration and discovery for children. Wilmoth's vision many years ago was to continue and expand the church to meet children on a developmental level. Wilmoth began building an incredibly successful preschool that has become the standard in our community. She commits herself to excellence in customer service in many facets. As an outreach ministry of The Woodlands United Methodist Church, Wilmoth knows that establishing relationships with families is key to a successful ministry.
Dr. Ed Robb shared, "I have had the pleasure of working with Linda Wilmoth for over 30 years. She is a vital member of our ministry team serving as Executive Director of Child Development. She is people-centered without overlooking attention to detail. Her attitude is always positive with a warm and welcoming smile. Leading our preschool program, she has made a significant impact on thousands of children in The Woodlands for the past three decades."
After so many years where she has given her heart and soul, many families that attended Children of The Woodlands as children are now returning with their own children to attend The Woodlands Methodist School.
The Woodlands Methodist School (TWMS) provides a joyful, Christian education through which children develop a lifelong love of learning, pursue excellence, and positively impact the world. TWMS offers Preschool – 8th grade with a dynamic Christian learning environment, low student-staff ratios, daily Bible study and hands-on learning. Learn more at www.twmschool.org or contact Rebecca Coates, Director Admission & Community Relations at rcoates@twumc.org.