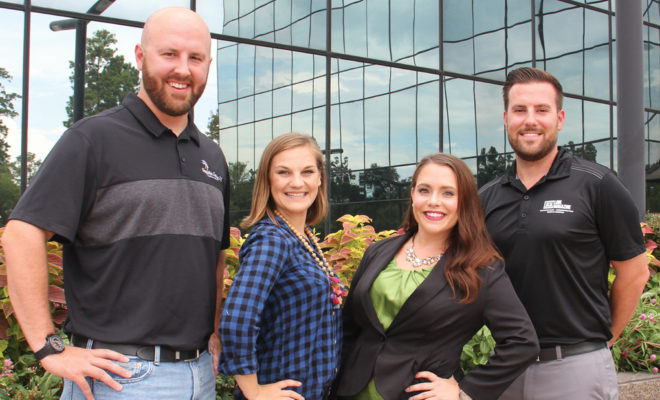 Business
Link Local Team Serving the Community and Growing to Support Local Businesses
By |
Since it's launch in 2008, Link Local has been keeping the residents of Montgomery County engaged and connected with the locally owned businesses in the community.
Matt and Russell Kalousek, brothers and owners of Link Local and Graphic Design FX, were raised in Montgomery County and have a great love for the community that they serve. It is for this reason that they created both companies – to develop an identity for local businesses through graphic design, printing, logo design, web design, and then connecting those businesses with their local community residents using Link Magazine and now the newly launched Link Restaurant Guide, Link Business Directory, and #EatShopLiveLocal campaign.
For Matt and Russell, it's not just business, it's personal, because they know that they touch lives and improve the communities they serve. Russell Kalousek shared, "We love helping local businesses keep their doors open and grow, and it's a job that we take very seriously."
In their 9 years of business, Link Local has grown – both externally and internally – with Link Magazine now reaching The Woodlands (East and West regions), Conroe and Magnolia six times a year and a growing staff working alongside the Kalousek brothers to support local businesses and develop strong relationships with the community.
Matt and Russell Kalousek are thrilled to add a new member to the team, Nicole Preston, who will serve as Sales and Marketing Director to help share the news of the just launched Link Restaurant Guide and Link Business Directory.
Moving to The Woodlands from Seattle with her family at the age of 10, Nicole Preston grew up in the community and graduated from The Woodlands High School. Now with a 10-year-old daughter of her own, Nicole enjoys raising her daughter, Chloe, in the community that she knows and loves.
Nicole brings over a decade in sales experience in retail, banking, and media to Link Local and is passionate about helping local businesses thrive and helping small business owners grow their businesses. Nicole is also a member and diplomat for the Lake Conroe/Conroe Chamber of Commerce.
Nicole Preston shared, "Nothing is more rewarding than for me to watch a business owner that had a hope, dream, and a prayer materialize that into a venture they can offer to the community. Building meaningful relationships in the Montgomery county communities I serve and connecting businesses with consumers is what gets me up in the morning."
To learn more about Link Local, the team, and how you or your business can get involved by joining their efforts in raising awareness and gaining support for local businesses in Montgomery County, visit EatShopLiveLocal.com or follow @LiveLinkLocal on Facebook, Instagram, and Twitter.