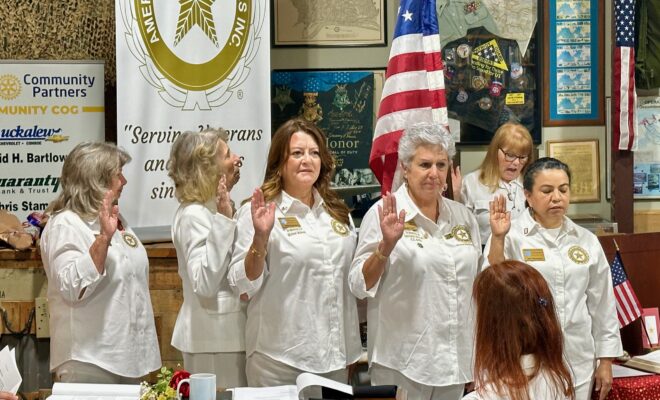 Photo by Jennifer Bruse
News
Local American Gold Star Mothers Chapter holds Installation of Officers
By |
The newly chartered local Greater Southeastern Texas Chapter and the Texas/Oklahoma Department of American Gold Star Mothers, Inc. (AGSM) invited the community to the installation of officers ceremony on Saturday, April 29 at Honor Café in Conroe.
American Gold Star Mothers, Inc is a nonprofit organization of American Mothers who lost their son or daughter while serving in the Armed Services. AGSM is open to all mothers regardless of cause of death and allows membership for mothers who have children missing in action. The organization is now open to U.S. citizens or legal residents as well as non-adoptive stepmothers if they raised the deceased before they turned 15.
View photos from the ceremony on the Hello Woodlands Facebook page:
Carla Wicks, Interim President of the TX-OK Department, ASGM, called the meeting to order and VFW Post #4709 and Commander Marcey Philips presented the colors. Chaplain of the Spring Creek Area TX18 chapter of Blue Star Mothers Inc led the opening of the bible as all joined in a silent prayer for peace and freedom. After the pledge of allegiance and posting of the colors, the elected officers for the Greater Southeastern Texas Chapter of American Gold Star Mothers, Inc were introduced and installed:
President – Sherry Guy of Splendora
1st Vice President – Nancy Harrison from The Woodlands
2nd Vice President – Florence Holmes of Arp
Chaplin – Nancy Harrison
Secretary – Margie Taylor of Conroe
Treasurer – Ana Hernandez of Splendora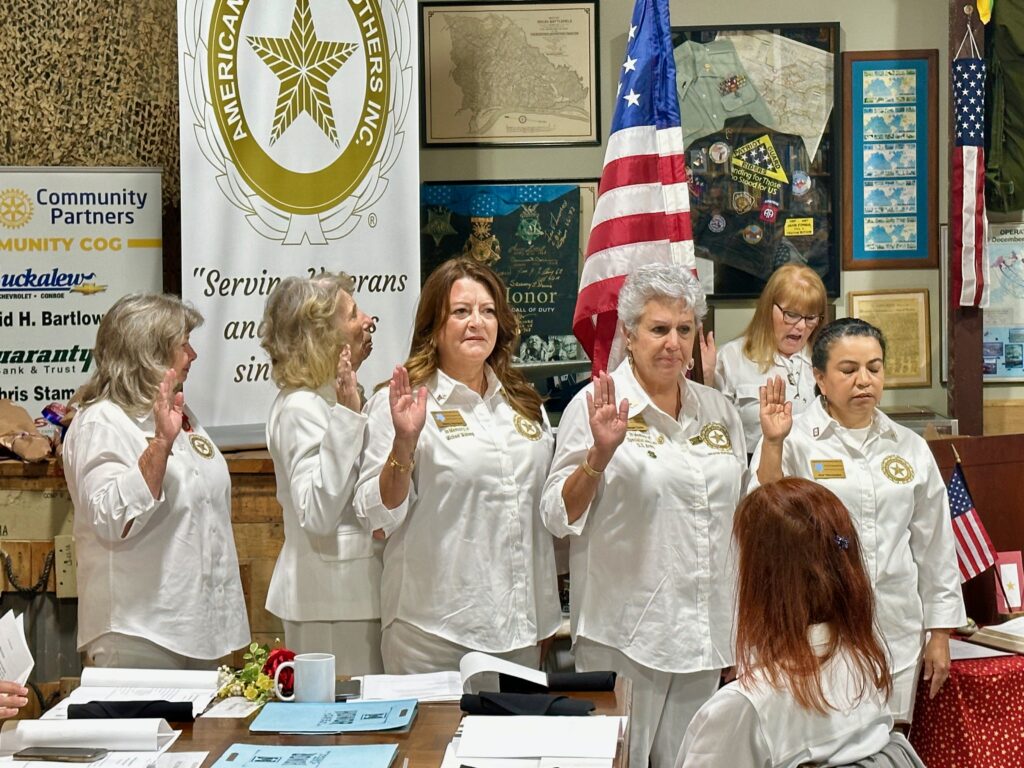 Heather Wall led all in prayer and Carla Wicks led the Installation Ceremony, followed by a heartfelt thanks by Sherry Guy. Afterwards, Judge Jimmie Edwards spoke to the crowd and shared his vision on building the Gold Star Memorial at the Montgomery County Veterans Memorial Park.
Following lunch at Honor Café, the Annual Convention of the American Gold Star Mothers, Inc. Department of Texas/Oklahoma was held along with the election and installation of the following officers:
President – Carla Wicks
1st Vice President – Sherry Guy
2nd Vice President – Margie Taylor
Treasurer (2nd year term) – Ana Hernandez
Recording Secretary – Jenifer Allbaugh
Chaplin – Anita Wallick
Sergeant at Arms – Mary Piker
Meetings will be monthly every 2nd Wednesday of the month to support each other and the community by honoring fallen sons and daughters through service to Veterans and patriotic events. To join as a Member of the Chapter a Gold Star Mother must first be a registered member of American Gold Star Mothers, Inc. at www.GoldStarMoms.com. You do not have to live in the area to be a member of the Chapter.