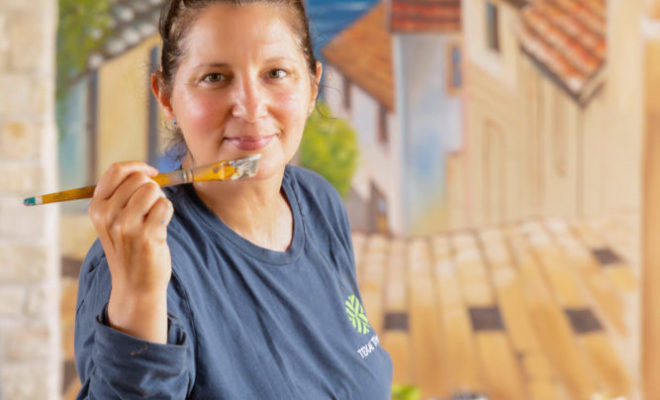 Art & Culture
Local Artist Creates Italian Art Mural in Creekside Park Village Green
By |
THE WOODLANDS, TX – Award-winning artist, Anat Ronen, recently created a two-dimensional, interactive Italian village street scene onsite in The Woodlands at Creekside Park Village Green, painted on the wall next to Crust Pizza Co. The Italian streetscape creates the illusion of being in Italy and ties in the Italian-food concept of Crust Pizza. Using latex as her medium, Ronen used a "trompe l'oeil" style, which means "fooling the eye."
"Interactive murals are a way to inject some fun and interest into our developments, hopefully putting a smile on faces and a sense of wonder for our youngsters in the community," said Jim Carman, Senior Vice President, Commercial Development for The Howard Hughes Corporation. "We have loved working with Anat on murals in Bridgeland, our sister community, and we are extremely excited to add this one within the Creekside Park Village Center."
The new 2-D art mural is funded by The Woodlands Art Fund. Ronen was commissioned by The Howard Hughes Corporation to create two murals, using the ghosting technique, in Lakeland Village Center in Bridgeland.
Anat Ronen is an award-winning local urban artist who started her career from scratch with no formal art education. Ronen is known for her murals, street painting, event art and public art. She has won several awards including the Certificate of Congressional Recognition for the Selfie mural in 2016 and the Houston Mayor Proud Partner Award in 2015 and was a featured artist for the Texas Children's Hospital/Periwinkle Making a Mark program in 2016.
The Woodlands is a 28,000-acre master planned community located 27 miles north of downtown Houston. Throughout its 45-year history, The Woodlands has led the way among master planned communities that practice environmental preservation. It is home to over 117,000 people, and nearly 68,000 people work in the community. The Woodlands is one of the top-selling master planned communities in Texas and the nation. The Woodlands was named "Trailblazer of the Year" in 2018 by the Greater Houston Builders Association. The community was also consecutively named "Humanitarian of the Year" in 2017 and 2016 and "Master Planned Community of the Year" in 2015 by the Greater Houston Builders Association. For more information, visit www.thewoodlands.com.
The Howard Hughes Corporation owns, manages and develops commercial, residential and mixed-use real estate throughout the U.S. Its award-winning assets include the country's preeminent portfolio of master planned communities, as well as operating properties and development opportunities including: The Seaport District in New York; Columbia, Maryland; The Woodlands, The Woodlands Hills, and Bridgeland in the Greater Houston, Texas area; Summerlin, Las Vegas; and Ward Village in Honolulu, Hawaii. The Howard Hughes Corporation's portfolio is strategically positioned to meet and accelerate development based on market demand, resulting in one of the strongest real estate platforms in the country. Dedicated to innovative placemaking, the company is recognized for its ongoing commitment to design excellence and to the cultural life of its communities.