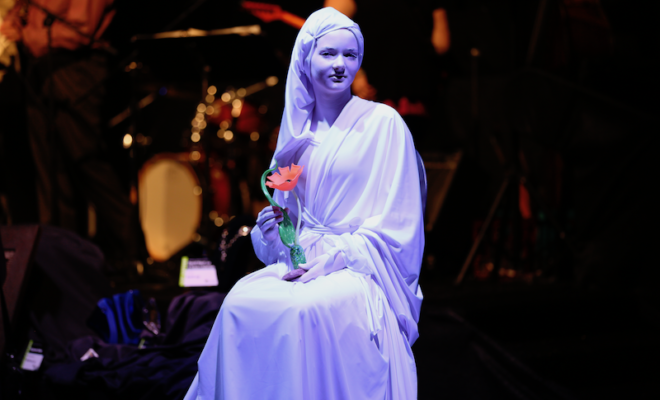 Photography by Rod Prado, Hello Woodlands
Art & Culture
PHOTOS: The Woodlands Art Dash and Waterway Arts Festival
By |
On Friday, April 12 the Art Dash and Preview Party sponsored by The Woodlands Arts Council was a festive fundraising event that kicked off the 2019 Woodlands Waterway Arts Festival. The festival was held on April 13 and 14 at Town Green Park and along The Waterway.
Arts patrons, friends of TWAC, board members, and 2019 artists, including featured artist Nolan Prohaska, gathered for an evening to celebrate and gain a "sneak peek" at the art featured in this year's Festival. The evening also included live music provided by Darryl Bayer, Artistic Director of The Woodlands Symphony Orchestra, tastings created by local chefs and the opportunity to participate in a 60-Second Art Dash, a unique experience for "dashers" to find a piece of art donated by one of the Festival artists.
Proceeds from the event went towards scholarships awarded each year to high school juniors and seniors, and the David Gottlieb Teacher Scholarship awarded to one visual and performing arts public school teacher annually. Proceeds also helped fund school field trips, programs for senior adults, in-school performances for economically challenged schools in Montgomery County, and persons with special needs.
View photos and videos captured by Hello Woodlands at the Art Dash:
The Woodlands Waterway was transformed into an outdoor art gallery at the 2019 Woodlands Waterway Arts Festival, on Saturday and Sunday, April 13 & 14. The juried fine art show with over 200 artists, took place along the scenic banks of The Waterway and in Town Green Park in Town Center.
View photos from the festival:
The Woodlands Arts Council provides regional cultural and educational enrichment opportunities that encourage, support and promote the performing and visual arts in our community. From the award winning Woodlands Waterway Arts Festival to the year-round community and educational outreach programs of Because Art Matters, the council has one primary goal… making our community better, Because Art Matters! Learn more at www.thewoodlandsartscouncil.org.