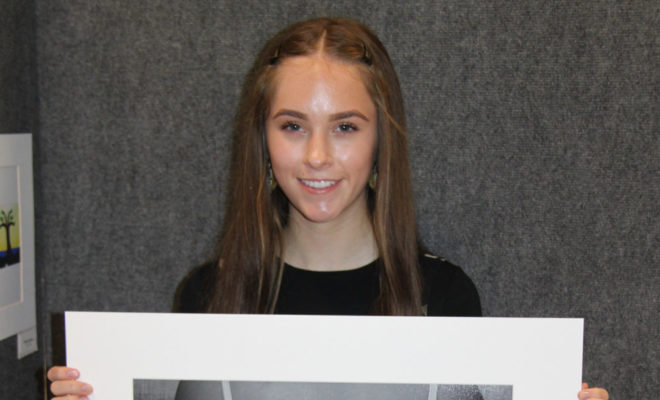 Art & Culture
Cooper Senior Earns National Silver Award in Art Competition
By |
THE WOODLANDS, TX – Art entitled "Pinched" created by Natalie Osmond, a senior at The John Cooper School, has been awarded a national Silver Medal in the Scholastic Art and Writing Awards, after qualifying by earning a Gold Key medal in the regional adjudication. Approximately 340,000 entries in 29 categories were submitted to the 2019 awards that are open to students who are 13 years of age or older.
"My concentration was body image, which is an important topic to me because it is such a prevalent issue among young people," Osmond said. "I am so honored to have won a national award and it is a great way to leave my final year of photography at Cooper." Osmond will continue to study art at New York University in the fall.
At the regional level of the Scholastic Art Awards, 18 Gold Keys, 31 Silver Keys and 37 Honorable Mentions were awarded to 60 Upper School students. A Gold Key, Silver Key and Honorable Mention were awarded for Portfolios. Twelve Middle School students were also recognized at the regional level; two were awarded Gold Keys, three were awarded Silver Keys and seven were awarded Honorable Mentions. All Gold Key recipients move on to compete at the national level of the competition.
Upper School students who were awarded Gold Keys included Caitlin Blank, Meghan Cloninger (3), Nissy Davis, James Donald (2), Katie Drake, Haley Hinch, Caroline Muhith, Lia O'Riordan, Natalie Osmond, Sebastian Plaza, Xavier Robb, Annabelle Ross, Madeline Sinkovic and Zoriana Sutherland (2). Middle School students Nicolas Lizarraga and Bella Signorelli were also awarded the highest regional honor of Gold Key.
Since 1923, the Scholastic Art & Writing Awards have recognized the vision, ingenuity and talent of our nation's youth, and provided opportunities for creative teens to be celebrated.