Art & Culture
14 Things to Love About The Woodlands Waterway Arts Festival
By |
THE WOODLANDS, TX – Come see The Woodlands Waterway transformed into an outdoor art gallery at the 2019 Woodlands Waterway Arts Festival, this Saturday and Sunday, April 13 & 14. This juried fine art show, presented by The Woodlands Arts Council, takes place along the scenic banks of The Waterway and in Town Green Park in Town Center.
You and your family are going to LOVE the Festival, and here are the top 14 reasons why:
Meet the Artists – With over 200 fine artists displaying art in a wide variety of mediums, including painting, drawing, jewelry, pottery, wood, mixed media 2D and 3D, clayworks, digital, glass, fabric, metalworks, sculpture and print making, this is the perfect opportunity to start your art collection or add to it. Meet Featured Artist Nolan Prohaska and marvel at his colorful, botanical glass sculptures. Learn more about Nolan Prohaska here.
NEW! Spotlight on Mexico – Admire and enjoy the art, heritage, culture and culinary delights of Mexico found in this curated exhibition. Highlights include La Costeña Market and Don Julio Bar, where you can sample popular products, including cool, refreshing drinks and chef's demonstrations. Visit the Dia de los Muertos exhibit, Photo Gallery, Cultural Exhibits and Displays that incorporate artifacts and art to capture the rich history and beauty of our southern neighbor.
"Let the Art Find You!" – "Let the Art Find You" at the VIP Preview Party & Art Dash! Meet and mingle with Festival artists at one of the most fun, creative events in The Woodlands. Get your tickets now for this amazing party on Festival Eve, Friday, April 12 at The Pavilion Event Center. Along with fabulous small plates, exclusive drinks and desserts from local chefs, you will enjoy cool jazz from Darryl Bayer and his band leading up to the highlight of the evening – the exciting 60-Second Art Dash! Learn more about the Art Dash here.
Get the VIP Treatment – The Terrace Hospitality Club includes a two-day festival commemorative pass, a tented, relaxing oasis near the stage, small bites and refreshments, VIP parking, phone charging station and valet service for art purchases, all for only $75.
Enjoy the Performing Arts – Enjoy listening to live music from gifted local and regional performers on four different stages while leisurely browsing the wonderful selection of fine art. There's plenty of fun for all ages at the Palette Café, Watercolor Terrace, Art & Culture and Craft Beer stages throughout the festival grounds. Learn more about the live music lineup here.
Help Your Kids Create and Collect Art – At Artopoly, a popular venue at the festival, kids can create their own art projects led by The Woodlands Children's Museum and other local arts organizations. They can also start their own art collection by selecting a piece of student art for only $5 at the Early Inspiration Gallery. The art is generously donated by the festival's sponsorship students and teachers.
Eat, Drink & Be Merry – At The Art of Food Tent, you can enjoy cooking demonstrations and sample mouth-watering sensations created by local chefs. And at The Palette Café and around the festival grounds, you can savor delicious food from a variety of food vendors and local restaurants and pair it with a delightful Stella Artois, or a selection of fine wines and craft beers.
See the Amazing Student Art Scholarship Exhibit – You will be amazed by the talent exhibited by local junior and senior high school students in a variety of categories. Support these young artists as they pursue their dream!
Know That You Are Making a Difference – Revenues from each year's festival are used by The Woodlands Arts Council to award over $20,000 in scholarships to high school student artists, and enable the Council to create meaningful art experiences for senior adults, students in local economically disadvantaged schools, and people with special needs and circumstances. Learn more about the scholarship program here.
Experience Art & Culture of Montgomery County – A gathering of county-wide talent will be on hand at the Art & Culture of Montgomery County Stage in Town Green Park. Watch these talented artists while they immerse themselves in the creative process. You might even consider joining one of these fun, local groups.
Join in a Tribute to our Veterans – This year's Community Art Project teams Warriors in Art with The Woodlands Art League to create a mural symbolizing the transitions all veterans face and how art can help them heal. Festival-goers are invited to bring memorabilia of the veterans in their lives to add to the mural, such as dog tags, photos, or letters. Learn more about the project here.
Volunteer – If you love art and The Woodlands, you'll love volunteering at the festival. Work a shift and come back for free to do #1-11 on this list! In return, you will receive free entry into the festival and a commemorative t-shirt. Sign up to volunteer on the Council's website, www.thewoodlandsartscouncil.org.
Discover Why The Woodlands Waterway Arts Festival is Among the Best Fine Arts Festivals in the Country – For only $15, you can purchase weekend passes online now at www.thewoodlandsartscouncil.org. There are special discounts for senior adults, and children 12 and under are admitted free. An adult weekend ticket is $18 at the gate. Hours for the festival are 10:00 am – 6:00 pm on Saturday, April 13 and 10:00 am – 5:00 pm on Sunday, April 14.
Make it a Weekend Vacation – If this is your first visit to The Woodlands, or whether you have the pleasure of living here year round, you will enjoy seeing incredible art creatively displayed along the scenic Woodlands Waterway. And there's plenty to do while you're here – excellent accommodations, a wide variety of great restaurants, places to play and things to do for all ages. So stay for the weekend and enjoy a vacation or staycation with the whole family!
To purchase tickets for the 2019 Woodlands Waterway Arts Festival, visit www.thewoodlandsartscouncil.org.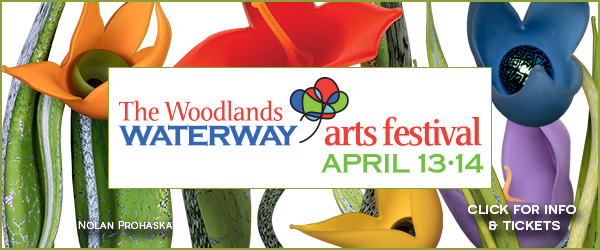 The continued success of The Woodlands Waterway Arts Festival is made possible by the generous support of our anchor sponsors: The Woodlands Development Company, a division of The Howard Hughes Corporation; Stella Artois, the official beer of the Festival, and Visit The Woodlands.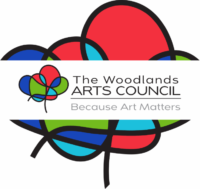 The Woodlands Arts Council provides regional cultural and educational enrichment opportunities that encourage, support and promote the performing and visual arts in our community. From the award winning Woodlands Waterway Arts Festival to the year-round community and educational outreach programs of Because Art Matters, the council has one primary goal….making our community better, Because Art Matters! www.thewoodlandsartscouncil.org.
ARTICLE UPDATED 4/12/19 at 10:17 a.m.