Food & Drink
Local Favorites: Burgers, Burgers and Burgers
By |
People are seriously obsessed with burgers, so much so that some would say that they have a nearly cult like following. Whether they be pan fried, grilled, or flame broiled people can't get enough. Most are usually served with cheese, lettuce, tomato, onion, pickles and condiments such as ketchup, mayonnaise, mustard, or "special sauce"; and are frequently placed on sesame seed buns. As a result of their popularity, restaurants have really stepped up their game from the basic burger described above by using higher quality meats such as ground sirloin, Waygu or Angus beef and some doing a tri-blend meat such as a mix of chuck, brisket and sirloin. Smashed patties, seasoned patties, chorizo infused patties, thick, thin, sausage or bacon added to the blend, the options are endless. While beef is still the most popular option, more creative options are frequently making an appearance, such as patties made from turkey, bison, lamb, or even a veggie option.
Gourmet toppings can include peppered bacon, avocado or guacamole, sliced sautéed mushrooms, beer cheese sauce, chili (usually without beans), fried eggs, feta cheese, blue cheese, salsa, pineapple, jalapeños and other kinds of chili peppers, slices of ham, truffle butter and even topped with french fries or onion rings.
The bun can really elevate a great burger, and we're seeing wide variety of breads being offered, from fresh baked in house buns, challah, brioche, Hawaiian, kaiser, potatoes and pretzel rolls, even Texas toast and donuts.
The photo featured below was the winner of the Hello Woodlands Build Your Own Burger contest at The Omega Grill. Chef Cassandra Schultz's creation, the Texas Brunch Burger and Cowboy Hash, which was so popular it is still available at The Omega Grill in their weekly specials. The Texas Brunch Burger and Cowboy Hash includes 44 farms beef, jalapeño cheddar, HTX dip, peppered bacon, fried egg, avocado …with jalapeño and onion hash browns on the side.
Mexican Street style burgers at a taco truck can be found also here on the northside, El Norteño Tacos at Kuykendahl and Spring Cypress might be known for their pastor tacos, but their El Norteño Burger had everything but the kitchen sink on it. Burger patty topped with bistek, pastor, ham, avocado, cheese, lettuce, tomato and a side of grilled onions. Looking for a challenge, head to Mel's Country Cafe in Tomball, TX for The Mega Mel Challenge – 1 1/2 lb Hamburger, 1lb Bacon, 1/4 lb of American Cheese, and 2 lb of all the trimmings! Finish it all within their time limit and have your name added to the wall.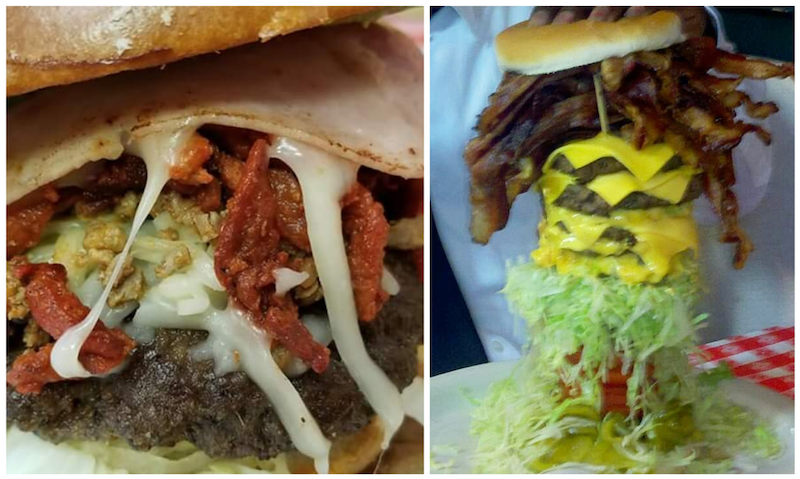 Two more standouts and original burgers are the Texas Exotic Venison Burger at TRIS by Chef Austin Simmons, Unique Meats Texas Exotic Venison, White Cheddar, Port Onions, Mayo, Brioche and the Smokehouse Burger by Pitmaster Scott Moore Jr and Chef Greg Moore at Tejas Chocolate & Barbecue (only available on Wednesdays for now). Brioche Bun, smoked brisket grind, bourbon cured bacon, smoked cheddar and caramelized onions.
View more local burger favorites in the Spring, The Woodlands and Tomball area below:
Craft Grill – Tomball
Craft Grill's Signature Burger – Certified Angus Beef Burger, House-Made Pimento Cheese & Bourbon Bacon Jam.
The Kitchen – The Woodlands
Cowboy Burger – Cowboy Style Sirloin Patty, Cheddar, Avocado, Applewood Smoked Bacon, Jalapeños, Onions, Fresh Tomatoes, Challah Bun)
The Omega Grill – Spring/Woodlands
Build Your Own Burger – 44 Farms Burger with aged Blue Cheese, Mushrooms, Peppered Bacon on a Brioche Bun
BonFire Grill – Tomball
The Bonfire Grill House Burger – a Brisket, Chuck, Short Rib blend over an open flame, Vermont White Cheddar, Grilled Onions, Lettuce, Tomatoes on a freshy house made bun.
Uncle Tony's – Spring/Woodlands
Ultimate Rattlesnake Burger with Grilled Pineapple – Seasoned Angus beef mixed with pork sausage, diced onions, chopped jalapeños on jalapeño cheddar sourdough bun with melted Muenster cheese, peppered bacon and sliced avocado
The Burger Squad – Pinehurst
The Brady Bunch Burger – ½ pound pattie and us and short rib blend, American cheese, fried egg, hash browns, Applewood Smoked Bacon, on a Jalapeno cheese bun (made it "dirty" – topped with white cheddar queso).
Thistle Draftshop – Spring, TX
Bleu Burger – bleu cheese, smoked habanero bacon, caramelized beer onions, garlic aioli, sesame seed bun
242 Pub & Grill – Spring
Mushroom Swiss Burger – Sweet Jalapeno bun. 1/2 lb certified Angus Beef pattie, well seasoned with melty Swiss cheese and sautéed mushrooms.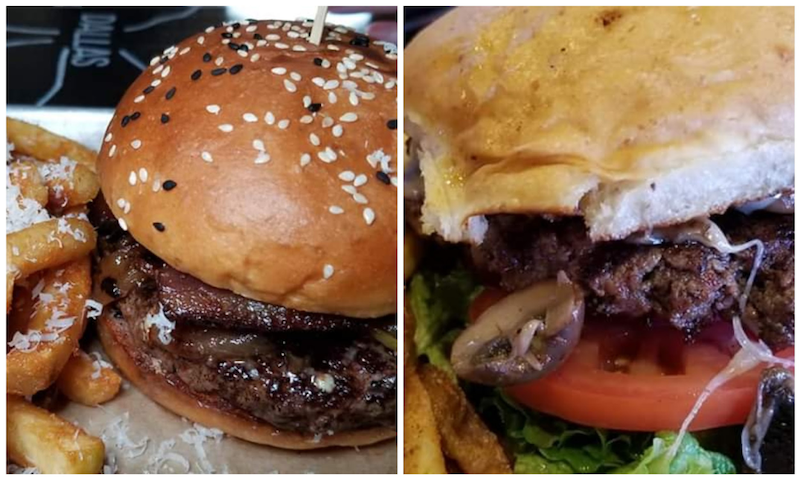 5 ATE Café – Spring
Farmhouse Burger – Pressed Black Angus Beef Pattie, topped with slow roasted Crispy Pork Belly, over easy Egg, Pickles and homemade 1000 Island Dressing on a housemade sourdough English muffin bun
Joy Love Burgers – Tomball
Bacon Cheeseburger – 100% certified ground chuck Angus Beef, American cheese, bacon, mayonnaise, lettuce, tomato, pickles, onions on a freshly baked homemade hamburger buns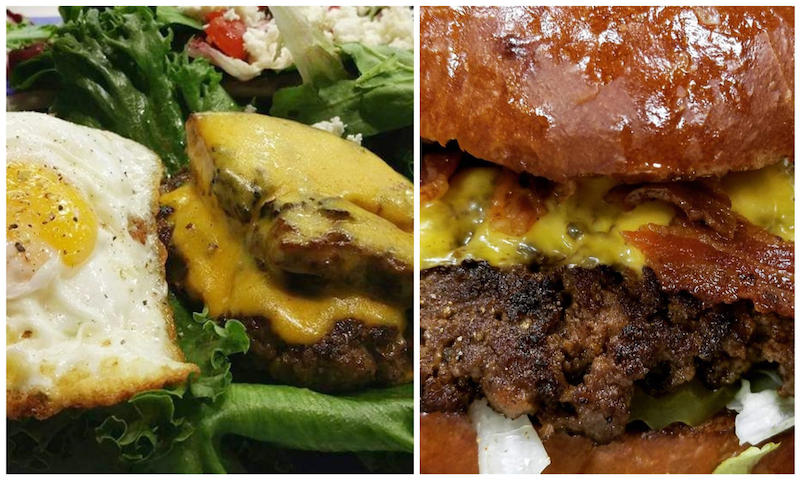 Fire Ant Brewing Company – Tomball
Pimento Cheeseburger – hot seared 1/2 lb patty, homemade pimento cheese, ice box pickles, caramelized onions, pickled jalapeños on a toasted Slow Dough challah bun
Every-Bellies – Tomball
Mushroom Swiss melt – ½ pound 44 Farms beef patty, grilled mushrooms, grilled onions, melted mozzarella
The Better Half Gourmet – Tomball
Classic Cheeseburger – where the meat is star with cheddar, lettuce, tomato, onions, mayo and pickles.
The Red Brick Tavern – Conroe
Blues Burger – Apple Wood Bacon, Gorgonzola Cheese, and Caramelized Onion, Fresh Garlic and Shallot Aoli
CaliBombnia – Spring
CaliBomb Burger – cheese avocado, bacon, signature sauce, lettuce, tomato, pickles, onions
Pecos Grill – Tomball
Half Pound Grilled Diablo Burger – Chopped Sirloin Steak, topped with Jalapeños, Pepper-Jack, Cheddar Cheeses, Bacon, Crisp Lettuce, Fresh Tomatoes, Onions, and Pickles
Nick Rama is a food writer, contributor of Hello Woodlands, and shares his restaurant experiences on Nick's Local Eats at NicksLocalEats.com and the Q Up The Burgers Facebook page. Nick enjoys helping the small business owner, supporting his community with fundraising for food banks, and plans tasting events with locally owned mom and pop restaurants.