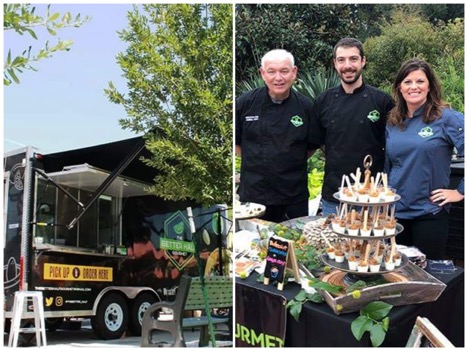 Food & Drink
Food Truck of the Month: The Better Half Gourmet
By |
The Better Half Gourmet started as a catering company serving breakfast, lunch, or dinner at your office, home, or your special venue. The next evolution of The Better Half Gourmet was adding a food truck to their operations which is right now permanently parked at 403 Eats Food Truck Park located at 403 East Main in Tomball, Texas.
Owned by Jill and Bobby Riley and run by Bobby's brother Darrell, The Better Half Gourmet started as a gourmet Taco Truck in July 2018, offering high quality gourmet tacos, quesadillas, chips, queso, fresh salsas, keto bowls and their famous mini Mexican street corns.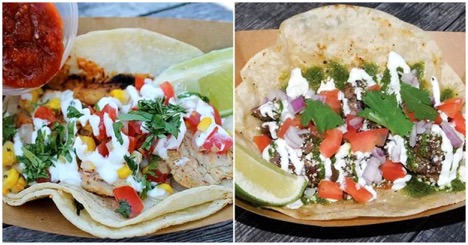 Tacos are served with your choice of tomatillo salsa verde or chile de árbol:
El Lomo – TacoSous vide beef tenderloin topped with chimichurri, onion, tomato and garlic aioli.
Pork Carnitas Taco – Sous vide pork marinated in fresh chilies, topped with pineapple, onion, cilantro and a wedge of lime.
Black & White Chicken taco – Sous vide Chicken breast seasoned lightly served on a double corn tortilla with a spicy black garlic sauce and cool white garlic aiolI topped with corn Pico and queso fresco
Shrimp taco – Blackened shrimp served on a double corn tortilla with mango slaw, purple onion and garlic aioli
Vegetarian Taco – Black beans, mushrooms, corn, onions, cilantro, tomatoes, queso fresco and aioli. Recently, The Better Half Gourmet added a full menu of BBQ plates, sandwiches and even a 44 Farms Prime Burger. Some of the options currently on offer include smoked chicken, smoked sausage, prime brisket with sides such as mac and cheese, potato salad, coleslaw and charro beans. One of their new items is a Smoked Prime Brisket Nachos, tortilla chips, topped with housemade queso, chopped brisket, onions, tomatoes and cilantro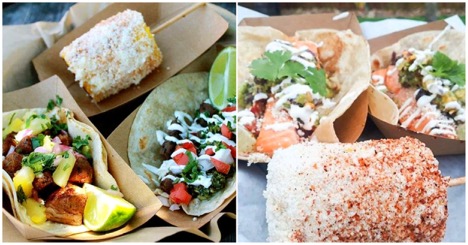 The catering aspect of The Better Half Gourmet is so much more than Tex-Mex and BBQ, serving up appetizers, Baked potatoes, salads, sandwiches. Full entrees of just about any protein you can think of, from traditional fried chicken, blackened fish, prime rib to smoked or fried turkey are also available. The culinary team even has your sweet tooth covered with churros, pies, cakes and assorted mini shooter cups. The Better Half Gourmet offers complete delivery with set up and tear down or they can simply drop it off at your location. With custom tailored menus, they truly believe that no event is too small or too large. If you want to offer your employees an alternative option at for lunch at work, The Better Half Gourmet can even set up for service on site.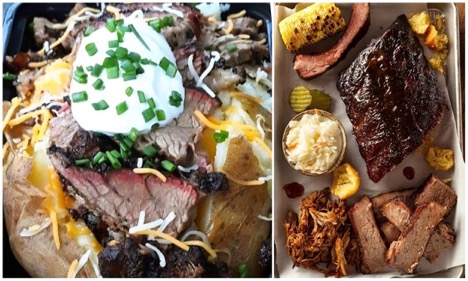 Hello Woodlands Interview with Jill and Darrell Riley
Where did the name The Better Half Gourmet come from?
Jill: "Bobby and I traveled to Cabo for a fishing trip. We had just purchased the food truck prior to the trip. Near the dock was a bar called 'The Half.' It was a cool concept and offered a gourmet coffee shop and a bourbon bar. Two very different things, I knew we would be selling gourmet tacos, but I also knew we had the catering side, so we too were 'The Half.' Driving one day in the car with Darrell, Jose and Bobby we jokingly added Better to the half and it stuck. We became The Better Half Gourmet."
What made you open a food truck?
Jill: "I have always envisioned owning a small restaurant or bar. I love to entertain and make people happy with food. We are a huge 'food family.' I have been fortunate enough to travel around the country and to many foreign countries. I am always amazed at the variety of establishments and the different themes and menus. It's one of my favorite things about travel. While visiting 403 eats one evening we learned that one of the existing trucks was going up for sale. It was a spur of the moment decision, but we made an offer and within two weeks we were the owners of a food truck."
What should someone expect for their first time to The Better Half Gourmet?
Darrell: "We always say you eat with your eyes first. When you walk up to TBHG and see a generous portion of our fancy tacos going out to a customer or a plate of our juicy bbq, you say, 'wow I want that!' Quality fresh ingredients, lots of flavor & cooked to order."
Why did you add Barbecue to your menu?
Jill: "Darrell is our very own 'Smoke master!' He has a passion for smoking meats. He strives so hard every day to make juicy, delicious meat. We only use the very best meat available to us, meat quality is so important. He loves to experiment with the smoking process and ingredients. On date night you will usually get something different and new like our blueberry chipotle ribs we recently offered."
Out of all the BBQ meats you do, which ones do you consider your specialty?
Jill: "I would say our smoked brisket ranks among the best in our area. Darrell has worked so hard to get just the right rub, smoking temperatures and times down to an art. We spent months testing different types of Prime brisket until we decided on the one. Our brisket has a beautiful thick, seasoned crust that seals in the moisture and is not only moist and delicious it looks so good!"
What are your most popular non-BBQ menu items?
Darrell: "Our tacos by far! They are as unique as they get, not your average food truck taco! Our beef tenderloin taco with chimichurri is a big seller followed by the taco combo plate. The combo comes with our signature Mexican street corn! I love to walk around the park and see guest with corn all over their face. Its messy but it's so good! Can't tell you how many times I have heard 'That Corn!' "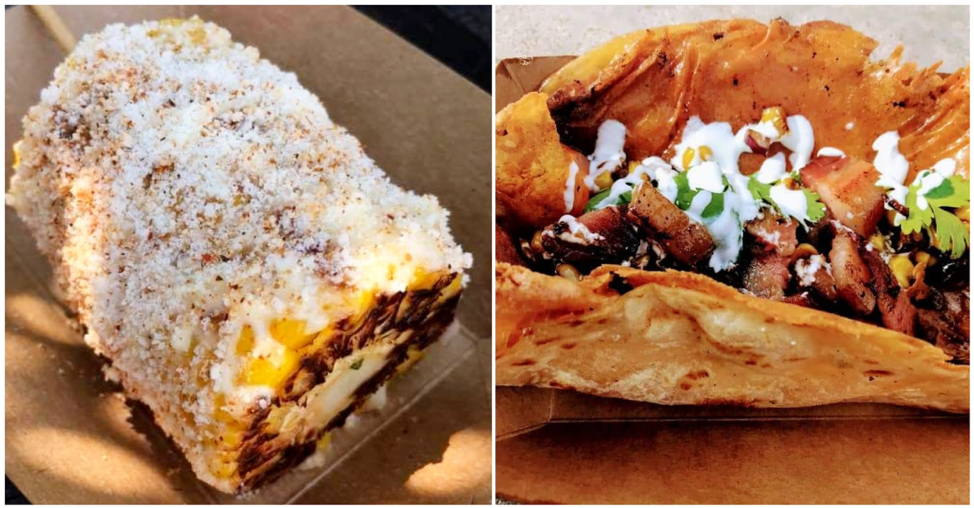 What sets your food apart from the rest of the food trucks?
Jill: "403 Eats has a great variety of Food Trucks on site. At The Better Half Gourmet we focus on providing a high quality menu item prepared by our chefs. We stay away from frozen or pre-processed items and make every item fresh in house daily. We purchase the highest quality meats available to us. We have an awesome team that takes great pride in every item that goes out that window."
Why did you decide to operate your food truck at 403 Eats instead of moving it around?
Darrell: "Gretchen and her team have created a great environment for the trucks to be at. They do things right and support every truck anyway they can. Its clean, welcoming and well-advertised. 403 is also a commissary and that too is a huge asset. We have made a lot of great friends being at 403."
What and/or who do you attribute your success to?
Jill: "We come from a family of down to earth, hard working people. I was taught at an early age that it takes hard work and commitment to be successful. Never give up and stay the course. A lot of our success is a product of what we learned from our parents. Building the best team, we could, hardworking individuals that come together to make the best product. It takes an army to do all we do, and I am very proud of them, we take great pride in everything we do. We all work together to give you the best experience and provide the freshest food possible."
What makes your catering special?
Darrell: "We offer a full-service catering experience including event planning, party and wedding coordination, in house floral design, linen and china rentals. Our catering team offers it all, from the simplest buffet to a formal plated dinner. We have a large menu with a variety of all types of cuisine."
Five words to describe The Better Half Gourmet?
Jill: "Fresh, Innovative, Quality, Tasty, Gourmet."
Learn more about The Better Half Gourmet by visiting their website at betterhalfgourmet.com/ and following on Facebook at facebook.com/thebetterhalfgourmet.
Nick Rama is a food writer, contributor of Hello Woodlands, and shares his restaurant experiences on Nick's Local Eats at NicksLocalEats.com and the Q Up The Burgers Facebook page. Nick enjoys helping the small business owner, supporting his community with fundraising for food banks, and plans tasting events with locally owned mom and pop restaurants.