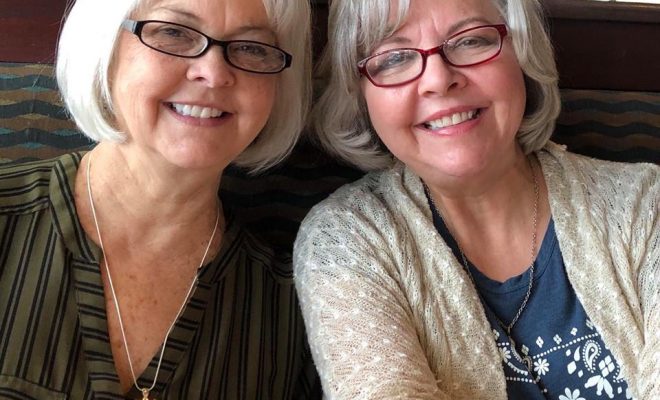 People
Local Neighbor Feature: The Two Knotty Sisters, Donna & Tammy
By |
Sisters Donna Hamm and Tammy Clark are alike in their passion for art and humor, but they have very distinct and different personalities that add up to a fun and charming duo. Hamm, the meticulous sister, balances out Clark's spontaneous nature. The pair enjoy making others laugh and creating funny videos chronicling their adventures to share their laughter and joy. Both sisters live for fun, laughter, and art.
Although originally from Alamogordo, New Mexico, their father's job moved the family to many interesting places including Kwajalein, Marshall Islands. They moved to Conroe with their family after their father was transferred from his job in North Dakota. The pair have both lived in the area off and on all of their adult lives. They ended up finally settling in the Conroe area in 1974 after falling in love with the people and the countryside.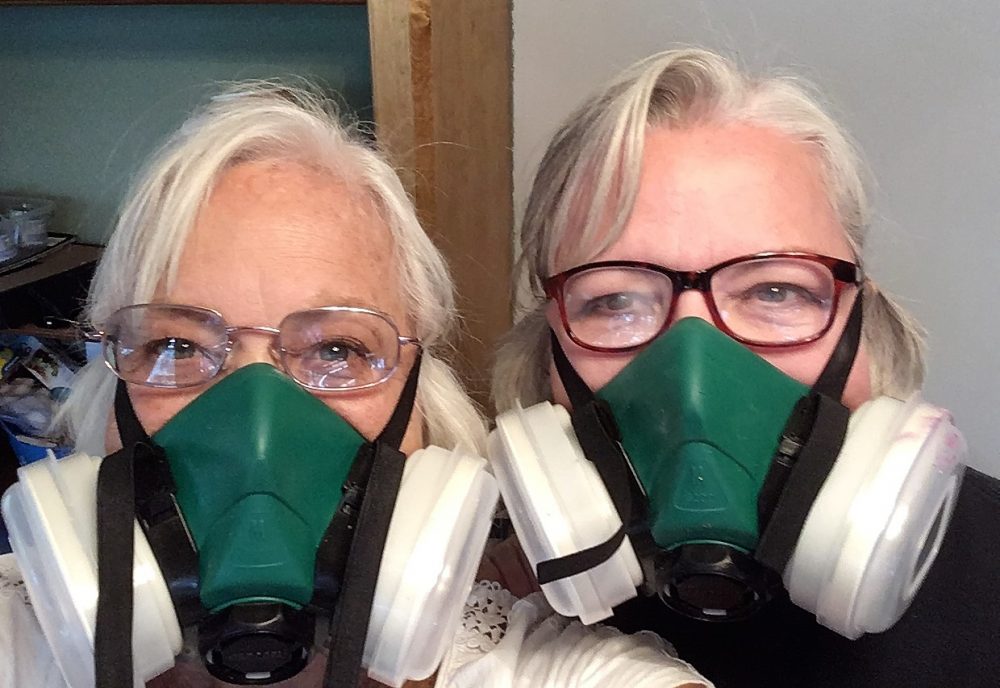 Hamm always wanted to be a nurse, and her dream came true when she was offered her first job working nights in the ER at Ben Taub, a level one trauma center in Houston. She was a trauma nurse for nearly 20 years until she took a sabbatical from nursing in November 2018.
The other Knotty Sister, Clark, has a resume full of human resources skills, talents, and experience. She was laid off from her last job in September of 2018 when new management took over the ownership of an East Texas manufacturing company. She, like her sister, decided to take a sabbatical from her career.
After visiting Jamaica in October for Hamm's daughter's destination wedding, the duo started talking about doing something together and doing something different. At the time, neither of them thought it would turn into the Two Knotty Sisters.
When they made the decision go for it and create a business, both ladies knew it had to be art related. Hamm, a self-professed Pinterest addict, had always been interested in crafts and art and always enjoyed making gifts, so she knew she wanted to share her creative talents with others and make a living doing it. Clark was immediately ready for this new adventure, as she loves being with her sister and loves art. Although Clark sketched in her earlier years, Hamm was the one that had always stayed interested in making jewelry, making scrapbooks, and experimenting with various art projects.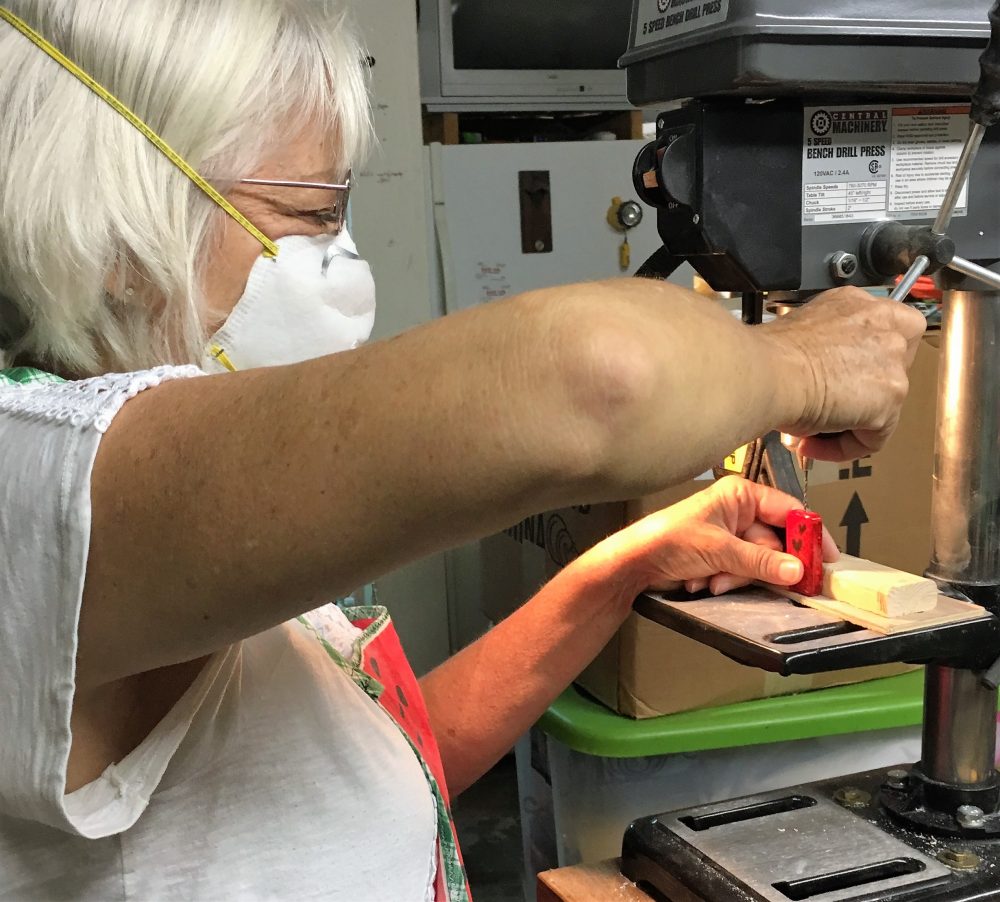 "We decided at the same time to start our business – neither of us needed convincing. We were tired of our life-long careers in nursing and human resources and decided to do something we have always wanted to do. We bought a tent for festivals and decided that if we fell flat on our faces at least we would have a tent to live in!" joked Clark.
In April, Clark sold her house located in Pinehurst and moved in with Hamm and her husband to work closely with her sister and get their business started. The ladies made the business their priority and decided to make it their full-time job.
Several Christmases ago, Hamm had run out of the inks she used for her scrapbook projects. Her husband accidentally bought her alcohol inks instead of the kind she had been using. She began experimenting with them and researching how to use them, and soon became proficient in the medium. She started by painting dominoes and turning them into pendants. Not long after, friends on social media were asking to buy them. One thing led to another and now the duo have created their dream business that has expanded far beyond domino pendants.
The name Two Knotty Sisters originates from when the duo made necklace cords with special knots – thus "Knotty" was born. The name was initially met with some questions by their family. "Our mom wasn't too sure about our name until we convinced her it was spelled with a 'K', not an 'N,'" explained Clark. "Our dad calls us the Two Knutty Sisters!"
Their handcrafted products are custom painted, and go through a four-step process. Painted with alcohol inks and other mediums, the pieces are sprayed with three coats of varnish, one coat of UV protective spray, and coated in resin. This four-step process enhances the beauty of the products, while keeping them water and fade resistant as well. Slight imperfections are part of the unique character of each piece.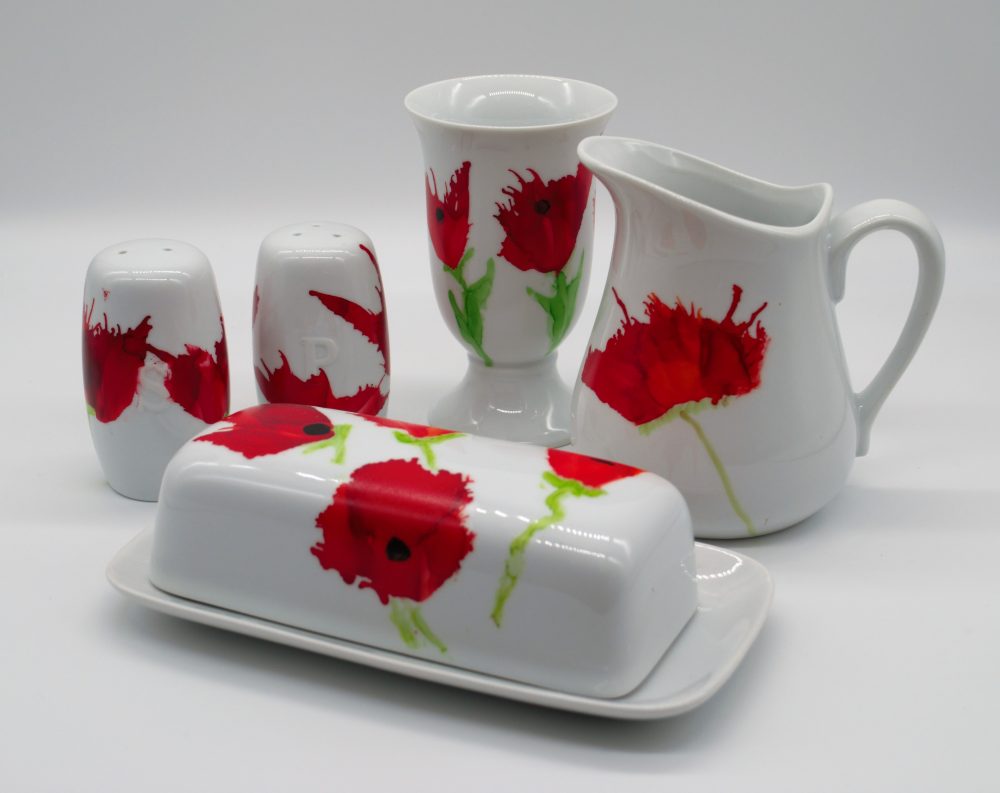 It took a lot of research and involvement with online art communities to achieve the finished product that the ladies were striving for. "We use a lot of different methods in painting our items, lots of trial and error until we get the effect and finished piece that we want. We use resin on many pieces. Resin is a finicky finish, but it produces a beautiful glass-like surface and makes the colors pop! We have spent many hours perfecting our finishes and trying various brands of resin," said Clark.
Clark and Hamm have worked together to learn the best time to create art. "Initially, we would paint late at night when the house was really quiet, but now, we paint mostly in the mornings and early afternoons, and of course, when we feel especially inspired to paint regardless of the time of day," revealed Clark. "We have taken over the study, dining room, and the garage. Donna's husband has been very encouraging and patient, but we are bursting at the seams and currently looking for some space away from the house and specifically for our business."
Both sisters participate in a different aspect of each process of the art. "Specifically, Donna does all of the photography and editing for our website and social media pages. Tammy writes product descriptions and the blog for the website. Both of us are inspired by different styles of painting and one can usually tell who painted what. Donna is known for her 'hippy girl' style and Tammy's style is more classic/elegant. We both love abstract paintings."
A day in the life of the Knotty Sisters varies depending on their next gig. Typically, you can find them working on commissioned pieces, developing their website, or finishing pieces and readying them for the next market. However, they always make time for family. "In between those times, we are spending time with family and friends, including Donna's adorable grandchildren, Josslyn and Jack," revealed Clark.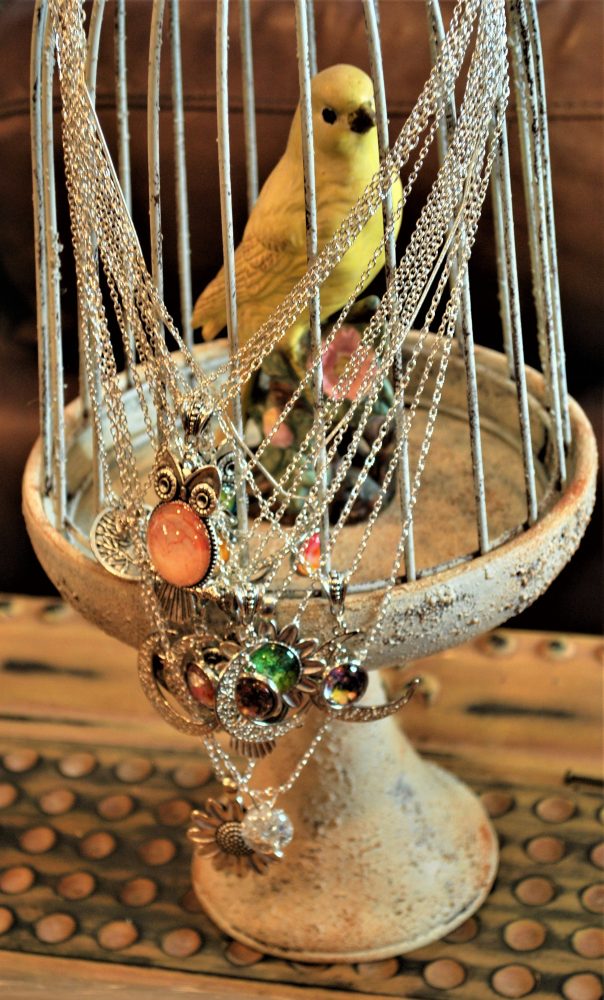 Since starting Two Knotty Sisters, the pair shop at various discount retailers for ceramic pieces. Usually they are discontinued items and the quantity is limited. They also love buying from Conroe resale and thrift shops that support a mission or cause. Women's Assistance League and Angelic Resale are two of their favorites. The sisters like that Women's Assistance League takes their proceeds every year and purchases brand new clothing, socks, shoes, and backpacks for children who otherwise would not have them. Angelica Resale is a faith-based mission and their proceeds go to the New Life Women's Center Work Program and offers second-chance employment to those on a probationary status with Harris and Montgomery County Probation Departments.
In addition to their frequent shopping destinations, you can find them at Vero's Italian Restaurant in Conroe for the lunch buffet on Tuesdays and Wednesdays, or at Los Cucos in The Woodlands enjoying the chicken enchiladas.
The sisters enjoy living in Conroe and its proximity to The Woodlands and Houston. "We love being near our family and the lifelong friends that we've made since we were in school. We also love that it is close to museums, the zoo and the Medical Center. The Woodlands offers so many experiences, one of our favorites being the Waterway. We meet so many people from different cultures and experiences."
The ladies are involved in many charitable and community organizations. "We try to help in our community whenever a need arises, such as during the flooding or other disasters or when there is a neighborhood need," said Clark. "We did make a commitment to each other when we started out that we would give 10% of our proceeds to various organizations. Girl Forward was our first organization and then the Muscular Dystrophy Association. Next year, we are hopeful that our business will have grown enough that we can contribute to other organizations – one each month."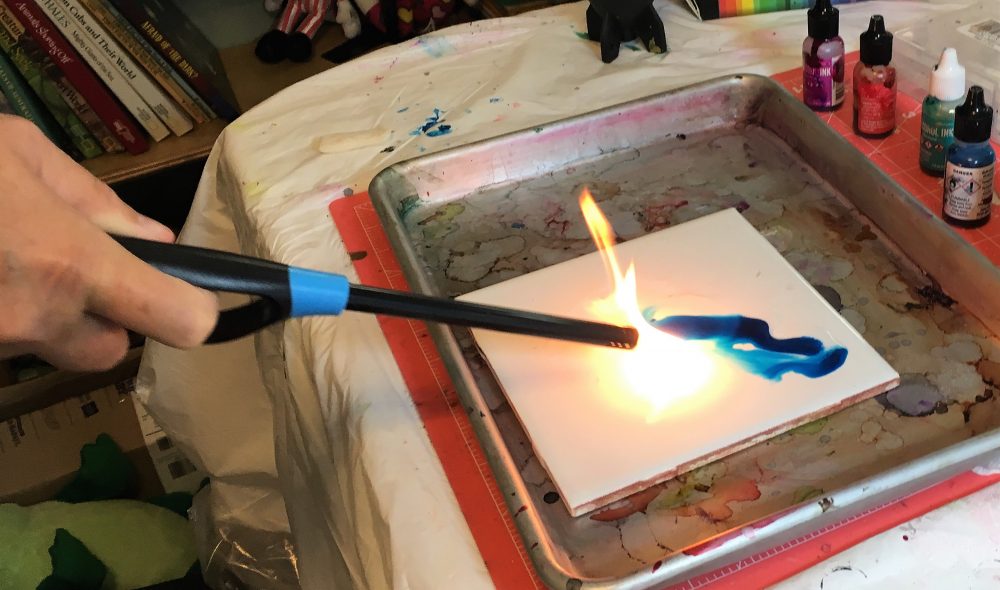 Hamm and Clark encourage others in the process of starting a business to keep going. "In the beginning we would work morning, noon, and night. Mostly on products. Products we weren't sure anyone would buy or even be remotely interested in perusing. When shoppers didn't buy, we felt like failures. We're not failures. We're brave. Still reading. Still listening. Still learning! If you're starting a business, you're not a failure either. You have courage, a dream, an idea. You're bravery is what sets you apart from everyone else. Read. Listen. Learn. Keep reading. Keep listening. Keep learning!"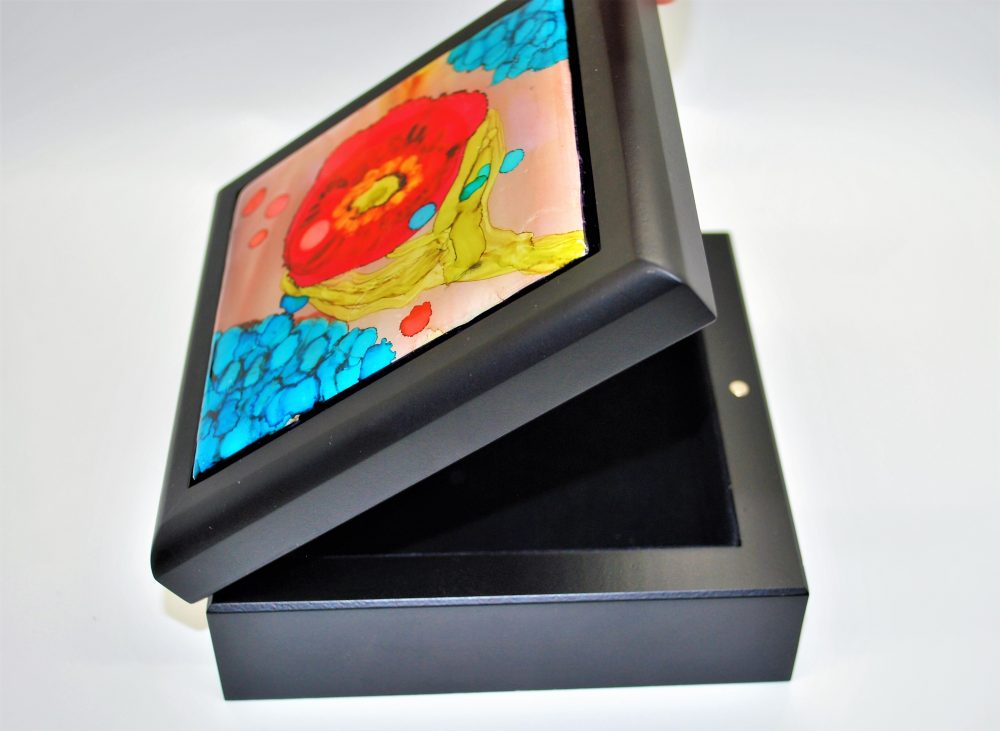 The Two Knotty Sisters are committed to sharing art and joy. "We love art. We also feel everyone should be able to enjoy art so we strive to make art that is wearable, functional, affordable, and beautiful. We are having a ball and meeting so many people along the way."
"Donna and I are in this adventure together and learning a lot along the way about running a business and striving to improve and succeed in doing what we love – art," said Clark. "This is us. Two gray-haired sisters vowing to have fun, work hard, and make our first year of business our 'learning curve.'"
You can find the Two Knotty Sisters' pieces and learn more at www.twoknottysisters.com, and on Pinterest, Instagram, Facebook, and YouTube.