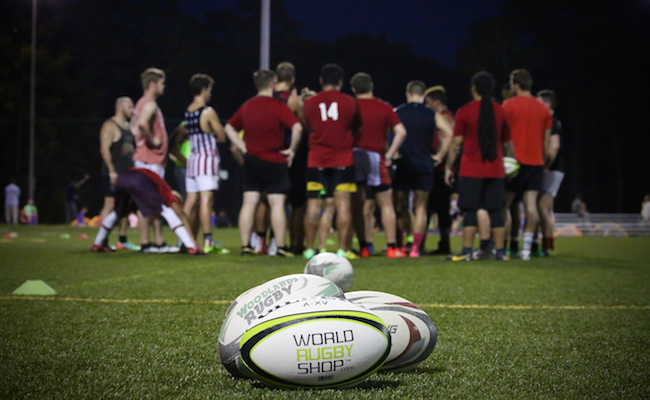 Photo by Hello Woodlands
Events
Driven and Determined, Local Rugby Club Prepares for New Season
By |
Every Tuesday and Thursday evening, a group of 30 men gather at the Alden Bridge Sports Park in The Woodlands. A lawyer, pilot, pizzeria manager, local students, university players, commuters, coaches and more come together to practice their favorite sport, rugby.
The Lone Star Rugby Club has one of the youngest teams – or squad – in the state with most members ranging from ages 18 to 25. This will be the third season of the club playing in Division 3 and the squad has a goal of winning the state title and excelling in the national championships. With their combined skill set, experience, and determination, the players are confident that this will be a successful season with coaches Phil Beck and Brett Mills.
Playing since the age of 8, Coach Phil Beck played with the Wasps even before rugby went professional. After making the move from England to Houston, Beck began coaching and has been the Head Coach of the Woodlands Youth Rugby Club for almost a decade.
With 6 years serving in the United States Army and 32 years of experience as a player and coach, Coach Brett Mills started his career playing for the University of Montana. Mills has coached rugby teams at University of St. Thomas, University of Houston, and Texas A&M University (to only name a few) and currently coaches the St. Thomas High School Rugby team.
Coach Mills shared why he was looking forward to his first season with the Lone Star Rugby Team saying,
"Phil is a good friend and I look forward to coaching these talented guys – including my son. I coached my son, Conor, at Texas A&M and now I have the opportunity to do it again. This is a new team and it's exciting to be a part of something great."
Dimitrios Ktenidis, President of the club, shared more about what it takes to play rugby in that…
"Players come in all shapes and sizes. It's about your skill set. You don't have to be big, but you can't be intimated by physical contact. Training is important. At practice we train, run, pass, go through drills – and have players continuously moving. The more tired you are, the more disciplined you have to be to pass. Rugby games are 80 minutes long, so the last 10 to 15 minutes can make a difference. Endurance, fitness, and skill can win the game."
The Lone Star Rugby Club will play October through April in the Divison 3 2016/2017 season. The club plays locally with home games at Alden Bridge Sports Park, but will travel as far as Galveston and around the Houston area. The squad encourages the community to come out and support your local rugby team – ALL are invited to attend!
Lone Star Rugby Club Schedule
Date                          Opponent           Location
October 29                 Galveston                   Away
November 19             Bye
December 3               Arrows                        Home
December 10             Woodlands                Home
January 14                 BARC                          Away
January 21                 HURT                         Home
February 4                 Kingwood                   Away
February 11                Galveston                   Home
February 25               Bye
March 4                      Arrows                        Away
March 18                    Woodlands                 Away
March 25                    BARC                          Home
April 8                         HURT                         Away
April 22                       Kingwood                  Home
Conor Mills, rugby coach at St. Thomas High School and son of Coach Mills, started practicing with the team this past summer and looks forward to building the team. Conor was a 3 time All-American in High School, player on Collegiate and National teams, selected for the USA Eagles U20, captain of the Texas A&M Men's Rugby Team, and played on US team at the Junior World Trophy in Tibilisi, Georgia in 2011. Mills shared,
"I love the sport. I've played all types of sports, but rugby is the most complete sport. There's nothing like the camaraderie you have with your team in rugby. In rugby, you can have a fight on the field and then get a beer together afterwards."
Lone Star Rugby member Colton Pederson started playing rugby as a child in Malaysia. This will be Pederson's 10th season playing rugby, previously playing with the Woodlands Youth Rugby Club, Texas Tech University, Texas Select Side, Dallas Harlequins Rugby Club, and The Woodlands Rugby Club.
"The camaraderie is different than football. Opposing teams even hang out afterwards. The rugby community is amazing. When I was in Midland for work, I was even able to meet up with a player and old friend from Texas Tech."
Although many members grew up playing rugby in Texas, many come from as far as South Africa and Tonga.
"I was born playing rugby in South Africa." Sib Sikobi said. "It's an intense, physical contact sport with no time outs. I drive over an hour here from Pasadena, but it's worth it because we have a close, tight team with two amazing coaches."
Also from South Africa, Wian Englebrecht shared that he considers his teammates brothers and looks forward to doing well this season, getting closer to the team, and excelling in the state and nation championships.
Emosi Etuale and Charles Smith come to The Woodlands originally from Tonga, a Polynesian kingdom made up of more than 170 South Pacific islands. This year's talent and coaches impressed both players and look forward to competing with the Lone Star Rugby team.
Smith shared that the key to success is about "work effort. It's about not quitting on your brothers and keep pushing until they pull you out. Last year we went far as a new team and got second place in the division. This year we have the talent, the brotherhood, and the coaches to push through those close games and last minutes to win."
Matt Brown was enthusiastic about his squad and this season, stating,
"We are fast. We are the youngest in Texas and the nation with the will to win. But, we are not selfish – it's not just for ourselves. We play for the men next to us."
When Justen Brignac was asked, "Why Rugby?" he replied "Why not?!" Brignac shared his love for the sport and his team stating,
"we've created a really fun, brotherly atmosphere – a really positive environment. No favorites, no drama. If you don't practice, you don't play. We are one of the youngest men's club in America with only 2-3 players over the age of 25, with a median age of 22-23."
Experience, talent, determination, but most of all camaraderie is what brings the Lone Star Rugby Club together and will push the squad far in their third season. There's only one thing that they ask of the community: "Come and join us!"
Please join us in attending a Lone Star Rugby Club game this season! We look forward to supporting our local rugby team with incredible players and coaches right here in The Woodlands.
The Lone Star Rugby Club would like to thank their sponsors for their support and making this season possible:
Learn more about the Lone Star Rugby Club by following them on Facebook, Instagram, and visiting www.LoneStarRugby.org