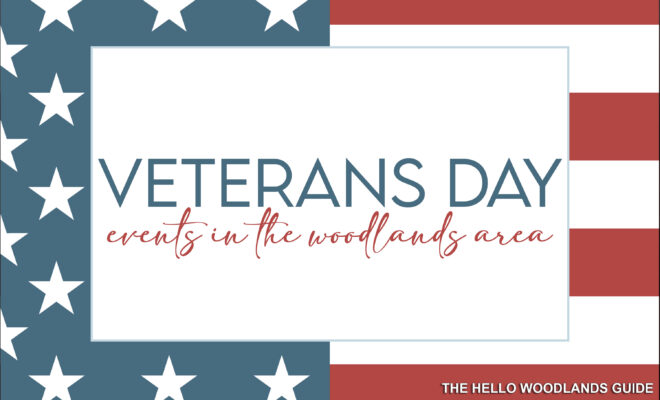 Events
Local Veterans Day Events 2023
By |
Honor, thank, and celebrate our Veterans at these local events.
November 4, 2023 – Salute to Veterans Gala – Tomball VFW Post 2427 is hosting its 2023 Salute to Veterans gala featuring cocktail hour, dinner, program, dancing! All proceeds support the 2427 building campaign. Time: 6:00pm. Location: 14408 Alice Road, Tomball, TX 77377. Learn More
November 6 – Habitat for Heroes – Join Habitat for Humanity in supporting local veteran and first responder families through the 6th Annual Habitat for Heroes Fundraiser benefiting the Habitat for Humanity Montgomery County Veterans Build Program. Time: 6:00pm – 9:00pm. Location: Mercedes-Benz of The Woodlands Enjoy complimentary libations and passed hors d'oeuvres by and mingle for a purpose. Guests are encouraged to come adorned in red, white and blue cocktail attire. Opportunities to "Honor your Hero" and to be a part of the "Friends of the Brave" alliance give you an opportunity to make an even bigger impact. Learn More
November 9, 2023 – Military Salute Concert – Cavalier Choir's annual Military Salute Concert is back and better than ever with special performances by College Park High School and Knox Junior High Choirs! The students will be singing songs celebrating and commemorating those who have served as well as those who are serving in the United States Armed Forces. All are invited to this concert honoring our Veterans through voice. Time: 7:00pm. Location: The Woodlands College Park High School Auditorium, 3401 College Park Drive Conroe, TX 77384. Learn More
[UPDATE 11/9/23] November 11, 2023 – The Woodlands Township Veterans Day Tribute – Moved to a new location! Due to forecasted inclement weather and potential for unfavorable park conditions, The Veterans Day Tribute will be held on Saturday November 11, 2023, from 3 to 3:30 p.m. and has been relocated to The Woodlands Fire Department Central Fire Station, 9951 Grogan's Mill Road. Learn More
*𝘗𝘭𝘦𝘢𝘴𝘦 𝘯𝘰𝘵𝘦 𝘵𝘩𝘦 𝘦𝘷𝘦𝘯𝘵 𝘸𝘪𝘭𝘭 𝘯𝘰𝘵 𝘧𝘦𝘢𝘵𝘶𝘳𝘦 𝘭𝘪𝘷𝘦 𝘮𝘶𝘴𝘪𝘤 𝘰𝘳 𝘰𝘵𝘩𝘦𝘳 𝘢𝘤𝘵𝘪𝘷𝘪𝘵𝘪𝘦𝘴 𝘥𝘶𝘦 𝘵𝘰 𝘵𝘩𝘦 𝘭𝘰𝘤𝘢𝘵𝘪𝘰𝘯 𝘤𝘩𝘢𝘯𝘨𝘦.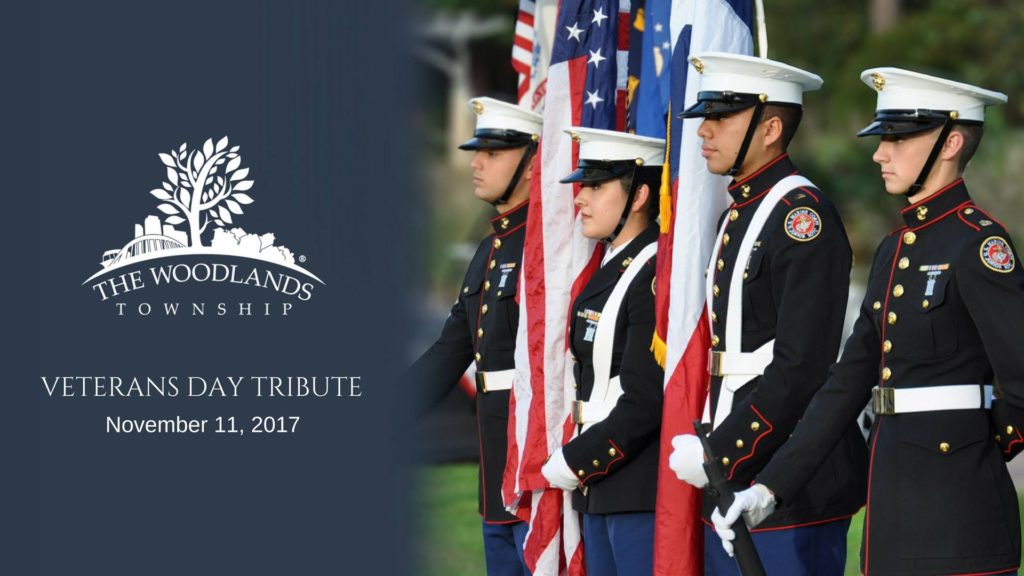 November 11, 2023 – SALUTE Art Show – Join Ardest Gallery for the 2nd annual SALUTE art show celebrating local Veterans. Time: 4:00-8:00pm. Location: 25200 Grogans Park Dr, The Woodlands, TX 77380. Learn More
November 11, 2023 – Montgomery County Veterans Memorial Park Veterans Day Celebration – The event includes a Veterans Day patriotic musical celebration, dedication of "THE LINE", swearing in of new recruits to the United States Army, and groundbreaking of the "New" Education & Visitor Center. Time: 9:00am. Location: 1776 Freedom Blvd, Conroe, TX 77301. Learn More
November 11, 2023 – Celebration of All Veterans and the Honoring of Marine Cpl. Harry Emert Tomlinson – This Veterans Day hosted by the Spring Historical Museum event is an opportunity for the Spring community and beyond to come together to honor all Veterans and to pay a special tribute to Spring's Marine Cpl. Harry Emert Tomlinson, whose sacrifice remains an indelible part of its history. Time: 11:00am – 1:00pm. Location: Spring Historical Museum, 403 Main St, Spring, TX 77373. Learn More
November 11, 2023 – Salute to the Holidays – Salute to the Holidays, presented by The Woodlands Show Chorus, includes patriotic songs as well as Holiday music to ring in the season. The performance will feature the amazing Lady A Cappella quartet – the current 3rd place International Quartet medalists. There will be refreshments, a bake sale with lots of homemade goodies, and a silent auction where you can get your Christmas shopping early. Seating is first come, so plan to arrive early! Time: 5:00-7:00pm; doors open at 4:00pm. Location: First Presbyterian Church, 2727 N Loop 336 W 77304 Conroe, TX. Learn More
November 11, 2023 – Veterans' Day Author Event – On Veterans' Day local author Colonel Chris Pike, U.S. Air Force, (Ret.) as he will be signing his book LEADING TO WIN: The Model for Great Leadership as Demonstrated by Military History and the Messiah. Have you ever wondered why some leaders seem to have an innate ability to always deliver the right results on important tasks? Do you want to become that kind of leader? A book about practical leadership, the author develops a series of principles and suggestions that guide a leader to learn how to assign the right person to the right task, a skill Chris posits is the secret to effective leadership. Chris is a former Air Force Colonel who moved to The Woodlands over 10 years ago after he retired from the military. Time: 1:00pm. Location: The Woodlands Mall, 1201 Lake Woodlands Dr #3008, The Woodlands, TX 77381. Learn More
November 11, 2023 – Magnolia Historical Society Veterans Day Event – The Magnolia Historical Society will host its Veterans Day event to honor all who have served. Time: 11:00am. Location: West Montgomery County Community Development Center, 31355 Friendship Dr, Magnolia, TX 77355. Learn More
November 11, 2023 – A Veterans Day Celebration of the 50th Anniversary of the Vietnam War POW Homecoming – The Heritage Society of Montgomery County presents a Veterans Day celebration featuring Colonel James Ray, a graduate of Conroe High School and Texas A&M University, celebrating the 50 year anniversary of the Vietnam POW Homecoming. This program is free and open to the public. Seats are first come, first served. Time: 1:00pm; doors open at noon. Location: The Owen Theatre, 225 Metcalf St, Conroe, TX 77301. Learn More
November 11, 2023 – 22 for 22 Veterans Day Run – Join the Mighty Oaks Foundation for food, entertainment, and more on Veterans Day! The 22 for 22 Veterans Day Run includes a 5K, 10K, and marathon. Whether you're an experienced runner or a novice, all are welcome to participate. The nonprofit's mission is to come together as a community and shine light on the epidemic of Veteran suicide, ensuring that no Veteran has to fight alone. Sign up for a run, or just come by and show your support for our warriors! Time: 8:00am. Location: Heritage Park, 500 Collins St, Conroe, TX 77301. Learn More
November 12, 2023 – Veterans Fundraiser and BBQ Cook-Off – Get ready for a day of sizzling BBQ, exciting activities, and heartwarming support for our Veterans and first responders at Henry's Home Horse & Human Sanctuary! The nonprofit's Horses & Heroes Equine Learning Program offers meaningful work and therapeutic interaction for our brave Veterans and first responders, creating an environment of healing and hope. Activities include a mechanical bull ride, obstacle course, BBQ competition, and pictures with Santa and Mrs. Claus. Proceeds from the event will go toward constructing new facilities that will host numerous educational and special events, further enriching the lives of our heroes. Time: Noon-5:00pm. Location: Henry's Home Horse & Human Sanctuary, 14638 Perry Rd, Conroe, TX 77302. Learn More
UPDATED:
November 7, 2023 at 2:59pm to include the Spring Historical Museum Veterans Day event.
November 8, 2023 at 1:35pm to include SALUTE art exhibit at Ardest Gallery image.