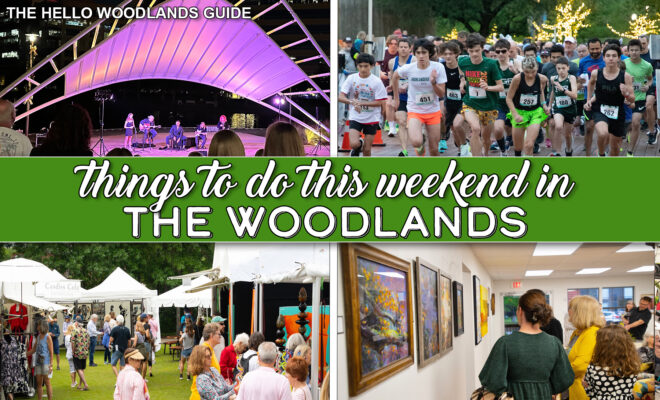 Art & Culture
Things to Do in The Woodlands Area This Weekend, Oct. 20-22
By |
Discover things to do in The Woodlands area this weekend, October 20-22, including Hocus Pocus Pops, Trinity Episcopal Church's Fall Festival, The Miracle City Collective's Worship in the Park, The Woodlands Arts Council's Fast Draw, Halloween events, and more!
Friday, October 20, 2023
Hocus Pocus Pops
Around here, Hocus Pocus Pops might be an even bigger deal than Halloween itself! There's all the trick-or-treating and kiddos in costumes and ghastly guys and ghouls…plus the haunting Houston Symphony in all its sinister splendor. Expect creepy classics like character pictures, the Halloween Express and, of course, the Goblin Parade to make their return. There will also be some scary surprises in store just for you and your family! Gates open at 6:00pm, Show begins at 7:30pm. Learn More
YMCA Run Thru the Woods Tickets on Sale
Tickets are on sale now for the 34th Annual YMCA Run Thru the Woods Presented by Huntsman on Thanksgiving Morning, Thursday, November 23, 2023! First race starts at 7:30 a.m. Start/Finish Line located in front of The Cynthia Woods Mitchell Pavilion at 2005 Lake Robbins, The Woodlands, TX 77380. Register Here
Scooter's Coffee Courage Cookies Event
Visit our two local Scooter's Coffee locations (26551 Kuykendahl Rd. and 24527 Gosling Rd.) for special events, promotions, and Spirit Days this October! Download the Scooter's Coffee app to also get $2 off your first order, Free Birthday Drink, Earn Smiles, and Mobile Order Ahead Promos! Download the app here. All October long, 20% of Courage Cookies proceeds will be donated to The Pink Agenda, a nonprofit dedicated to finding a cure for breast cancer.
Alodia Basketball League Winter 1 Season Registration (Oct. 3–27)
Season starts the week of November 6! Grades 1-8; Boys and Girls; Includes 1 Practice a week with optional Skills Training, Games on Saturdays, End of Season Tournament, All-Star Games, and amazing jerseys too. Woodlands location (and a Tomball location too)! Don't miss out on these five-star rated and longest-running (since 2008!) quality basketball leagues! For more information and to register, visit AlodiaLeagues.com
Local Halloween Activities
Halloween activities are happening all throughout October! Get in the Halloween spirit and scare up some spooky fun at these local events: www.hellowoodlands.com/halloween-activities-in-the-woodlands-area-2023.
Visit Local Halloween Displays
Throughout October, check out the Hello Woodlands' Halloween in The Woodlands Area 2023 album on Facebook! Discover incredible local decorations to visit with Hello Woodlands' Must See Local Halloween Decorations list, complete with a map and videos: www.hellowoodlands.com/2023-must-see-local-halloween-decorations-map-videos-included.
Family BINGO Night
Join The Woodlands Township for a fun-filled BINGO night with your family and friends, at The Recreation Center at Rob Fleming Park, 6464 Creekside Forest Drive from 6:30- 8:30pm. Prizes awarded for good bingos. Light refreshments will be available for purchase. Due to the event selling out, pre-registration is highly recommended! Fee: $5 Per Person. Learn More
Sunset Cinema: Bee Movie
The Woodlands Township Environmental Services Department is hosting their 2nd annual Sunset Cinema: Bee Movie to focus on protecting native pollinators. This FREE event begins at 6:30 pm with Bee-themed booths and activities, followed by the movie at 7:30 pm. Come early and grab a bag of free popcorn. Lawn chairs, blankets and coolers are welcome. No glass please. Wear your best BEE costume and get a FREE flavored honey stick! Sunset Cinema will take place under the stars at the outdoor amphitheater at the Recreation Center at Rob Fleming Park, 6464 Creekside Forest Drive. Learn More
Haunted Farmhouse (Oct. 20-21, 27-28)
The thrills and chills of a haunted farmhouse await you at The Wunderlich Farm historical farmhouse, located at 18218 Theiss Mail Rte Rd, Spring, TX 77379, from 8:00-11:00pm. Learn More
Live on the Lawn at Market Street
Enjoy live music on the lawn at Central Park in Market Street with Sarah Kelly Music School from 6:30–8:00pm on Friday nights. Blankets and lawn chairs welcome. Learn More
Saturday, October 21, 2023
Marriage and Parenting Conference
Marriage Ministry will host a community-wide Marriage and Parenting Conference on Saturday, October 21, from 9:30am to 1:30pm at The Woodlands Methodist Church. Leading local experts will present TED-style mini lectures covering topics such as social media, prepping your kids for dating and more. Cost is $25 per person, and breakfast and lunch are provided. Learn More
Art in the Woods Outdoor Fine Arts Market
Ardest Gallery, a local fine arts gallery curated by Gallery Director Julie Verville, represents nearly 40 top Texas 2D and 3D visual artists. In addition to its core artists, the gallery will host ongoing events such as monthly group art shows, Coffee Talk with an Artist, Art to Lunch in partnership with local restaurants, poetry readings, musical performances, and art classes/workshops for all ages and skill levels. Ardest Gallery, located at 25200 Grogan's Park Drive, is hosting its Art in the Woods Outdoor Fine Arts Market on Saturday, October 21 from 10:00am-4:00pm. Learn More
Worship In The Park
The Miracle City Collective, in partnership with Mobilize Montgomery and dozens of local churches and businesses, are proud to present Worship In The Park, a free night of praise and prayer featuring an awesome collection of worship artists from Montgomery County.
Worship in The Park features a free picnic dinner from 5:00-6:00pm, followed by a beautiful evening of praise and prayer from 6:00-8:00pm at Heritage Park Amphitheater in historic downtown Conroe. This event has been designed to celebrate all that God is doing in Montgomery County and will also feature a Ministry Fair showcasing local non-profits, a Prayer Wall, and a unique moment where we will be lifting up all of our elected officials and pastors serving here in Montgomery County. Sponsor or make a donation to the event here. Learn more about the event at godblessmoco.com.
Fast Draw
7th & 8th grade students from Montgomery County are given drawing materials and have 50 minutes to complete a still life as they work against the clock! Space is limited to 60 participants. Preregistration required. The event is held at The Woodlands Mall from 10:00am–noon. Learn More
Festival of the Wolves
Can you HOWL with excitement? Bring your family and friends out to celebrate these amazing animals and see special demonstrations with the wolves and wolfdogs from the pack at Saint Francis Wolf Sanctuary, 6731 Pavlock Rd, Navasota, TX 77868 from 10:00am–5:00pm. There will also be artisan vendors, food trucks, an interactive kid's zone, and a silent auction for everyone to enjoy while at the sanctuary. Learn More
Fall Frenzy
Fall Frenzy at Tomball Methodist Church is a community-wide event open to the public that features a craft fair with over 50 vendor booths and food trucks. There will also be a fall carnival on 20 acres that includes games, bounce houses, activities, fun prizes, and treats, benefiting Susanna Wesley Day School. Taste test and vote on your favorite gumbo at the gumbo cook-off benefiting Tomball Emergency Assistance Ministries (T.E.A.M.). The silent auction will benefit The Renewal Center in Tomball. Come and enjoy the day with your family and friends! Fall Frenzy is held from 10:00am–2:00pm. Learn More
Scuderia Exotic Car Show
Come out to enjoy the Scuderia Exotic Car Show at Market Street on the third Saturday of every month from 8:00 a.m – 10:00 a.m. Learn More
Oak Ridge North Annual Fall Festival
Oak Ridge's 10th annual Fall Festival will feature a pumpkin patch, train rides, food trucks, vendors, and more! The festival is held at Marilyn Edgar Park beginning at 11:00am. Learn More
Niftee 50ees Trunk or Treat + Monster Classic Cruise In
The 2023 Niftee 50ees Trunk or Treat + Monster Classic Cruise In is a a ghoulishly good time celebrating the classics! Bring your classic out, decorate for Halloween, and welcome the little ghosts and goblins to our classic car community at the Grogan's Mill Shopping Center parking lot, 2250 Buckthorne Pl, Spring, TX 77380. If you plan to come out with a classic please arrive between 3pm and 5pm to set up and bring goodies for upwards of 500 littles goblins. Trunk or Treating will be from 5:00-7:00pm with the Classics staying over until 10:00pm for a monster good time. Learn More
The Woodlands Township Shred Day
As part of The Woodlands Township Neighborhood Services Department's National Night Out crime prevention efforts, you are invited to bring unwanted documents to a contactless shredding service from 8:00 am – noon at the Rob Fleming Aquatic Center. Benefits to shredding include protecting yourself from identity theft, ridding your home from clutter, and limiting potential fire hazards. A donation of five non-perishable food items or $5.00 per box will benefit Interfaith of The Woodlands Food Pantry. Learn More
Tandem Trick or Treat
Take your trick-or-treating to the water! Paddle a tandem kayak around the lower Waterway to collect treats from costumed characters from 9:00-10:00am. Costumes are encouraged! Pre-registration required. Admission covers two people and candy for one child. The event is suitable for all ages (10 and under recommended). Depart from Riva Row Boat House, 2101 Riva Row, The Woodlands, TX 77380. Learn More
Rustic Pumpkin Pop Up Market
The Rustic Pumpkin Pop Up Market's small business vendors offer a wide selection of items including boutique clothing, accessories, shoes, home decor, furniture, gourmet food, dips, sauces, art, yard decorations, holiday items and so much more. Admission is free. Strollers welcome. The Rustic Pumpkin Pop Up Market is an outdoor market, held at Pine Market, 810 Pine Market Avenue, Montgomery, TX 77316, from 9:00am-5:00pm. Learn More
Spooktacular Costume Party
Enjoy a night dancing to age-appropriate music and light refreshments. Show off your costume and enter the Halloween dance contests! Fun for families! Pre-registration is required. The event is from 7:00–9:00pm at the Rob Fleming Recreation Center and is suitable for all ages. Learn More
Cars & Coffee
The Conroe ISD district-wide Cars & Coffee event, hosted by The Woodlands High School Automotive Enthusiasts Club, is free and open to the public! There will be cars, trucks, and motorcycles, plus first responder/emergency vehicles. Anyone wanting to display their vehicle is welcome to do so at no charge, simply be there for the roll-in between 7:30-8:00am. The event begins at 8:00am at Woodforest Bank Stadium. Learn More
Pumpkins & 'Possums
Friends of Texas Wildlife is hosting Pumpkins & 'Possums where you can get up close with nocturnal critters! There will also be fun games, activities, and craft making. Meet the owls, opossums, skunks, and more, while learning about local nocturnal animals. Costumes encouraged! The event is from 5:00-7:30pm at Friends of Texas Wildlife Education Center, 29816 Dobbin-Huffsmith Rd, Magnolia, TX 77354. Learn More
Texas Roots Festival
The free, family-friendly Texas Roots Festival will be held at Pine Market, 810 Pine Market Avenue Montgomery, TX from 9:00am–5:00pm. Make your way to the central park to find the outdoor market packed with all great things Texas. Strollers welcome. Learn More
Sterling Ridge Village Association Annual BBQ Cook Off & Fall Festival
The annual Sterling Ridge Village Association Annual BBQ Cook Off & Fall Festival will be held at Cranebrook Park, 11800 Crane Brook Drive, The Woodlands, TX 77382 from 11:00am-2:00pm. Learn More
City of Conroe Fall FunFest
The City of Conroe is once again hosting its Fall FunFest! The free festival will be held from 11:00am-2:00pm at Carl Barton, Jr. Park, 2500 S Loop 336 E, Conroe, TX 77302. Learn More
Texas Renaissance Festival (Oct. 7-Nov. 26)
Since 1974, there has been a magical kingdom about an hour north of the Houston area, where guests can step through the gates and enter an enchanted world filled with kings and queens, knights and nobles, fairies and elves, pirates and peasants, and other fanciful delights. The Texas Renaissance Festival spans 8 weekends from October 7 to November 26, plus Thanksgiving Friday, from 9:00am–8:00pm. Learn More
The Woodlands Pride Festival
Since 2018, The Woodlands Pride Festival has welcomed more than 15,000 attendees to Town Green Park to the free, family friendly event. Past events boasted over 100 exhibitors, delicious treats from food trucks, exciting entertainers, sponsor swag, and more. The festival will be held at Town Green Park, 2099 Lake Robbins Dr, The Woodlands, TX 77380
P-6 Farms 2023 Fall Festival (Sept. 30-Nov. 5)
Join P-6 Farms for an unforgettable seasonal experience packed with exciting activities and attractions for all ages. Capture fall photos in picturesque landscapes, enjoy food and desserts, and treat yourself to adult beverages while you explore the farm's festive offerings. From pumpkin picking to strolling through vibrant flower fields, there's something for everyone to enjoy. Dates and Hours: Saturdays & Sundays, September 30 – November 5 from 10:00am–6:30pm. Entrance to the farm ends an hour before closing. Location: P-6 Farms, 9963 Poole's Road, Montgomery, TX 77356. Learn More
Sunday, October 22, 2023
Trinity Episcopal Church's Fall Festival
Trinity Episcopal Church's Fall Festival is back this year with a collaboration with their preschool TEDS! The free Fall Festival will continue its tradition of fellowship, food, and fun, featuring have a trackless train, dunk tank, obstacle slide, rock climbing wall, and so much more! Please come out and bring your friends and family! Hot dogs will be provided by the Holy Smokers. Time: 11:30am–1:00pm. Location: 3901 South Panther Creek Drive, The Woodlands, TX 77381. Learn More
Cochran's Crossing Village Association Fall Festival
Everyone is welcome to the annual FREE Cochran's Crossing Village Association Fall Festival! Activities include: Strolling Entertainment, Petting Zoo, Face Painters, Cookie Decorating, Candy, Bounce Houses, Rock Wall, Carnival Games, Trackless Train, Fall Photo Ops, Live Performances, Vendors, Crafts, Giveaways, Explore a Fire Truck, Meet Public Safety Officers, and so much more! The fall festival will be held from 1:00-4:00pm at Shadowbend Park, 4995 Lake Woodlands Dr, Spring, TX 77382. Learn More
Concert in the Park
Concert in the Park is a popular family tradition of music and fun for all ages, featuring local bands playing a variety of favorites from pop and rock to country from 5:30-7:30pm at Northshore Park on Sundays. Coolers, picnic baskets, blankets and lawn chairs are permitted. Glass is prohibited. All entertainment is weather-dependent and subject to change. Snow cones available for purchase at all concerts. Learn More
Plan Ahead: Upcoming Events
Local Fall Festivals
Fall Festivals are happening all over The Woodlands area! Find out what's coming up next here: www.hellowoodlands.com/local-fall-festivals-2023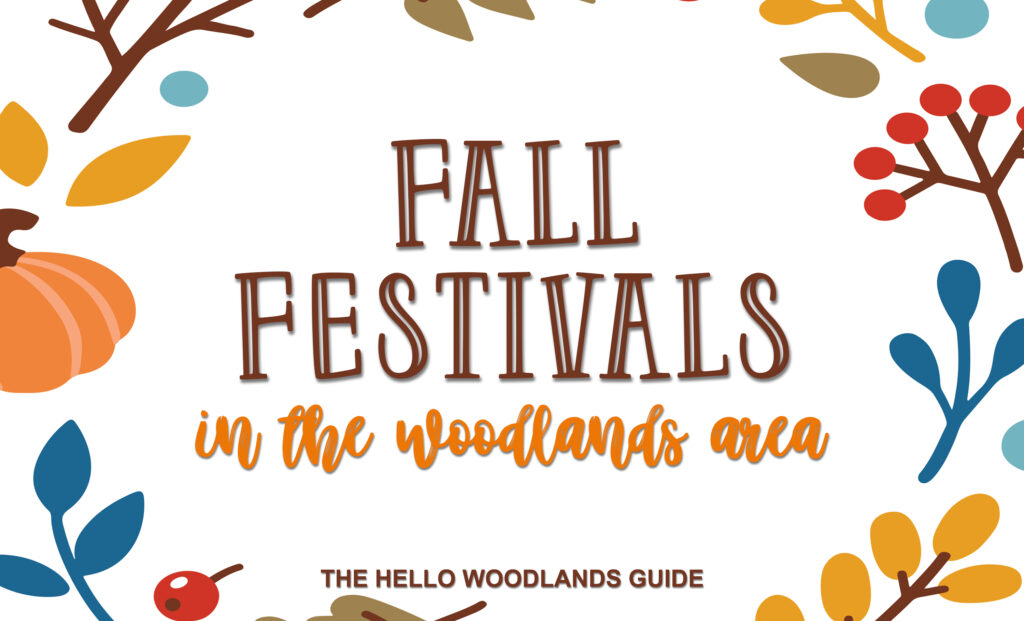 Local Pumpkin Patches
Fall is here and so are the pumpkins! Get the perfect pumpkin, make memories, and take fall pictures at these area pumpkin patches: www.hellowoodlands.com/pumpkin-patches-in-the-woodlands-area-2023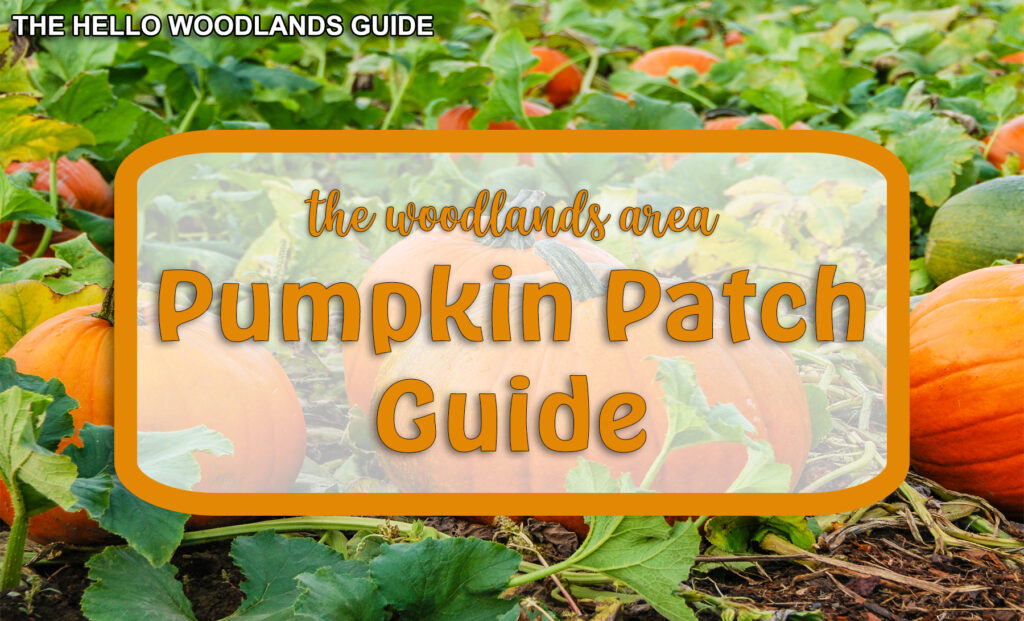 Rock the Row (Oct. 5 – Nov. 9)
Experience Hughes Landing on scenic Lake Woodlands with live music Thursday evenings! Rock the Row features local and regional bands playing a variety of favorites from pop and rock to country. Rock the Row is from 7:00 – 9:00pm. Learn more at www.thewoodlands.com/things-to-do/events
Agave on the Amalfi (Oct. 26)
Join Sorriso Italian Kitchen for an unforgettable evening at Agave on the Amalfi! Get ready to indulge in a night filled with delicious food, unique tequilas, and great company. Chef Jonathan will prepare a delicious 5-course dinner to pair with tequilas and mezcals! This event will take place on Thursday, October 26, 2023 at 7 p.m. at Sorriso Italian Kitchen on The Waterway. Make a Reservation
Happy Days at SSJ Fall Festival (Oct. 27 & 28)
Join Saints Simon and Jude Catholic Church for two days of fun and games at their Annual Fall Festival held on October 27 & 28, 2023! Enjoy "Happy Days at SSJ" by participating in the 1950s Costume Contest, BINGO, Silent Auction, and Festival. Free parking and all are welcome! Friday, October 27 6:30pm: Corkscrew BBQ + BINGO + Live Auction + DJ + Costume Contest. Saturday, October 28 11am-3pm: Festival Games + Prizes + Food + Allen Oldies Band + Rummage Sale. Location: Saints Simon and Jude Catholic Church, 26777 Glen Loch Dr, The Woodlands, TX 77381. Learn More
Check back on Hello Woodlands' Calendar Page and the monthly 31 Things to Do list for more events as they come up!
Have an event coming up or want to highlight your business? You can sponsor one of these popular weekend guides! By sponsoring a guide, your company name (organization or event) and logo will be included on the featured photo of the article published on the Hello Woodlands website. Your company name will also be included within the article along with a paragraph sharing more about your business with your logo and a link to your website. Email info@hellowoodlands.com for more information.
UPDATED: October 18, 2023 at 5:23pm.