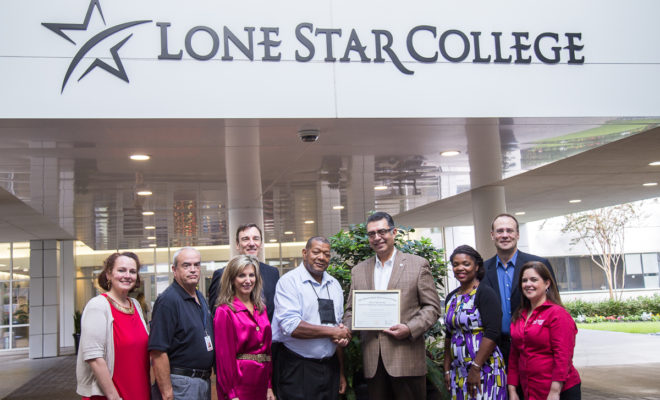 News
Lone Star College partners with U.S. Department of Labor to offer apprenticeships 
By |
Houston (November 21, 2017) – Lone Star College is the first college in Texas to offer registered apprenticeship programs through a partnership with the U.S. Department of Labor.
Students will be able to earn while they learn – making money while learning highly technical skilled trades such as Machining, Mechatronics, Cybersecurity and Field Service Technician. This gives employers the opportunity to compete on a global scale.
"This is another example of how Lone Star College and Workforce Education continue to expand, to break barriers and lead the charge to help serve our communities and supply industry needs," said Linda Leto Head, LSC associate vice chancellor, Workforce Education and Corporate Partnerships.
Flexible apprenticeship models can be customized to meet the needs of an organization. LSC's well-recognized curriculum can be used to supplement employees' on-the-job training. The college's job placement services department will help connect students and companies.
"Students can earn while they learn, reducing the need to take on debt," said James Carnes, U.S. Department of Labor Apprenticeship and Training representative. "Apprenticeships are also an effective human resources strategy to recruit quality candidates, train employees to the specific needs of agencies, and retain a highly-skilled workforce."
For students, apprenticeships can open doors to competitive wages, industry-recognized credentials, and career paths with upward mobility. For companies, employers who use apprentices report higher productivity, higher employee retention rates and a substantial return on investment, according to the DOL. Companies can also be eligible for tax credits.
"As a nation, this is how we build up the middle class and boost the economy. Our strategy is to 'upskill' the current workforce and to accelerate the productivity of new hires," said Dudley Light, Texas regional director, Office of Apprenticeship, U.S. Department of Labor.
Apprenticeship programs will be available in spring 2018 and will be offered at LSC-CyFair, LSC-North Harris and LSC-University Park.
"We are working with our industry partners to create a pipeline of skilled workers that will help them take their companies to the next level," said Head. "Not only will these students earn an associate degree, but they will also obtain a nationally-transportable credential."
"I am pleased to work with Lone Star College to help more Texans obtain relevant skills and family-sustaining jobs," said Carnes. "Expanding apprenticeships will help Americans learn the skills they need to fill jobs that are open right now and in the future."
To learn more about these opportunities or how companies can get involved, contact Caroline Williamson at 281.290.3774 or by email at cwilliamson@LoneStar.edu. To learn more about Lone Star College, visit LoneStar.edu.
Source: Lone Star College