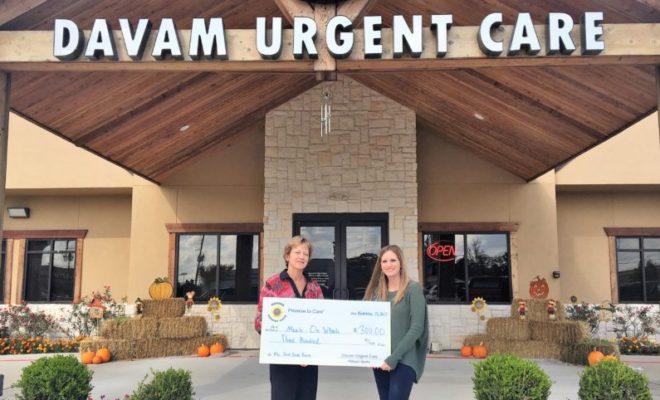 Health
Meals on Wheels Montgomery County receives support from Local Urgent Care
By |
Magnolia, TX – Meals on Wheels Montgomery County provides home delivered meals and transportation services to the homebound elderly of Montgomery County. During the month of October, Davam Urgent Care pledged to give a portion of the proceeds from the child and adult flu shots administered at their Magnolia location to Meals on Wheels Montgomery County.
On Friday, November 17, Davam Urgent Care presented a $300 donation to Meals on Wheels Montgomery County. "Davam Urgent Care has decided to give back proceeds from flu shots to help benefit the local community, "said Davam Urgent Care Marketing Director, Jackie Thrasher. "Giving back to the community and an organization as important as Meals on Wheels is very important to our clinic and team."
Davam Urgent Care will be donating $10 from each flu shot during the month November to Magnolia Cares benefiting Hurricane Harvey relief for Little Cypress-Mauriceville Consolidated Independent School District. Flu shots are available for $25 during operating hours, from 8 a.m. to 9 p.m., daily.
Davam Urgent Care, located off of 1488 in Magnolia and open since May 2014, treats all urgent care needs ranging from the flu to back pain. Davam also is able to treat workers compensation patients suffering from on-the-job injuries. To learn more visit www.Davam.com, or call (281) 583-1980.