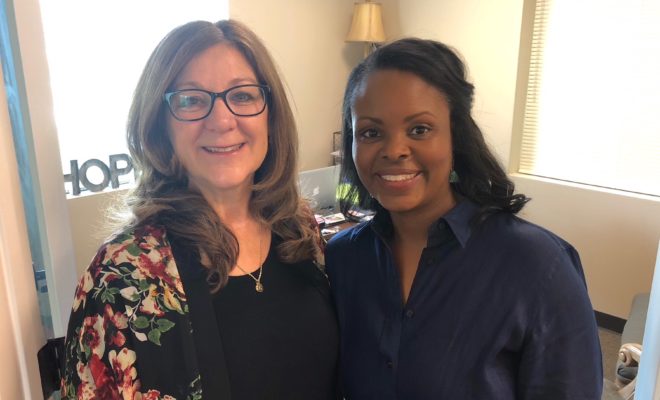 People
Love Fosters Hope brings hope to Local Foster Children
By |
Hello Woodlands had the opportunity to interview Cindy Mericle, Executive Director of Love Fosters Hope, and Meshonda Womble, Love Fosters Hope Volunteer and Nannies of The Woodlands Director of Operations.
Love Fosters Hope is a local non-profit organization with the purpose to impact the lives of children and teens in foster care who have been abused, neglected or abandoned. For 19 years, Love Fosters Hope has been bringing joy to children and youth with summer camps, a mentoring program, and help teens when they age out of foster care.
"Love Fosters Hope is focused on children and teens that are in foster care and being a part of bringing hope to their lives," shared Cindy Mericle. "There are organizations that mostly offer ways to help kids after they age out of foster care. Love Fosters Hope reaches children while they are currently in foster care or age out of foster care, establishes a relationship that is so important to have, and is part of the healing process."
The centerpiece of their mission is summer camps, where youth ages 7 to 19 with foster care backgrounds can trade feelings of hurt and rejection for self-esteem and respect.
Love Fosters Hope's mentoring program is year round to help young people of all backgrounds and circumstances achieve their potential. Mentoring is available for youth in foster care, ages 12-19, where mentors offer support, counsel, and friendship, while setting a positive example.
"Our mentoring program is a process with every child," shared Cindy Mericle. "We discover what they are passionate about, brainstorm on how they can make their goals a reality – but we really go deeper than that. We zero in on what they are good at, research career options, and discover what training may be needed or what college programs to take. We connect with tutors, work with schools, and go further by discussing the next step, analyzing hurdles and big challenges ahead."
"There are so many ways to serve," shared Meshonda Womble, Director of Operations of Nannies of The Woodlands and volunteer of Love Fosters Hope. "I personally help with any administration work that is needed by the organization as well as being a volunteer advocate – by introducing people to Love Fosters Hope. People can donate their time, skills and services to help in several different ways such as being a Summer Camp Volunteer, getting involved with the Future Fair by interviewing and reviewing resumes at the camp, and becoming a mentor. There are also events throughout the year to get involved such as the Christmas Jingle Bell Party and Toy Drive, Easter dinner, backpack drive, back to school events, and many more community collaboration opportunities."
Learn more about getting involved and becoming a volunteer or mentor at LoveFostersHope.org/get-involved/
Upcoming Events
April is Child Abuse Awareness Month. Learn more about upcoming events, ways to get involved and share awareness in our community.
A Night of Hope
Love Fosters Hope's Night of Hope event will be held on April 14, 2018 at 6:00 p.m. at The Woodlands Resort & Conference Center. A fun evening of dinner and dancing to benefit Love Fosters Hope will include special guest speaker, Steve Pemberton, author of "A Chance in the World," and upcoming major motion picture by the same title.
Attendees will have the opportunity to listen to Steve Pemberton's powerful story about defying the seemingly insurmountable odds from his past. Orphaned into foster care, he was abandoned and betrayed by the very individuals entrusted with his care. Yet these challenges only fueled his desire to become a successful trail-blazing corporate executive, visionary youth advocate and esteemed speaker. His critically-acclaimed memoir, "A Chance in the World," recounts his triumphant life journey.
Learn more about the Night of Hope event and purchase tickets here.
Concert for Hope
Concert for Hope will be held during the Spring Concert Series in Market Street on April 26. The free event hosted by Love Fosters Hope will begin at 5:30 p.m. with a concert including classic party rock and pop by The Slags from 6 to 8:30 p.m. Attendees will have the opportunity to meet Love Fosters Hope and many more local organizations.
For more information about Love Fosters Hope, programs, upcoming events, and ways to get involved, please visit lovefostershope.org.