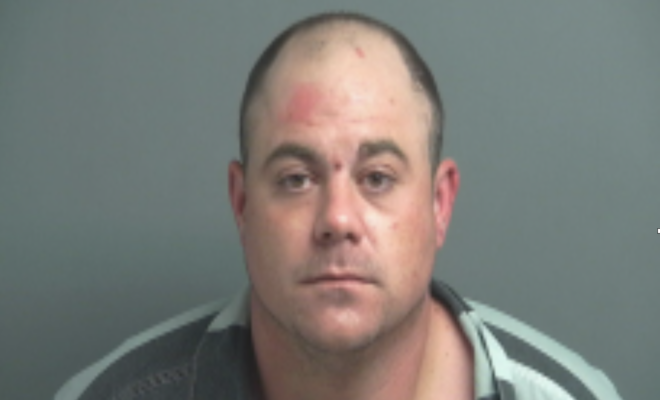 News
Man who shot at Conroe Police Officer sentenced to 50 years
By |
Conroe, Texas – On October 23, 2018, in front of the 221st District Court, the Honorable Lisa Michalk presiding, defendant Raymond Cole Lynch entered a plea of guilty to the First Degree Felony offense of Aggravated Assault of a Public Servant, in exchange for a sentence of 50 years in prison.  He will not be eligible for parole until the year 2043.
The State was prepared to prove at trial that around 4:00 AM on Tuesday, March 28, 2018, Conroe Police Officer M. Moote, who had been on the job for less than two years, was on patrol on the northbound I-45 feeder when he encountered a vehicle with a defective tail lamp.  The officer conducted a traffic stop in the 300 Block of Gladstell, and immediately upon his approach to the vehicle, the defendant faced the officer and fired one round from a semiautomatic pistol at a distance of no greater than three feet.  Fortunately for the officer, the bullet struck the flashlight he was holding, and he was not struck.  As the officer returned fire, Lynch fled the scene and drove to a wooded area where he abandoned his vehicle after setting it on fire.  Thinking that he had been shot, the officer drove himself to Conroe Regional Hospital.  The following day, detectives with the Conroe Police Department received a tip identifying Lynch as the shooter, after the public release of a still-shot taken from the officer's body camera.
After securing a warrant for Lynch, the Conroe Police Department, with the help of the Texas Rangers, the San Jacinto County Sheriff's Office, the Huntsville Police Department, the United States Marshal's, and the Montgomery County Fire Marshal's Office, engaged in a manhunt spanning across, Montgomery, Harris, San Jacinto, and Polk Counties.  Due to their tireless efforts, Lynch was taken into custody four days later without anyone else being harmed.
Assistant District Attorney Rob Freyer stated,  "Police Officers are real people with real families and they put their lives on the line for us every single day.  Despite the efforts of Raymond Lynch, this officer escaped injury, and is back working our streets to ensure our safety.  I think it is time that we all start recognizing and appreciating all of the law enforcement personnel in Montgomery County and surrounding counties that ensure the safety of those, who live, work, and visit here on a daily basis."
Source: Kelly Blackburn, Montgomery County District Attorney's Office