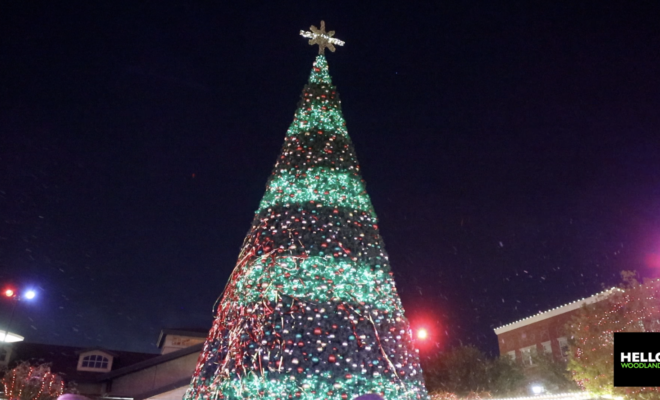 Photo Credit: Rod Prado, Hello Woodlands
Events
Market Street hosts 14th Annual Christmas Tree Lighting
By |
Market Street-The Woodlands kicked off the holiday season with a soaring, 70-foot Christmas tree, synchronized to twinkling lights and holiday music, Thursday, November 18 at 6 p.m. as part of the shopping, dining and entertainment destination's tree lighting celebration.
Watch the full video from the event:
Sponsored by Texas Children's Hospital – The Woodlands, the tree lighting showcased the first "performance" of Market Street's Christmas tree and the more than 25,000 multi-colored lights adorning the destination's Central Park.
Four-year-old leukemia survivor Charlie Haydon was nominated as the 2021 Official Lighting Luminary. Charlie was diagnosed with Acute Lymphoblastic Leukemia (ALL) at just 16 months of age. He is now in remission, but continues to check-in regularly at Texas Children's Hospital for bloodwork.
The Haydon family accompanied Charlie as he flipped the switch to officially kick off the holiday season and start Market Street's three-minute holiday light show, a dazzling display of flashing, multi-colored lights synchronized to holiday songs.
The synchronized holiday light performance will continue evenings during the holidays, every hour on the half hour, from 5:30 p.m. – 9:30 p.m.
Kicking off a holiday season of events, the celebration continues with live musical performances and entertainment. For additional information on Market Street, visit www.shopatmarketstreet.com.
Source: Market Street