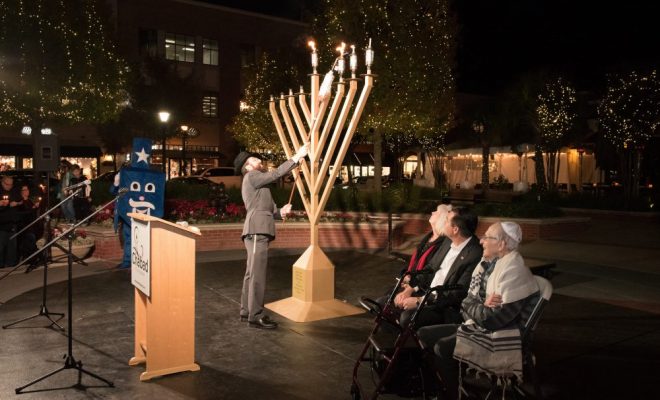 Events
Market Street to Host Chanukah Celebration & Menorah Lighting Dec. 22
By |
THE WOODLANDS, TX – Market Street – The Woodlands once again will host a Grand Chanukah Celebration and Menorah Lighting as presented by Chabad of The Woodlands on Sunday, December 22 from 4:30 – 6:30 p.m.
Led by Rabbi Mendel Blecher, the lighting of a nine-foot, seven-branched menorah will take place at 4:30 p.m. with traditional Chanukah food and musical entertainment and fun for guests of all ages following the ceremony.
This marks the ninth year Market Street has hosted the Grand Chanukah Celebration in its Central Park for the local community.
Market Street – The Woodlands is a 560,000 square foot outdoor lifestyle mixed-use property located in The Woodlands, Texas, approximately 25 miles north of Houston across from the Cynthia Woods Mitchell Pavilion. The grocery anchored property contains 375,000 square feet of street level retail, combined with 115,000 square feet of Class A office space and a 70 room 70,000 square foot Hyatt Centric hotel. In addition, the project includes a 5 screen Cinema and 21 restaurants and eateries. Trademark Property Company manages the project, including development, leasing and property management services. Market Street is owned by a joint venture between an affiliate of Trademark Property Company and Institutional Mall Investors. For additional information on Market Street, visit shopatmarketstreet.com.
Trademark Property Company is an operator, investor and developer of award-winning, mixed-use town centers, specialty, community, power centers and enclosed regional malls. In its over 25 years of business, Fort Worth, Texas-based Trademark has invested in or developed 14.6 million square feet of retail and mixed-use assets worth $3.4 billion. Trademark's experienced team of 200 employees is responsible for approximately 7.1 million square feet of retail and mixed-use projects currently in operation or development/redevelopment, including: 5000 South Hulen (Fort Worth, Texas), Alliance Town Center (Fort Worth, Texas), Annapolis Towne Centre (Annapolis, Md.), Burr Ridge Village Center (Chicago, Ill.), Galleria Dallas (Dallas, Texas), Glades Plaza (Boca Raton, Fla.), Hillside Village (Cedar Hill, Texas), La Palmera (Corpus Christi, Texas), Market Street Flowood (Flowood, Miss.), Market Street – The Woodlands (The Woodlands, Texas), First Street Napa (Napa, Calif.), Perkins Rowe (Baton Rouge, La.), Rice Village (Houston, Texas), Saddle Creek (Germantown, Tenn.), Victory Park (Dallas, Texas), Watters Creek (Allen, Texas), Waterside (Fort Worth, Texas), WestBend (Fort Worth, Texas) and Zona Rosa (Kansas City, Mo.). For more information, visit trademarkproperty.com or interact on Facebook, Twitter and Instagram.